Soul Food
Plaza Midwood's Soul Gastro Lounge may seem like just another hipster hangout, but its food tells a different story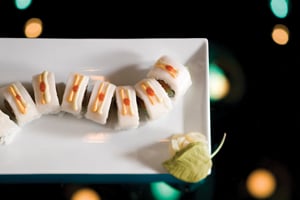 One of the first things you notice at Soul Gastro Lounge is a large stuffed peacock hanging on the seventy-eight-year-old brick wall behind the DJ booth. That such a bird is so prominent in a place like Soul might be comical if it weren't so fitting. On the surface, the place, owned by James Fedele and Andy Kastanas, has an air about it that can be interpreted as preening and pretentious. A cooler-than-thou swagger pervades the restaurant. And the primarily younger crowd has a bit of a "Look at me, I'm-wearing-sunglasses-inside" attitude. I initially want to dismiss Soul as a place full of poseurs and wannabe DJs.
However, after a few visits there, it becomes evident that perhaps the more relevant connection to the peacock is pride. Beneath it all is a deep commitment to the concept, which is to turn out exotic and exciting food in an atmosphere that brings music to the front and center of the experience. DJs spin nightly and include familiar Charlotte names like That Guy Smitty and Jah-Sun Rising. Culinary change is also afoot. Soul recently hired Chef Jason Pound, formerly of Aquavina, to replace original chef Patty Greene. It's not easy for incoming chefs to execute a menu that is not their own — trust that there will be changes in the future — but for now, Pound is content to execute the core menu and add his flourish in the form of multiple nightly specials. The core is global tapas and sushi, but it is a big menu — perhaps too big for a place as tiny as Soul. And the design can be confusing. For example, Skewers/Dips/Sides are listed after the Meze section, forcing us to flip back and forth unnecessarily.
Thankfully, one of the toasts catches our eye. A perfectly cooked fried egg breaks over sautéed wild mushrooms and toasted bread in a simple and familiar snack. A special cheese and cured meat plate follows and is delicately constructed of toast points, assorted cheeses, paper-thin prosciutto, Virginia ham, and lardo. The lardo is spectacular. Soft and rich pork fat melts slowly, drenched in sweet hardwood smoke. A hunk of good manchego and a quick swirl of an inky malbec (Crios, $30) helps it along, and the evening begins in rustic and sublime fashion.
Small meze plates ($4-$12) arrive in enticing waves. Recommended and comforting is the ethnic saganaki, a deep-fried Greek kefalograviera cheese flamed in brandy and ouzo. When sliced, the crispy mantle gives way to the oozing yellow core with heady results. Southern-fried oysters are also nice, with a spicy kick and a crispy texture yielding fresh and briny bite-size bivalves. The signature veal short ribs are accented with a velvety hoisin-spiked demi-glace. This dish shows the kitchen's talent in building deep, complementary flavors, even if by nature the veal ribs can be tough to work with. But there were also some rather pedestrian selections. Bone marrow is disappointing, with not much to show for the considerable effort of digging through beef bones. And both the lamb lollipops and beef skewers (with an uninspired chimichurri sauce) are overdone and chilly on two occasions.
Soul begins to really show its luster when sushi arrives, and it is clear Chef Pound has a profound respect for seafood. Whimsical plate designs combine with fresh and vibrant tuna, salmon, and shellfish. The sashimi tuna tacos ($8, listed in the Meze section) offer big chunks of deep red tuna inside light fried wontons combined with a spicy Sriracha mayo, and are perfect for sharing. Artfully arranged sashimi plates ($11-$16) feature brightly colored salmon, shrimp, and octopus. A table favorite is the hamachi with jalapeño roll ($8). The fresh yellowtail provides a meaty frame for the grassy heat of the chile and the sweet tang of the ponzu dipping sauce. We finally call "no mas," and wait patiently for our server to clear the dirty plates (and there are many of them). However, they linger way too long at the table, so we extricate ourselves from our seats and find a place at the bar. We then observe Soul morph from Gastro to Lounge, when it takes on a slightly different sheen. The affable bartenders are attentive and like to mix stiff highballs and classic cocktails, and we respond. People are starting to pack in.
Soul is conveniently located at the corner of Central and Pecan, right in the heart of Plaza Midwood. The space — formerly The Perch — is a bit cramped, but the owners have built a huge second-floor deck that provides additional seating if the weather cooperates. It doesn't take reservations, so unfortunately a weekend night in the winter could mean a long wait inside the eighty-seat spot. High-backed booths fit up to six, and there are tabletops that can be arranged depending on party size. The bar seats ten, and there are seats around the large DJ booth, which is a rare chance to watch guys play records.
As we sit at the bar, That Guy Smitty arrives, fist bumping the many regulars as he gets ready for his set, which features soul, funk, and reggae. The kitchen is open until midnight and music goes until 2 a.m., when its transformation to lounge becomes complete. Later, over an absinthe, my prejudices assuaged, I begin to realize that my previous judgment of Soul was unfair. Shame on me. Sometimes good food is good food, people are people, and a bird is just a bird.
E-mail: editor@charlottemagazine.com.
All of Jon Luther's visits are anonymous. Read past reviews at www.charlottemagazine.com.