Soup's On!
3 great soups plus sides for hosting your coziest party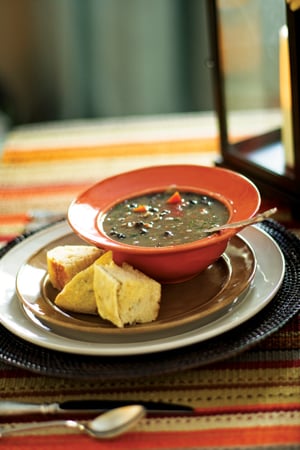 Entertaining doesn't have to be all fancy hors d'oeuvres and complex cocktails. Sometimes the simplest meals are the best for hosting dinner with friends—especially when those meals are as delicious as these soups and sides. Each of these dishes, available at local restaurants and shops, requires only a take out order and small amount of preparation. So invite your friends, ladle out the steaming soup, and enjoy stress-free entertaining at its coziest.
Black Bean Soup
This hearty soup ($4.49 per pint) from Reid's Fine Foods comes packed with peppers for a crunchy kick. It's filling enough to serve as a meal, and pairs well with toasty bread on a fall night.
Cincinnati Chili
Lupie's Café has long been famous for this chili ($5.25 per bowl), a savory mixture of finely ground beef, spices, and a hint of cinnamon in a tomato base. Sprinkle cheese on top and serve alongside the restaurant's thick cornbread for the ultimate comfort food fare.
Chris Woodrow, the owner of Vin Master wine shop in South End, recommends Lagerla's 2007 Rosso di Montalcino ($20.99) for pairing with acidic soups like the Tomato Florentine to enhance the dish's natural flavors.
Tomato Florentine Soup
This creamy soup ($8.95 for 2 pints) from Something Classic is perfect for serving fireside on cool evenings. With hints of garlic and a smooth texture, this soup will have everyone asking for seconds.
Bruder Basil—a German cow's milk cheese—has a rich, smoky flavor and is perfect for giving a delicious twist to a traditional grilled cheese. Offered at Dean & DeLuca ($19 per pound), this cheese is perfect paired with any of these soups.

Rosemary actually spills out when you cut into the chewy Duke's Bread's Rosemary Sea Salt loaf from Reid's Fine Foods ($6.59). Smear on a touch of butter and toast to add a salty fresh-baked taste alongside your soup.