Soup's On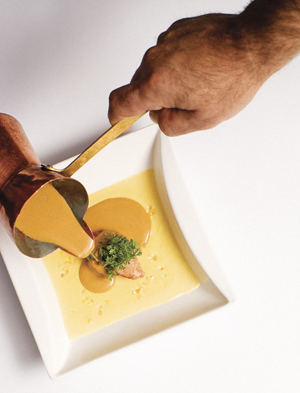 NOW THAT THE WEATHER is cooling off, warm up with a steamy bowl of soup. Our favorite hot treat is the lobster bisque and sweet corn soup with butter-poached lobster ($16) from Zebra Restaurant & Wine Bar. The creamy bisque pairs perfectly with the slightly crisp corn and tender lobster for a soup that is a decadent treat for a night out—or perfect for fixing in your own home. Zebra Restaurant & Wine Bar, 4521 Sharon Rd., 704-442-9525

LOBSTER BISQUE
serves six
1 lb. lobster shells, meat reserved
1/2 medium onion, small dice
1/2 carrot, small dice
1 stalk celery, small dice
1/4 cup tomato paste
1/2 cup white wine
1/4 cup red wine
1/4 cup brandy or cognac (optional)
Several bay leaves, thyme, fresh parsley,
or dill stems if available
Fresh cracked pepper to taste
2 cups heavy cream
Heat heavy bottom skillet on medium high heat, add a few drops of vegetable oil, add lobster shells, onion, celery, and carrot and cook about 3 minutes, until shells are bright red and vegetables begin to brown. Add tomato paste, cook another 2 minutes. Add white wine, reduce by half. Add red wine, reduce until completely dry. Add bay leaf, thyme, and parsley stems. Add heavy cream and simmer about 30 minutes. Remove from heat and allow to steep another thirty minutes. Strain through fine strainer, adjust seasoning as needed with kosher
or sea salt, pepper, and cognac.
CORN SOUP
serves six
3 ears sweet corn
1 1/2 stalks celery, diced
1/2 large yellow onion, diced
2 bay leaves
1 large sprig thyme
Cracked black pepper
1/2 quart vegetable stock
1/2 quart heavy cream
Cut kernels from ears. Using back of knife, scrape remaining "milk" from cobs. Set aside cobs. Combine scrapings and kernels and reserve. Combine corn cobs with heavy cream. Bring to a boil and simmer about 10 minutes. Turn off heat and allow to steep another 20 minutes. Strain. While corn cob/cream is steeping, sauté celery and onion in a touch of butter until soft, about 5 minutes. Add vegetable stock, corn kernels, bay leaf, thyme, and cracked pepper, simmer about 15 minutes. Remove from heat, allow to steep for 20 minutes. Remove bay leaf and thyme. Combine strained cream and corn kernel mixture and puree in blender until smooth. Adjust seasoning with kosher salt, pepper, and fresh lime juice, if desired.
A few other soups around town to get cozy with:
Baked French Onion Soup
$5.75
300 East, 704-332-6507
This old favorite is done right with plenty of melted cheese and rich, dark broth.
Black Bean and Cheddar Soup
$2.95
Cabo Fish Taco, 704-332-8868
A traditional southwestern starter, this soup offers a little kick of heat and a lot of flavor.
Wild Mushroom Soup
$4.95
Maestro's Bar & Bistro, 704-889-2110
It's creamy, brimming with flavorful mushrooms and herbs, and served in an inviting, historic home. Need we say more?