South End Hops Fest, '90s Bar Crawl, Sycamore Brewing Spring Fest and More, May 12 to May 14
Summer is almost here. With it, of course, comes outdoor festivals. There are plenty this weekend to get you excited for the warmer weather.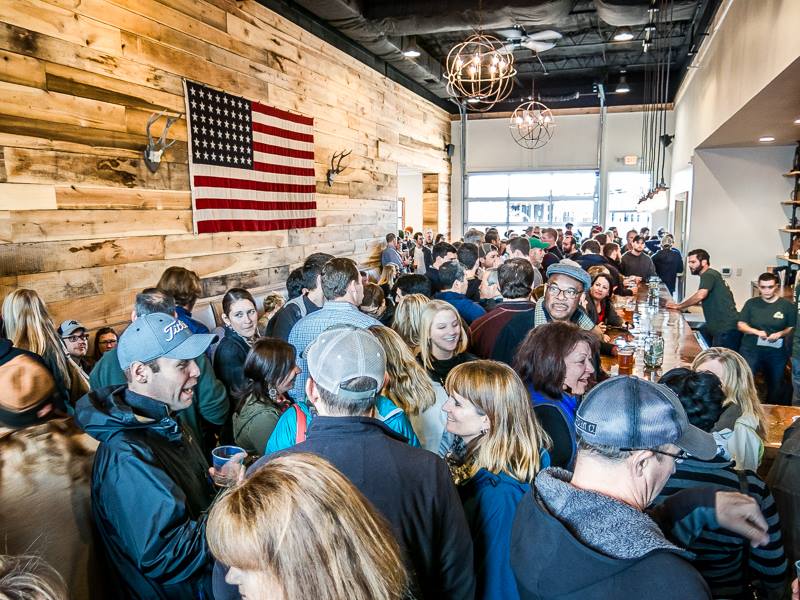 From a '90s bar crawl across Uptown to the annual South End Hops Festival to Sycamore Brewing's Spring Fest, can you feel it heating up yet? Charlotte, you look really, really good. See y'all out there!
Thursday, May 12
Beers and Bites
Village Tavern pairs with Olde Mecklenburg Brewery tonight in coupling off four of the local brewery's beers with eight of the restaurant's appetizers. The event from 7 p.m. until 9 p.m. at 4201 Congress St. costs $25 per person and includes the chance to win raffle prizes. RSVP to EventsCharlotte@villagetavern.com or call 704-552-9983.
Turquoise Tasting
Get dolled up tonight and head out to the Duke Mansion for this cocktail party, benefitting the American Lung Association in North Carolina. Tickets cost $125 and include "seasonal pairings," a raffle and access to live music in the mansion's garden. The garden party is from 7 p.m. until 10 p.m. at 400 Hermitage Road. Buy tickets here.
Friday, May 13
Silent Disco – Rave the Roof
It's Friday the 13th, so things are going to get weird. Instead of playing music through a typical sound system with speakers, a silent disco involves dancers wearing headphones with the music projecting through those headphones. To bystanders, thus, it's a silent disco. But the party's in your head. Take to the rooftop at Rooftop 210, 210 E. Trade St., from 8 p.m. until 11:30 p.m. and dance your heart out like no one else can hear the music – because they can't. The event is free with an option to purchase VIP tickets here.
A Night in Ecuador – Earthquake Relief Charity Event
Join Blue Restaurant and Bar tonight as the Uptown spot hosts A Night in Ecuador to help support the families affected by the recent earthquake in the South American country. Blue will donate a portion of the dinner's proceeds and all of the proceeds from the silent auction to aid these families. A ticket, which includes a four-course dinner, costs about $62. The event runs from 7 p.m. until 10 p.m. at 206 N. College St. Buy tickets here.
Bacon Fest
The World Health Organization classified processed meats – like bacon—as a definite carcinogen, but that won't stop Whisky River! It's only science! The third-annual event features three different bacon-themed buffets from appetizers to desserts and four different bacon-themed cocktail and beer stations. There's more! At Bacon Fest, you'll have your chance to win free bacon-wrapped jalapenos at Whisky River for a year and other great giveaways. No word yet on who'll pay for the hospital bill. The event is from 7 p.m. until 10 p.m. at 210 E. Trade St. Tickets cost about $22. Buy them here.
Saturday, May 14
South End Hops Fest
With the warmer weather comes beer festivals, and this one, while new to the scene, is a great one. The fest, located at the corner of Carson Boulevard and Mint Street, features unlimited beer samplings, live music and food trucks. The festival runs from 2 p.m. until 6 p.m. at 308 W. Carson. Blvd. Tickets cost $35 in advance or $40 at the gate. Buy them here.
'90s Bar Crawl
Grab your Scrunchie, your Nickelodeon fan club T-shirt, your Slinky and get ready to turn back the clock. Uptown is turning into a '90s time warp tonight with Ri Ra, Prohibiiton, Fitzgerald's, Connolly's on Fifth, Mortimer's, The Local, Tilt on Trade, Courtyard Hooligans, Whisky River, Blackfinn Ameripub, Belfast Mill Irish Pub, SIP and more all participating in this bar crawl. The crawl runs for an insanely dangerous eight hours (from 2 p.m. until 10 p.m.), so good luck surviving the weekend. Registration is at Ri Ra, 208 N. Tryon St., and ends at 6 p.m. Tickets cost $35 and include free entrance to all participating bars. Buy them here.
Sycamore Brewing Spring Fest
The South End brewing juggernaut hosts its Spring Fest today from noon until 10 p.m. with nonstop live music from seven bands, two stages and multiple food trucks. The event, at 2161 Hawkins St., is free.
Fifth Anniversary Block Party
SportsLink turns five today, and it's hosting a party at Angry Ale's all about fives. The party gives away five big prizes throughout the day: two Budweiser bicycles, $500 in SportsLink Bucks, a chance to stock your own bar, a free keg party at Angry Ale's and a weekend getaway. A free cornhole tournament starts at 2 p.m. with a $400 prize to the winners and $100 prize to second place. The party also features a Bar Pong tournament from 4 p.m. until 5 p.m. The free party starts at 1 p.m. at 1518 Montford Drive.
Sunday, May 15
Charlotte Arab American Festival
Celebrate Charlotte's diversity today at the annual Arab American Festival. The fest features live music, dancing, food, arts and crafts and more. Tickets cost $3, and children 10 and younger get in for free. The festival runs from noon until 5 p.m. today at Queens University, 1900 Selwyn Ave.
Verify dates, times, prices, and other info at the web addresses listed for each event.
Be sure to bookmark www.charlottemagazine.com/Blogs/Dusk-Till-Dawn to stay plugged into Charlotte's nightlife and social scene. Click here to sign up to receive the weekly Dusk Till Dawn e-newsletter.
Want your event featured in Dusk Till Dawn? Follow me on Twitter @Jared_misner and let me know about your event, or send me an email at dusktilldawnblog@gmail.com.
Send Jared an email at DuskTillDawnblog@gmail.com, or send him a tweet @Jared_Misner.

Also by Jared Misner:

→This Weekend's Social Events
→Bowling For Books, First Friday Fort Mill, Electric Luau Party, Soulmatic Carolina Music Fest and More, Aug. 6 to Aug. 9
→The Moon Walk, Candy Fest, Silly String Party, Booze Cruise and More, July 30 to Aug. 2
→Christmas in July, More Christmas in July, National Dance Day, National Tequila Day and More, July 23 to July 26