Southend Reclaimed makes old materials beautiful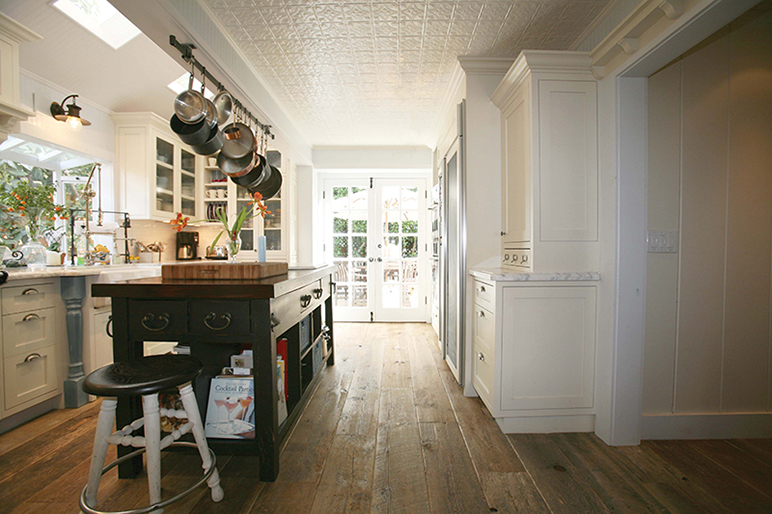 STEPPING INTO Dogwood Southern Table and Bar, you may find your eyes drifting upward to the hand-hewn beams that accent the walls. At Hilliard Studio Method, siding made of gray wood from a barn catches your attention. In homes throughout Charlotte, aged millwork invites you in. There's a story behind each saw mark, each fading plank of reclaimed wood, dutifully restored by a company in Davidson. In the past, these pieces helped form mills, factories, and barns. Today, Southend Reclaimed is keeping them part of the present, salvaging materials from abandoned buildings and using them to create flooring, ceiling beams, and millwork.
"You're taking this really old, dirty wood and essentially turning it into this jaw-dropping, beautiful product," Paul Atkinson, co-owner and CEO of the company, says. "Each of our products comes with a story."
Southend Reclaimed has been in business since 2003, but has boasted record growth each year since 2009. Atkinson and his team scout out old buildings, mostly east of the Mississippi, to deconstruct. When they decide to take one on, every board and brick in the building is tagged and cataloged as the structure is taken apart, piece by piece. The reclaimed material then either gets resurfaced or cleaned and used as-is in projects around the country. It can be several years before a building is stripped of all the reusable pieces.
The company recently opened a design center in Davidson to help homeowners visualize the potential of reclaimed wood. Atkinson calls it a "concept cottage," and various rooms use different woods for flooring, siding, ceiling beams, and mantels. One room resembles a dining room, with quartzite countertops and hand-hewn ceiling beams with axe marks still on the face. A hallway features wood pulled from a river bottom, preserved by the lack of oxygen underwater, while faded red siding pulled from a barn acts as a base to a bar.
"We wanted a place for people to experience what surrounding themselves with these reclaimed wood products does to a setting," Atkinson says.
It's hard to imagine a hand-hewn beam mantel set upon herringbone tile—and harder still to describe why it works. Atkinson hopes that people will be more comfortable using these materials in a modern home when they visit the concept cottage and see how well red barn siding can complement a granite counter, for example.
"It's almost like once you see it, you understand," he says.
---
Southend Reclaimed
463 S. Main St., Davidson
704-765-9773