SouthEnd's 2nd Craft Beer Crawl taking place this Saturday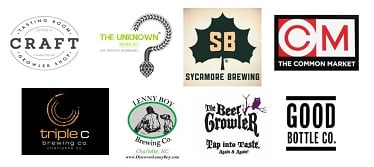 The craft beer growth in SouthEnd has been monumental over the last few years, as has the entire neighborhood's population itself. This Saturday marks your chance to roam through eight different stops in one day and – here's the best part – use free transportation to do so.
The second annual Craft Beer Crawl will take place this Saturday, March 11 beginning at 11 a.m. Attendees will have the opportunity to visit eight craft beer establishments in the SouthEnd neighborhood, with each either tapping or pouring a special beer for the occasion. Many of the stops will also feature live music, and there will be giveaways as well. A free trolley will be providing transportation to shuttle you between stops.
I attended this event last year and the turnout was phenomenal. And this year, even more stops have been added, so I expect attendance to be high again. The schedule of events is below:
11 a.m. to 1 p.m.: The first two stops are Unknown Brewing, which is tapping The Redeemer, and Craft Tasting Room & Growler Shop (my advice: go ahead and grab a flatbread at Craft for lunch and thank me later). Live music during this segment will be by Charlotte Capoeira.
1 p.m. to 3 p.m.: You'll next go to The Beer Growler for flights (and you can pick up a bottle or two to go as well), with live music from The New Hires
3 p.m. to 5 p.m.: The next stops feature two of Charlotte's newest breweries, Sycamore and Lenny Boy. Sycamore will be tapping Irish Red for this event, while Lenny Boy's specialty beer will be a double IPA called Bring the Ruckus (if this is a Wu-Tang reference, well done). Wicked Powers is performing live at Sycamore, while Thompson Brothers will be at Lenny Boy.
5 p.m. to 7 p.m.: Next up is a trip to Good Bottle Co., which always has a special keg or two lying around. Last year owner Chris Hunt tapped Hopslam and is upping the ante this year by tapping his last keg of Nugget Nectar from Troegs. Live music will be provided by Ocean Mountain Gang.
7 p.m. to 9 p.m.: The next stop is Triple C Brewing, which is tapping Bonafide Brown Ale. Pluto for Planet is performing live, and this might be a good time to grab a seat on one of the picnic benches outside for a quick rest. You've earned it.
9 p.m. until: If you're still going at this point, congratulations. Your final stop is Common Market, which is a great spot to grab a few pints or buy a bottle or two to open on site.
Admission is free during the entire crawl, and you can register by going to this site.