Southern Comfort
Same-sex parenting is more common in the South than elsewhere in the country, but Charlotte is an exception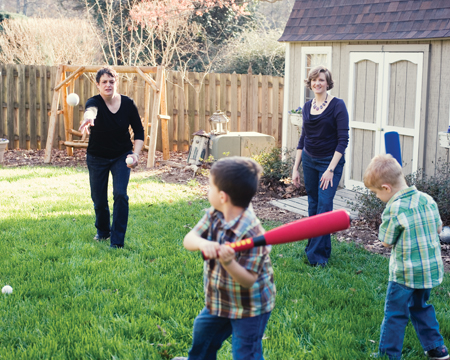 Bryan Rife was married for eight years. He and his wife had two children. But it wasn't until eight years after they married that Rife says he realized something.
He was gay.
The divorced father of two and his partner, Shane, consider themselves to be husbands and parents to Rife's two children.
Rife, an activities director at a Charlotte nursing home, and his family are part of a growing community of same- sex-parent households in the South. After analyzing the data from the recent U.S. census, Gary Gates, a demographer at the University of California, Los Angeles, found that parenting among same-sex couples is more common in the South than in any other U.S. region. Rife says while he's glad to hear there
are more families like his own, he's a little surprised; he's been trying to find other same-sex couples raising children together in Charlotte and hasn't had much luck. In fact, when you isolate Gates's study, Charlotte is something of an exception. Raleigh has the third-highest number of same-sex couples raising kids in the nation; 34 percent of the capital city's same-sex population are raising families. The Charlotte metropolitan area (which stretches from Rock Hill to Gastonia to Mooresville) is thirty-sixth out of fifty-two in the nation, with 840 gay couples raising children here.
Therapist Dori Luke and her partner live in Plaza Midwood. The couple used a sperm donor, and Luke carried their now four-year-old twin boys. Luke grew up in New England, where she says the community easily accepted her orientation, even years ago. "There is a more conservative, religious presence here," she says of Charlotte, "but people have still made us feel very comfortable. I think I was surprised by that, being in the South."
There's no doubt, says Rife, that shows like Modern Family (in which a gay couple raise their daughter), recent celebrity news (Elton John and Neal Patrick Harris both became dads with their partners via surrogates), and Gates's data help alleviate the stigma attached to same-sex parenting. But, he says, regardless of the report, Charlotte doesn't feel as open to it. "I think as time goes on people will become even more OK with us and we'll be more comfortable having our family out in public."