Speakeasy Surprise: The Cellar at Duckworth's
A new concept at Duckworth's isn't the craft beer and bar food you'd expect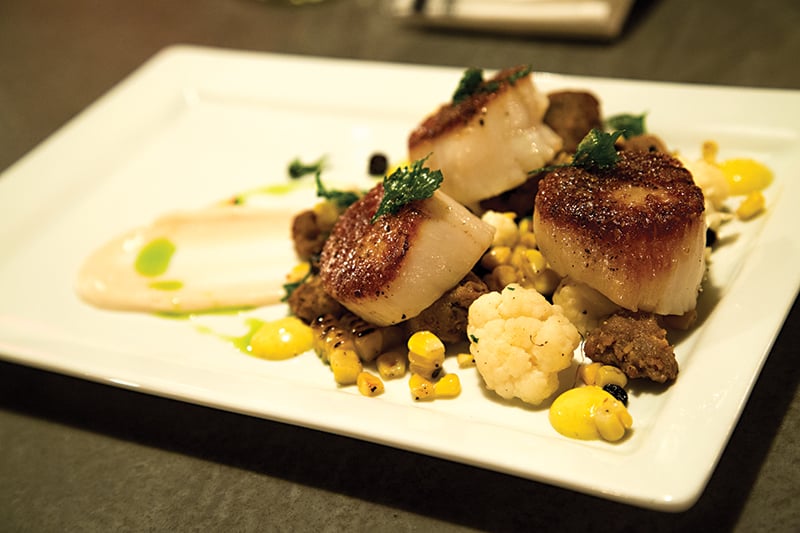 IN THE END, I was glad the restaurant ran out of oysters.
But when the waiter stood at our high top table in the middle of the dining room at The Cellar at Duckworth's and delivered the bad news, I was disappointed. I had been looking forward to the char-grilled oysters, which friends had raved about, all day. The thought of fussing over the uptown speakeasy's menu to find a replacement annoyed me.
My friend and I knew we wanted the espresso-rubbed lamb carpaccio ($8), so we ordered that and agreed to sip our cocktails while pondering another option to replace the oysters. She had the Blackberry Mule ($13), made with a smoky mezcal and muddled blackberries served in a frosted copper mug. I picked the East Village ($13)—bourbon and Amaro, an Italian liqueur, with a luscious Luxardo cherry that I would eye all night.
The long, thin strips of lamb came with typical accoutrements—toasted bread, gherkins, grain mustard—and a surprise, a pillow of cured golden beets laying between the meat and the bread. The lamb was tender, although I could have used more mustard and perhaps a touch more of the espresso's bite.
Instead of the oysters, we decided on a smoked salmon flatbread ($14), an herby crust topped with thinly sliced pears, fried capers, a salty basil mascarpone cheese, and house-smoked salmon. We were enthralled, though, with the arugula topping, lightly dressed in a garlictinged olive oil. It's a cliche, but we really couldn't get enough of it. I'm not sure I've ever thought this before, but I would go to battle for those peppery greens tossed in that garlic oil. I noticed diners from an adjacent table watching as we fought over the last bites.
The Cellar can be clubby or cozy. Leather benches and chairs sit along one wall. Exposed beams run the length of the ceiling. The room is noisy, but not loud enough to drown out the sound of classic jazz music. The space is a foil to Duckworth's beer bar upstairs, an unexpected discovery in the basement.
the restaurant serves entrées—everything from a burger to rib eye steaks. We split the butter-basted scallops ($19), which were seared on the outside but tender in the middle. The large scallops arrived on a hash of chorizo, corn, and currants, with a cauliflower purée. A bright yellow turmeric aioli offered a surprising hint of warmth and earthiness, balancing the sweetness from the scallops.
Somewhere along the way, I plucked the bourbon-soaked cherry from my glass. The Cellar offers desserts, and I'm sure they are wonderful, but one bite of boozy fruit was all I needed.
At the end of the night, we kept talking about the flatbread and its garlic oil, an accidental discovery that made it to our table only because the kitchen ran out of oysters.
The Cellar at Duckworth's
330 N. Tryon St.
980-349-4078
Entrées: $14-$34 D, FSB
---
This article appears in the December 2015 issue of Charlotte Magazine
Did you like what you read here? Subscribe to Charlotte Magazine »
---