Special Night for Ladies at BlackFinn and Suite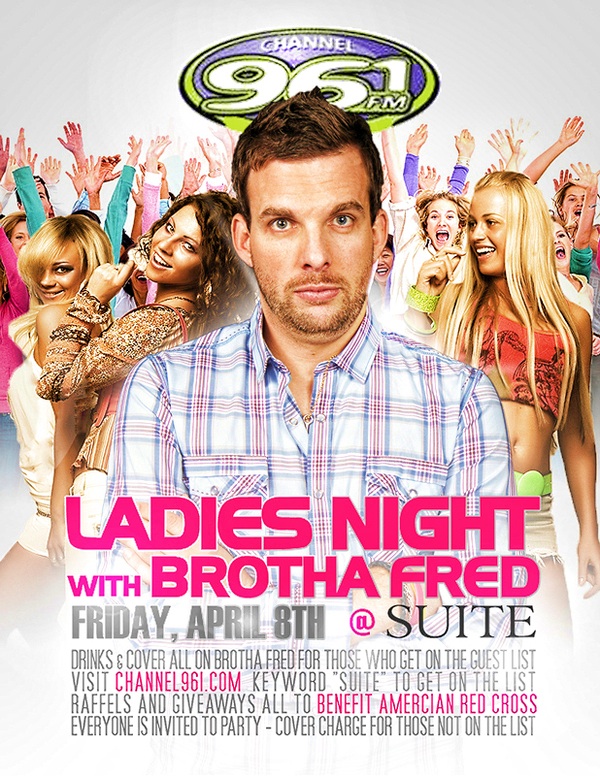 Two of the EpiCentre's nightspots are giving special treatment to the ladies this Friday night, April 8. And both parties support great causes.
Christopher Frederick a.k.a. Brotha Fred a.k.a. BroFro returns to Charlotte to host Ladies Night at Suite. Ladies who get on the guest list will enjoy free cover and free drinks from 9-11 p.m. (click here to get on the list) and the party continues till closing time. Gentlemen are asked to come out as well—why would you want to miss a party full of ladies? There will be raffles and giveaways, and a portion of the proceeds will benefit the American Red Cross. As you might recall, Brotha Fred, who was a popular on-air personality on both 96.1 FM and FOX News Edge, moved from Charlotte to Chicago in January, where his A.M. Mayhem morning show is now syndicated from. Suite at EpiCentre, 210 E. Trade St. suitecharlotte.com.
Meanwhile, across the walkway, BlackFinn American Saloon is hosting a Little Black Dress party. They've partnered with popular partying philanthropists (say that three times fast) Guys with Ties and are asking women to not only wear their LBD's but to also bring items from their closets to give to charity. Bring your gently used accessories (belts, purses, jewelry) to support Dress for Success Charlotte, and you'll receive complimentary passed hors d'oeuvres, drink specials, and a chance to win prizes, including a Coach purse. The event goes from 8-11 p.m. BlackFinn American Saloon, inside the EpiCentre, 210 E. Trade St., blackfinncharlotte.com.