Special Screening tonight of 'Carolina Stories'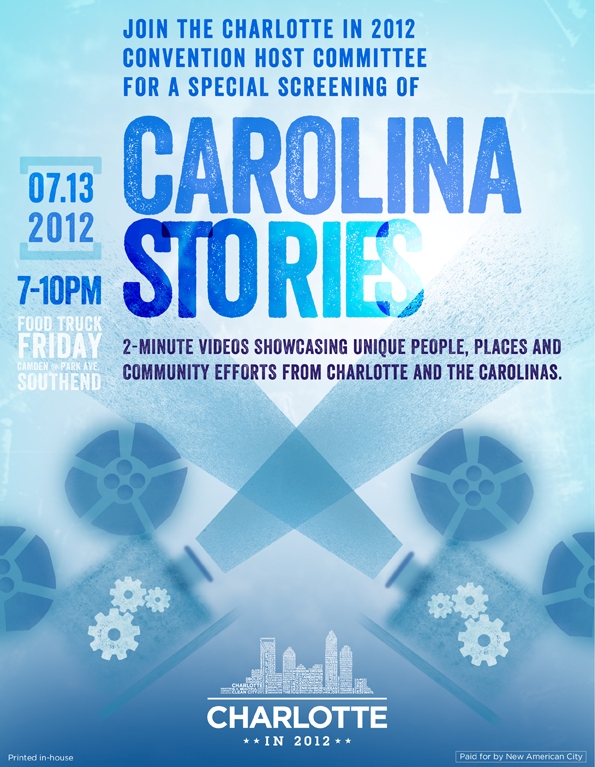 In March, the Charlotte in 2012 Convention Host Committee began releasing videos each week in a series it calls Carolina Stories. The two-minute videos, now 30 of them, are commissioned by the Host Committee and created by local filmmakers and videographers to showcase why it's great to live, work, and build relationships in Charlotte and the Carolinas. Videos will continue to be released on up to the start of the Democratic National Convention. And tonight, you can watch a special screening of the first 30 of them.
It's Food Truck Friday in South End, you know, where food trucks gather, beginning at 5 p.m., in the vacant lot at the corner of Camden Road and Park Avenue (112 W. Park Ave.). Hundreds of people typically come out through sunset to order up delicious fried foods and desserts.
The Carolina Stories video series screening is free and open to the public, and will go 7 p.m. to 10 p.m., likely repeating a couple of times—30 videos at two minutes each would run for an hour. You'll see videos on great Charlotte companies, organizations, initiatives, attractions, and people, like Siemens Energy, Communities In Schools, Community Health Clinic, Charlotte Roller Girls, Hackerspace Charlotte, and many more. The Light Factory is providing logistical support for the screening.