Spotlight: SOCO Gallery Switches Gears With Night Garden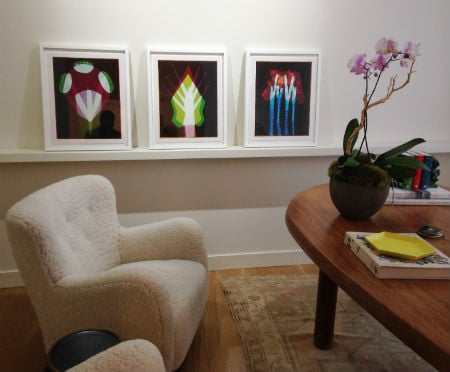 ONE YEAR AGO this week, Chandra Johnson's SOCO Gallery premiered as a pop-up effort in Mint Museum Uptown, occupying an unfinished space on the fifth level. The vibe of Lyle Owerko's popular The Boombox Project suited the raw backdrop. Hip-hop blared in the background at its opening; an open plan gave each singular photograph its own sense of urban vibrancy. The exhibit was, in headline terms, "a hit."
That was before the gallery found a permanent home in Myers Park and debuted A Fluid Journey, an accessible, yet thorough exploration of beach life that arrived just in time for summer. It was a safe concept done well: a seasonal exploration with an unexpected roster of respected photographers. The name was a wink to the classic surf films of the 1960s. Artists like Will Adler and Ken Van Sickle brought credibility to the idea.
After its first two Charlotte exhibitions, SOCO Gallery could have easily been labeled as a photography-driven gallery with a deep and explicit emphasis on time and space. Detailed depictions of boomboxes highlight city life in the 1980s; themes of leisure and nostalgia radiate from A Fluid Journey. But with Liz Nielsen's Night Garden (running Sept. 9-Oct. 31), the narrative of SOCO has changed. Nielsen's work confirms only one constant for the gallery: It knows quality—and how to capture the attention of Charlotte.
The Brooklyn-based Nielsen has had a great year in 2015. She's had solo shows in New York City's Denny Gallery and Laurence Miller Gallery. An exhibition titled BLACK/WHITE put her work alongside artists like Austin Eddy and Robert Motherwell. (The latter was the subject of a recent exhibit at Jerald Melberg Gallery, which was probably the most important exhibition of fine art in Charlotte in recent memory.) After seeing Night Garden adorn the white walls of SOCO Gallery, it's hard to imagine a better fit elsewhere in the city for this exhibit.
Nielsen's process often dominates discussion of her work. She spent a recent Saturday morning in Charlotte explaining how she makes her so-called "photograms." There is no camera, she says; she works with objects, colored gels, and light directly on the photographic paper. The result is mostly abstract and sometimes representative, emerging from the dark room as gorgeous and otherworldly expressions. This method allows Nielsen to explore single subjects through repetition and fine-tuning. "People can't get past the fact that I'm not using a camera," Nielsen said in an chat with the magazine. "They say, 'How is this photography?' And I say, 'In a way, I'm a painter with light.' But I'm a photographer's photographer, too. It just doesn't have those qualities that people think go with photography, like 'truth' and 'location.' "
The products are deceptively simple still-lifes of abstraction (or "visual Vitamin D," as Johnson labels it). Many would call it avant-garde, but that would suggest a lack of accessibility. Accessibility is not an issue for SOCO, if the packed events and sales for Nielsen's work are any indication. Some can afford to buy the work shown at the gallery. Others opt to pick up items from the SOCO bookstore, like the collected images of Owerko's The Boombox Project. Everyone can see the work at the Myers Park gallery for free. Each opening is a mix of who's who in Charlotte arts, neighborhood foot traffic, and interested out-of-towners. You can walk up to pieces in the gallery and wonder to yourself, "How did she do that?" And if you ask someone, you'll get your answer. In a year, SOCO has joined the ranks of some of the best fine arts venues in Charlotte. And with this exhibition, we're all wondering where they'll go next.