Spring Arts Preview 2014
What to see and do during the second half of the season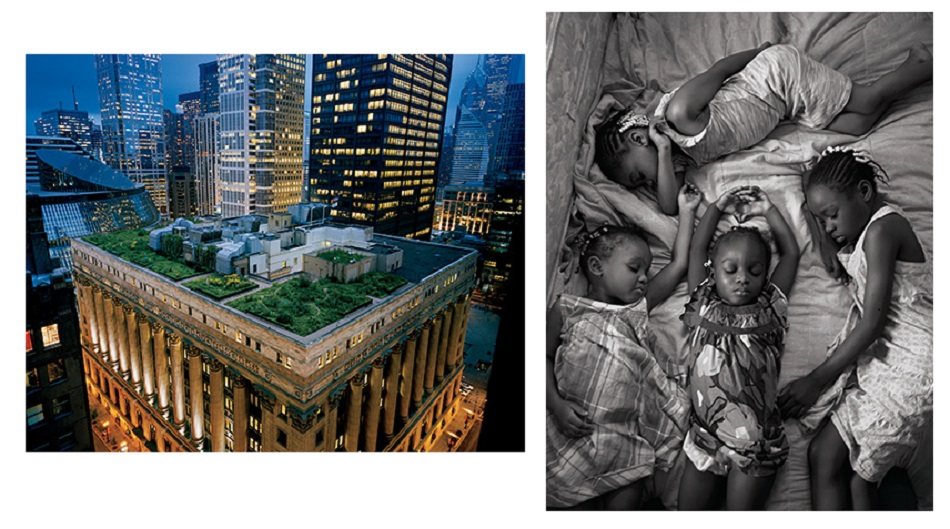 Women of Vision
The Mint opens a world-class exhibition of National Geographic's best photography

Last year, in honor of National Geographic's 125th anniversary, the magazine's editors sat down to discuss their favorite stories from the past decade. From child brides in Yemen to vanishing languages in Mexico, many of the most compelling articles had something in common: They were photographed by women. In a profession dominated by men, this was an unusual trend. "They represent the sort of new generation of photojournalism at National Geographic," says Kathryn Keane, vice president of exhibitions for the National Geographic Society.
Women of Vision: National Geographic Photographers on Assignment celebrates these photographers and their work. Through more than 100 photos, plus audio and video interviews, the exhibition delves into the lives of 11 photojournalists and their subjects. There's also an interactive activity explaining how National Geographic editors sift through the thousands of photos gathered on assignments to choose the few, iconic images that appear in the magazine. One of the goals of the exhibition is to inspire young women to become photojournalists.
"There is a gender issue here, and we need the female point of view in the world," says photographer Lynn Johnson, whose work is part of the exhibition.
After opening in Washington, D.C., last fall, the touring exhibition's first stop is the Mint Museum Uptown, from March 29-July 20. Tickets: free-$20. mintmuseum.org.—L.R.
---
LOGAN CYRUS
Peanut butter, jelly, and music: Music Director Christopher Warren-Green wants to see you—and your lunch—at the symphony.

Lunch Arrangements
Charlotte Symphony opens a season of Brown Bag Matinees

Charlotte Symphony Orchestra Music Director Christopher Warren-Green spent some time last year speaking to different groups around Charlotte and asking them what they wanted from their symphony. One of the most popular answers surprised him.
"It was amazing how many people came back with, 'We'd love to have matinees,' " Warren-Green says. "To actually be able to have a break at lunchtime and let music wash over them was a perfect idea."
But lunchtime is for lunch. So instead of making Charlotteans choose between eating and an early matinee, Warren-Green invented the Brown Bag Matinee, a program in which people can bring food and drink inside the theater. "All I want to do is make the make music as accessible as it possibly can be for as many people as we possibly can," Warren-Green says. "That's really where it came about. This is a way of getting the music to people on their terms."
After a soft launch in October, the symphony is kicking off the 2014 series of lunchtime shows with a noon show on March 28, Charlotte Symphony KnightSounds: "A Little Knight Music." The rustling of brown bags inside the Knight Theater will be accompanied by music selections that will include Haydn's "Farewell" symphony and Mozart's "A Little Night Music." Tickets are $12.
Later in the spring, the Brown Bag Matinee returns with the KnightSounds show "Carnivale." The show features Dvorak's Carnival Overture, Saint-Saens's The Carnival of the Animals, and "Summer" from Vivaldi's The Four Seasons. A nighttime performance ends with a street festival, food trucks, and a cash bar.
KnightSounds and the Brown Bag Matinees are just a couple of components of what the symphony has in store this spring. "The symphony is doing much more than people think," Warren-Green says. See what he means in the box to the right. —A.S.
MARCH 3 | Charlotte Symphony Youth Orchestra Winter Concert
MARCH 14-15 | Dvorak Symphony No. 8
MARCH 28 | A Little Knight Music
APRIL 4-5 | Debby Boone—Swing This!
APRIL 5 | Little Red Riding Hood
APRIL 11-12 | All Russian
APRIL 23 | Charlotte Symphony Youth and Junior Youth Orchestras Youth Festival Concert
APRIL 25-26 | Charlie Chaplin's City Lights
MAY 2-3 | Verdi Requiem
MAY 6 | Charlotte Symphony Junior Youth Orchestra Spring Concert
MAY 9 | Carnivale!
MAY 18 | Charlotte Symphony Youth Orchestra Spring Concert
---
Uptown Escape
A new art gallery opens in a corporate tower, bringing light and healing
Sozo Gallery is quiet and slightly gray on a cold Monday morning in January. Floor-to-ceiling windows let in beams of light softened by winter clouds, but the gallery is as empty as the Hearst Tower patio beside it—a sharp contrast to warmer afternoons, when lunchtime patrons pack the tables and chairs and spill onto the gallery's doorstep.
LOGAN CYRUS
Shown is Sozo Gallery owner Hannah Blanton.
"On a beautiful day, this [patio] is full out here, just full," says owner Hannah Blanton, who opened the gallery in October. "I open the doors; people like to come in, look, and educate themselves, to come escape and learn."
Around her, uptown office cubicles are filled.
It's a challenge to snare visitors in the middle of a business day, but Blanton predicts the crowds will pick up when spring arrives and word about the gallery spreads. "Already, families come into Charlotte on day trips and pop in because we're right uptown," she says. "Sometimes, folks who have retired take the train into town and visit."
When they arrive, visitors can take in work of all kinds, from classic art to modern art, from local to national artists. "I really want any and everyone to feel welcome," Blanton says. "I don't care who you are,
I want you to feel comfortable to come in, appreciate the art, and enjoy it. Learn something new."
Blanton's relationship to art grew from a process of healing. After surviving Guillain-Barre Syndrome, she organized an annual art auction to fund research on the rare autoimmune disorder. The event, called the Carolina Art Soiree, grew into one of Charlotte's largest annual galas, and the owners of the Hearst Tower noticed.
"We've seen what you've done; we like your energy," Blanton remembers them saying. "We see an art gallery in this space, and we want you to run it."
"Why not?" she said.
In Greek, sozo means "to be healed by God, to make well, to save." In Japanese, it means "to create, to imagine."
"You never know who you're going to meet in an art gallery, or whose life you're going to touch," Blanton says. "I want Sozo to be for its visitors a taste of what art's been for me—healing."
Sozo's featured artist in March, Laura Liberatore Szweda, is an abstract painter based in Charleston. Sozo is open 11 a.m.-2 p.m. Monday through Friday or by appointment. Price: Free. sozogallery.net. —H.L.
---
Lead Fiddle
Joshua Bell made his name as one of the most accomplished violinists in the world. This month, he comes to Charlotte playing a new role: music director
For Joshua Bell, being a virtuosic, world-class violinist wasn't a given. Before the Grammy-winning recordings, before his travels across the globe, and before the Washington, D.C., busking experiment that became a Pulitzer Prize-winning story, he was just any other boy, growing up in Indiana, following the lead of his mom and dad.
IAN DOUGLAS
"It was having the right parents—ones that encouraged music," Bell says. "That's really the reason I'm here today."
The fruits of that encouragement continue to spring up. In 2011, Bell was asked to take on a new role: music director for The Academy of St. Martin in the Fields, one of the world's most celebrated chamber orchestras, based in London. Bell and the orchestra are scheduled to perform at the Halton Theater at Central Piedmont Community College on March 27, as part of the 2013-14 Charlotte Concerts season. The performance is sold out.
As a performer, Bell is incomparable, making his Carnegie Hall debut at age 17 in 1985 and recording 40 CDs since. In 2007, he performed at a subway stop in Washington, D.C., as part of a Washington Post writer's experiment looking at art in public places, and the writer's story won a Pulitzer. As great as he is individually, Bell's leadership role for the academy has produced new opportunities and challenges. Now 46, he not only performs, but also organizes and directs the orchestra during each performance. The word he uses to describe the job is "exhausting."
"You have to have every brain cell working, hearing every part," Bell says. "You're responsible for everything going on. You can't get away with anything. The second you stop playing, you're turning around and conducting. I'm either playing or directing for every second of a piece."
After two years as the second-ever music director for the group, Bell has started to settle into the role. "I'm getting to know them really well now," he says of the other musicians. "We really understand each other now and some really amazing things can happen with that. With the directing, you spend lots of hours on details. It's an amazing learning experience as a new conductor. We can refine it night after night."
Armed with his 300-year-old Huberman Stradivarius violin, Bell will join the orchestra for renditions of Bach's Concerto No. 2 in E major, Beethoven's Symphony No. 1 ("Not played as often [as many other pieces]," he says. "It's just a perfect symphony."), and Schubert's String Quartet No. 14 for the Charlotte crowd. The lineup is fairly standard for the tour, but Bell says the show never goes stale, no matter how many times he directs it.
"It's just been amazing for me," he says. "The best experience ever." —A.S.
---
16 Other Events You Might Want to Try This Season
Music
>> Sometimes you need a low-key concert, occupying a back table in a dark Plaza Midwood venue. And other times, you want to see Miley Cyrus at the Time Warner Cable Arena. The divisive pop figure comes through Charlotte on April 7.
>> Straight from your local barista's Pandora playlist, Local Natives brings indie pop to the Fillmore on April 19. Hummingbird, the group's sophomore effort, was produced by The National guitarist Aaron Dessner.
>> Pentatonix got its name from the pentatonic scale, its five notes represented by the group's five members. The ensemble competed on the television show "The Sing-Off" in 2010, and demand for its music has continued to rise. The March 27 show at the Fillmore is sure to be packed.
>> Post-rock is good for at least two things: goosebump-inducing live shows and soundtracks for TV shows about high school football. You can enjoy at least one of those experiences at Amos' Southend, as Scotland-born Mogwai performs with Majeure on May 6.
Theater
>> Ghost the Musical, based on the 1990 film starring Patrick Swayze and Demi Moore, floated onto the stage in 2011. The stage version, running April 1-6 at the Belk Theater, maintains the film's trademarks, such as "Unchained Melody" and the pottery scene. But this is a musical, so the 1955 tune is joined by a handful of originals that guide the narrative.
>> For the first time in nearly two decades, a Charlotte company is tackling Angels in America, the Tony Kushner-penned script in which nine lives intersect against a 1985 New York backdrop. In the Tony Award- and Pulitzer Prize-winning play, Prior Walter, a gay man with AIDS, is visited by an angel, who tells him he is a prophet. Carolina Actors Studio Theatre performs the play May 7-31.
>> Miles & Coltrane: Blue (.), running April 24-27 at Duke Energy Theater, focuses on the relationship between jazz greats Miles Davis and John Coltrane. Actors, musicians, and poets take the audience through 1950s America.
>> In Other Desert Cities, writer Brooke Wyeth is home for Christmas Eve with her tell-all memoir in hand, threatening to reveal a grave family secret. The drama, written by Jon Robin Baitz, has wowed off-Broadway and Broadway audiences, and from April 17 through May 10, Actor's Theatre of Charlotte will perform it.
Kids
>> The classic book The Reluctant Dragon comes to life with this Children's Theatre of Charlotte production. Forget all the nasty dragons you see in the movies; this tea-drinking, butterfly-wooing angel of a monster attempts to change the minds of angry villagers with his best friend, Glaston. The production runs April 11-May 4.
>> Sesame Street Live: Can't Stop Singing includes Elmo, Big Bird, Bert, Ernie, and the rest of the crew in this tune-filled stage show at Bojangles' Coliseum. After a magic wand turns Sesame Street into an all-out musical montage, Elmo must figure out how to get things back to normal. Bring the kids to help him out on May 9-11.
Opera & Dance
>> The Flying Dutchman is the classic Richard Wagner opera about a dreamer who flees to the seas to seek a ghost captain. The performance comes to the Belk Theater on March 22, 200 years after Wagner was born.
>> Dwight Rhoden's adaptation of Othello puts a dance-driven, 21st-century spin on the Shakespearean tale. Iago, the narrator from the original story, is now a troubled singer who targets Othello, a music industry executive. It's an electric take on the story, with North Carolina Dance Theatre performing this rock-laced show at the Knight Theater, April 24-26.
Film
>> Hubble in IMAX is the seventh film from the IMAX Space Team, and it's landed in Charlotte through early June. Besides its stunning visuals, the film is narrated by Leonardo DiCaprio.
>> The Banff Mountain Film Festival, based in Banff, Alberta, Canada, hit the road this year and has a stop in uptown's McGlohon Theatre on March 15. The event celebrates the films of mountain sports and culture, and the tour serves as a rolling highlight reel for audiences across the country to enjoy.
Miscellaneous
>> Don't forget the events that aren't so easily categorized. For instance, the Charlotte Symphony's live performance of the soundtrack to Charlie Chaplin's City Lights (April 25-26) is sure to impress, with the classic film playing along with the music. Or, check out PostSecret: The Show from April 22-May 4, which adapts to a live show the popular website in which people mail in secrets anonymously on one side of a postcard. —A.S.