Spring Arts Preview: 2015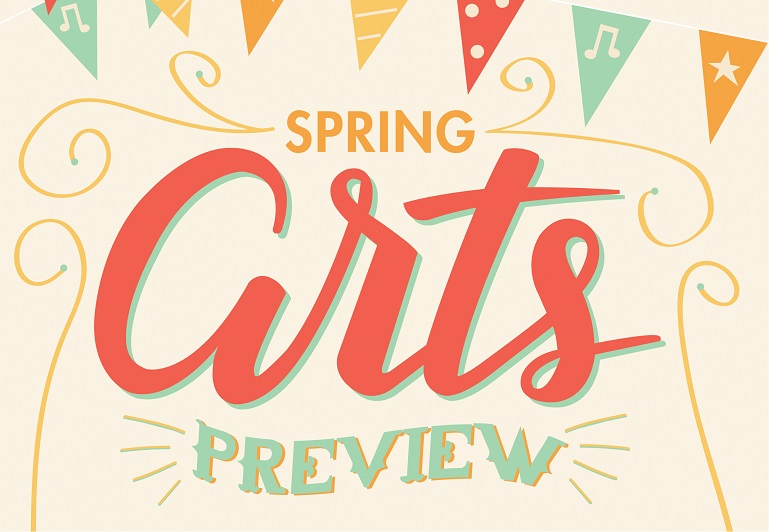 Lucia at the opera, Jesus Christ Superstar, Jason Isbell, G. Love & Special Sauce, "Conversation: Selma in Retrospect," the Sensoria Festival, Charlotte Craft Beer Week, and plenty more are calling you out of the house this season
BY ANDY SMITH
Changing her tune
Opera singer goes from Mozart to her dream role with Charlotte performance
KATHRYN LEWEK has toured the world and plays a different role nearly every time her plane touches down. But there's one role that's eluded the 31-year-old opera singer since her days at Eastman School of Music in Rochester, New York. With Opera Carolina's performance of Lucia di Lammermoor in April, she fulfills a dream and reunites with Maestro James Meena.
AS: What does portraying Lucia, the titular role of this opera, mean for you?
KL: It's been my dream role, ever since I could warble out a note. Even when I wasn't a coloratura soprano, I wanted to be a coloratura soprano—just so I could sing this part. It's a really exciting thing for me to finally get to do this. It's just a great vehicle for my voice. It has a strong middle section with the acrobatic highs.
I'm also excited because I get to work with [Opera Carolina's] James Meena. We worked together when he was in Toledo [Ohio]. I knew that this was a guy I need to work with again. He's so insightful, and he knows so much about the voice. He'll never be out-of-sync with me; I know when he's up there, he's going to be with me.
AS: You performed Queen of the Night in The Magic Flute in Houston last year. How are the roles different?
KL: I find them to be different styles of singing, with even the way I produce the sounds. One, you have this Disney-like villainess with an edge. With Lucia, you have a delicate flower, who later has kind of an edge, but it's different.
AS: From your schedule, it looks like you've been all over the U.S. in the past year. How do you keep the voice safe through travel and different climates?
KL: Singing takes the entire body. People talk all the time about jet lag, but they don't talk about what it's like to jump into a new climate. [Wherever] you are, you need to go out and exercise in that climate. You need to sweat and breathe in it. I've actually started a health and wellness website for traveling professionals [nomadiva.com].
AS: As you prepare to play Lucia for Charlotte, and after that, Toledo, do you feel like this story is accessible to audiences outside of the opera scene? There are touches of Romeo and Juliet there.
KL: It's really a popular theme that continues to resonate. When I tell people I'm going to play Lucia, they say, "Oh, uh, I don't really know what that is." I just tell them that it's a timeless story. They'll love it, even if they don't speak Italian.
* Opera Carolina's Lucia di Lammermoor runs April 11-19 at Belk Theater.
---
THEATRE & COMEDY
>> The Charlotte Comedy Zone continues to court the country's biggest road comics. Margaret Cho began her stand-up career at 16. Thirty years later, she's still renowned for her takes on race, sexuality, and politics. She comes to Charlotte April 9-11. Other comics taking the Comedy Zone stage this spring include Jim Breuer (May 10) and Iliza Shlesinger (May 28-30). Language in video below is NSFW.
>> If you're looking for a solid local performance, head to Theatre Charlotte to witness the company's take on Jesus Christ Superstar (May 15-31). The play may not have the controversial weight it had in the 1970s, but the Andrew Lloyd Webber and Tim Rice creation transcends generations. For more comedy than song, check out Actor's Theatre of Charlotte's Detroit (April 22-May 9). The suburban tale sees a couple's false notions of stability challenged by new neighbors.
>> For a story that inspires child-like glee, Dr. Seuss' The Cat in the Hat is the play to see. Children's Theatre of Charlotte translates this tale. Go to ctcharlotte.org for tickets on sale. Purists: Don't worry. You'll have a good time. Like the book, all of the cat's lines are in rhyme. (I'm sorry.) April 10-May 3 at McColl Family Theatre.
>> Blumenthal Performing Arts' Broadway Lights Series continues this spring. Pippin (the musical, not the hobbit) comes off a revival on Broadway that netted four Tony Awards in 2013. The narrative follows a prince who searches for the meaning of life. And as is the case with musicals, it takes a lot of running around, dancing, and singing to find it. Pippin runs May 19-24 at Belk Theater.
---
MUSIC
>> U.S. National Whitewater Center's Tuck Fest (April 17-19) is both an outdoor competition and a compelling live music event. You don't have to have a paddle to check out acts like Jason Isbell, who plays the main stage on Friday. Isbell rose to the top of Americana singer-songwriter rankings with the 2013 album Southeastern, and he swept the three major categories (album of the year, song of the year, and artist of the year) at the Americana Music Association Awards last year. Also on the lineup for the weekend: Strand of Oaks, Hiss Golden Messenger, and JJ Grey & Mofro.
>> Dweezil Zappa is musical royalty because of his father, Frank, who tops every best-of list in the avant-garde rock genre. At the Neighborhood Theatre, Zappa Plays Zappa (May 8) will show that talent doesn't skip a generation. Dweezil will perform his father's revered One Size Fits All album in its entirety, as part of a world-tour tribute to Frank's music. Earlier that day, you can take part in a master guitar class with Dweezil in the same space.
>> Charlotte Symphony Orchestra returns this season with a packed schedule for each of its series. Classics includes Tchaikovsky Symphony No. 2 (March 13-14), Barber, Copland & Bernstein (March 27-28), Chopin Piano Concerto No. 2 (April 23-25), and Dvorak "From the New World" (May 8-10).
Pops programs have Mary Chapin Carpenter (March 7), The Music of Led Zeppelin (March 21, Ovens Auditorium) and Pink Martini (May 1-2).
KnightSounds performs A Night in New York (April 17-18) and Music Fireworks: Handel & the Royals (May 15).
>> For the rock club experience, no venue garners more national acts than the Fillmore. Here are just a few from this spring's schedule: Steve Aoki (March 19), G. Love & Special Sauce (March 21), The Decemberists (April 9), Guster (April 20), and Ministry (May 19).
---
FINE ARTS
>> Growing up in Alabama, Vicki Moreland would visit her Aunt Barbara's studio and enjoy a private showing of her latest paintings. Aunt Barbara was Barbara Pennington, the prolific, award-winning artist who worked in that studio until the last year of her 81-year life. When Pennington died two years ago, Moreland inherited the studio.
Moreland, now a Charlotte resident, went back to Alabama in 2013 with her husband and began to sort through the studio and the hundreds of paintings it held, those finished and those still in-progress. Rolled up in the corner of the space, they found "Selma." Unfurled, the 1965 painting stretched nine feet, and it focused on the harrowing events that occurred during the Selma to Montgomery marches that year. The piece depicts a divided scene of violence and peaceful protest: a Ku Klux Klan member looms over a police officer beating African-Americans, and peaceful marchers exit a Southern church. "I loved my aunt dearly." Moreland says. "I knew that this was probably her masterpiece, and that it was just so special. It needed to be out there so people could see it."
Moreland began to reach out to museums and groups that could give the painting the public space she believed it deserved. She emailed photos of the painting to galleries around the region, and several in Charlotte and Alabama were interested. "I didn't want this to stay in my house," she says. "I was afraid something would happen to it. But I wanted to keep it close."
Dr. Jonathan Stuhlman, senior curator at the Mint Museum Uptown, was one of those interested. He decided that, as the 50th anniversary of the Civil Rights march between Selma and Montgomery approached, "Selma" should live in the museum's permanent collection galleries of Modern & Contemporary Art. It was installed on the fourth level of the uptown building last June, and acquired permanently by the museum on December 31.
Moreland can now go visit her aunt's painting whenever she wants. She'll be in attendance at a March 25 event at Mint Museum Uptown, titled "Conversation: Selma in Retrospect—The 50th Anniversary of a Monumental Civil Rights Moment." The talk will touch on the events in the painting, as well as Hollywood's latest take on the period, the Oscar-nominated film Selma. So far, Moreland says the reactions to the painting have been a pleasant surprise.
"I didn't want the painting to be perceived as racist because of what it shows," Moreland says. "And it wasn't. From the reactions I've seen, it's seemed like a sense of pride for African Americans and what they've overcome. The community's response to the painting has been wonderful."
For more on Barbara Pennington's work, visit bpenningtonart.com.
---
>> Also at Mint Museum Uptown: Body modification and augmentation are more than just ways to anger conservative parents: They're living art. That's why Body Embellishments focuses on the worlds of tattoos, jewelry, fashion, and nail art. The exhibit opens April 11 and runs until September 6.
>> Henri Matisse helped define modernist art in the 20th century. His cutouts, paintings, and drawings are his best-known works, but at the Bechtler Museum of Modern Art, an exhibit highlights one of his other successful endeavors: book illustration. The Art Books of Henri Matisse opens on February 27 and runs through September.
>> Little Sugar Creek Greenway is the site of this year's Kings Drive Art Walk (April 25-26). The greenway will be lined with arts, crafts, and live music, and this year's event will put a focus on fine and emerging artists.
>> Cedars in the Pines: The Lebanese in North Carolina: 130 Years of History is a first for North Carolina art exhibitions. The Levine Museum of the New South display, opening March 7, chronicles the story of Lebanese immigrants who moved to the state in the 1880s. The Khayrallah Center for Lebanese Diaspora Studies at N.C. State University created the exhibit, which includes home movies, audio, vintage photographs, and personal stories.
---
EVERYTHING ELSE
>> Central Piedmont Community College's Sensoria Festival (April 10-18) covers a range of mediums, including culinary arts, history, literature, music, fine art, and performing arts. You'll find no shortage of book fairs within the festival. Take a ceramics workshop or watch the CPCC Dance Theatre perform. Or you could meet some of the festival's guests, including:
Chris Abani: The Nigeria-born novelist and poet has made waves in the literary community since he was 16, when he wrote his first novel, Masters of the Board. It kicked off a string of imprisonments, and Abani was accused multiple times of attempting to overthrow the Nigerian government. The third time, he was put on death row. Abani talks about his journey and his work at the festival.
Molly Guptill Manning: When Books Went to War: The Stories that Helped Us Win World War II tells the story of 120 million books sent to U.S. soldiers in 1943. Manning will discuss her book, read an excerpt, and sign copies. The nonfiction tale has garnered favorable reviews from Tim O'Brien, author of The Things They Carried, and Pulitzer winner Megan Marshall.
Hannibal: Chris Hannibal is a Charlotte native, but the magician has performed across the globe. He's recognized by the International Brotherhood of Magicians (which is a real and serious thing, I assure you). His specialties include street magic, comedy, and the kind of tricks that make you question your eyesight.
>> At the Knight Theater, three ballets merge into a single experience with Charlotte Ballet's Contemporary Fusion (April 23-25). Choreographer Dwight Rhoden introduces house music into his performance, which is a world premiere. Also, Jean-Pierre Bonnefoux adds a classic approach with the delicate Danse Brillante. And the third ballet sets the movement of the Shakers to Aaron Copland's Appalachian Spring.
>> Beer nerds: Mark your calendars. Charlotte Craft Beer Week (March 20-28) infiltrates every corner of Charlotte in its sixth year. It's all taps on deck, as breweries, shops, and restaurants bust out the most rare and most coveted ales around. It crescendos on March 28, when Amos' Southend will be packed for an event called "All Ale to the Queen." There will be live music, aerial dancers, and a costume contest. Oh, and not to be forgotten, beer.