Spring Arts Preview 2016
20 events you shouldn't miss this season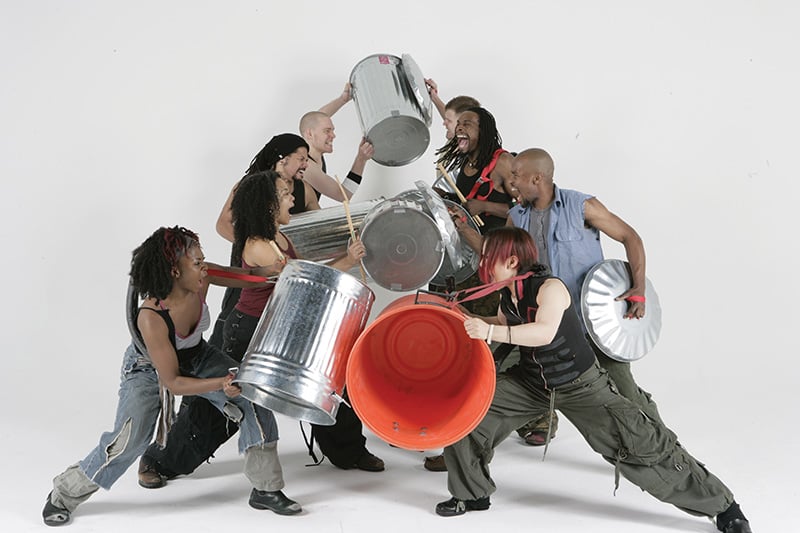 1.Maria Bamford at McGlohon Theater (May 22)
It's difficult to capture an interview with comedian Maria Bamford in print.
The 45-year-old regularly injects different voices into conversations for dramatic effect. She lowers her voice to sound serious; she uses a hushed, urgent voice to show anxiety. During our interview ahead of her May show at Spirit Square, she provides another one of her signature comedic marks: honesty. Here's a snippet of our conversation, which ranged from the pros and cons of comedy venues to her current feelings about stand-up.
In 2014, you were given an American Comedy Award for "Best Club Comic." What's it like performing at a theater like McGlohon, compared to the clubs you started in?
It's just more focused. For the audience, there's less distraction. You know, clubs are just a different environment; they're so much closer to the stage.
For my act, I don't do a lot of crowd work. So a theater should be good. I haven't been doing big theaters for very long, but it's actually felt more lonely for me. I'm told they can be more intimate, almost a private conversation. And that would be my hope. I'd like to get there.
You don't perform in the South very much. Does the material change when you come to this part of the country?
Not too much. But there's one joke I tell because I usually perform in liberal pockets in the South. It's about how I hear certain things I didn't expect in a Southern accent. [She lowers her voice and says with a twang:] "Here's a little song I wrote about universal health care and how it's a basic human right."
You've been extremely transparent about your struggles with mental illness and insecurities. What's it like to have that ongoing conversation with your audience?
With the audience I have now, people know what they're going to see. They're already so supportive.
I've read that people tend to share their own issues and experiences with you after the show. Does that get draining? Or do you still enjoy that?
Oh, my gosh, yeah. I love that. That is the wonderful thing about having public recognition. You're not alone anymore. People feel like they can talk to you. I love those conversations.
Lately, you've been a busy woman. How do you navigate these stand-up dates, do podcasts, and make your upcoming Netflix show Lady Dynamite?
I'm grateful for all of it. It's all about creating and continuing the hustle. That's the fun part, anyway. If something happened to my career, that part will always bring me joy. I can't look at success and say, "I'm king of the world." That's so fleeting. It's really that the anchor is friends, family, and a liquor store notebook that I got for $1 and write all my ideas in.
---
2.Kings Drive Art Walk (April 30-May 1)
For two days each spring, the stretch of Little Sugar Creek Greenway along Kings Drive is adorned with easels, canvases, and the buzz of local commerce. Now in its sixth year, the event brings in more than 80 vendors representing several mediums. Live music performances and other family entertainment occupy nearby stages throughout the daytime hours.
---
3. Once at Belk Theater (April 1-3)
A heartbroken Dublin busker is inspired by a woman who comes into his life unexpectedly in this song- fi lled narrative. In 2012, the show's original Broadway incarnation nabbed eight Tony Awards, including Best Musical. Since then, it's toured the country with cast members each capable of singing and playing an array of instruments. This show is a Broadway Extra from Blumenthal. Broadway Lights shows for the spring include Beautiful: The Carole King Musical at Belk Theater (April 19-24) and The Bridges of Madison County at Knight Theater (May 3-8).
---
4. Neil deGrasse Tyson at Ovens Auditorium (April 21)
A couple of years ago, the celebrity astrophysicist saw an episode of his TV show, Cosmos: A Spacetime Odyssey, bumped due to a NASCAR race in Charlotte. How did he handle it? He started tweeting physics-y stuff about the race. Tyson has become one of the leading ambassadors for science. Through Twitter, television, podcasts, and printed columns, he continues to galvanize interest in the universe around us.
If you travel faster than 165 mph on the 24-degree bank turns at Charlotte Motor Speedway you will skid into the embankment.

— Neil deGrasse Tyson (@neiltyson) May 26, 2014
---
5. Urban Ministry's HousingFest: A Concert to End Homelessness at the Fillmore (May 28)
Singer-songwriter Josh Ritter performs at the second HousingFest, a festival focused on ending homelessness in the Charlotte area. Sermon on the Rocks, Ritter's latest LP, has more rock and more groove than his earlier material. He describes the new stuff as "messianic oracular honky-tonk."
Also on the HousingFest roster is Matrimony, the Charlotte-turned-Nashville act consisting of married duo Jimmy Brown and Ashlee Hardee Brown, and her siblings, Jordan and C.J. Hardee. Lindi Ortega and Justin Fedor round out the list of performers.
---
6. The Addams Family at Theatre Charlotte (May 13-29)
Wednesday Addams has grown up, and she has a new boyfriend. Here's the problem: He's completely normal. This musical-comedy revives this franchise, with all of its creepy characters in tow, for a new adventure.
---
7. Go See Some Public Art
The Arts & Science Council hired Carla Hanzal as vice president of public art in November. Before that, she spent a decade at The Mint Museum, curating 40 exhibitions and managing the museum's own public art projects. In her new role, she's looking at the whole city.
"I look at the opportunity here, and see the ability to really change the visual landscape of Charlotte," Hanzal says. "We can reshape how the city presents itself for the next quarter-century."
This spring, visit some of the recently installed public artworks across Charlotte:
• "Ascension," by Dana Gingras, located near intersection of W.T. Harris Boulevard and North Sharon Amity Road.
• "Hornet's Nest," by Michael Morgan, at the CharlotteMecklenburg Police Department Westover Station on West Boulevard.
• "Old Growth," by Hoss Haley, located at the Charlotte Douglas International Airport Wilson Air Center.
• "Now Is Fireworks," from the Wall Poems of Charlotte, installed in Elizabeth at Eighth Street and Lamar Avenue.
---
8. Rihanna at TWC Arena (March 20)
The pop songstress is one of the biggest acts to come through Charlotte this spring. The "Take a Bow" singer is joined by Travis Scott. TWC Arena also hosts Mumford & Sons on April 14.
---
9. Charlotte Storytellers (Meetings Every Monday)
You may not be ready to take part in a showcase with Charlotte Storytellers, but if you're even interested in sharing a personal tale, head to one of the group's weekly meetings. The style is similar to that of The Moth, the famous storytelling group from New York. You don't have to speak right away. Every storyteller goes at his or her own pace. "Some people go to the meetings and never tell a story," co-founder Nora Orton said last fall. "Some people go and write something every time."
---
10. Hit the Galleries
A few new shows:
• Kindred: Photographers Focus on Family at Soco Gallery through April 2
• Contemporary painter Robert Kushner at Jerald Melberg Gallery March 11-April 23
• New Horizons at Lark & Key through March 26
• Taking Flight at Charlotte Art League March 1-24
---
11. Jason Isbell with Shovels & Rope (March 4)
This past year has been good to Isbell, the revered Americana singer-songwriter. Since his last performance here, he's released an album that went No. 1 on three charts (U.S. Country, U.S. Folk, and U.S. Rock) and had a baby girl.
He returns to Charlotte with Shovels & Rope, a Charleston-bred folk duo with their own dedicated following.
More folk-rock and alt-country:
• Deer Tick at the Neighborhood Theatre (March 9)
• The Old 97s at the Visulite Theatre (April 9)
• Father John Misty at the Fillmore (April 27)
---
12. Sensoria Festival at Central Piedmont Community College (April 8-16)
​Charles Williams, visual arts headliner for CPCC's Sensoria Festival, doesn't know how to swim. The 32-year-old painter had several near-death experiences in the water during his childhood in Georgetown, South Carolina. His enormous depictions of ocean waves conjure those memories.
Visitors to his multimedia exhibition, Continuum, may not know that context. But Williams likes that the water immediately means something different to everyone. "Water is universal," he says. "We all experience it, whether good or bad. We're made of it. People look at my work and say, 'Oh, I'm from the North, and this reminds me of going out on the lake.' Or, 'This is so alluring, so liberating.' For me, I think of the Lowcountry, and these images are haunting."
Sensoria, the annual festival that celebrates literature and the arts, asked Williams to create Continuum specifically for the festival (he'll be judging student work, as well). The exhibit will bring massive scenes to the walls of two galleries—Ross Galleries at CPCC will have images from nighttime at the ocean, and New Gallery of Modern Art in uptown will have scenes from daytime at the ocean. "I want people to feel like the water is surrounding them. I want them to feel like they're there," Williams says. "But the theme is the idea that we can confront these things we fear together."
For more of what the multi-faceted Sensoria Festival offers, visit sensoria.cpcc.edu.
---
13. STOMP at Knight Theater (April 5-10)
Since the 1990s, the STOMP ensemble has found new ways to create a theatrical percussion experience without traditional instruments. Hear trash can lids, silverware, scrap yard metal, and even human bodies make sounds that seem improbable. That's the magic of STOMP.
---
14. Pagliacci with Aleko at Belk Theater (April 10-16)
Pagliacci, a Leoncavallo opera regarded as a masterpiece, is paired with Rachmaninoff's Aleko. Although they are separate works, the two share performers for this production. For instance, soprano Elizabeth Caballero plays Nedda from Pagliacci and Zemfira from Aleko.
---
15. Spend Some Time with the Charlotte Symphony
Below is a breakdown of spring activities, by season:
Classics series:
• Rachmaninoff Symphony No. 3 (March 17-19)
• Bruch Violin Concerto No. 1 (April 29-30)
• Carmina Burana (May 12-14)
KnightSounds series:
• Romeo & Juliet (May 20-21)
Pops series:
• Bond & Beyond (April 1-2)
• Bernadette Peters (May 7)
---
16. CreativeMornings Charlotte on First Friday of Each Month
Since launching its Charlotte chapter in the fall, CreativeMornings has featured speakers such as Playing for Others founder Jen Band and Google Fiber's local community impact manager, Jess George. Matt Olin, host of the local meet-up, maintains that "anyone is a creative," which is why attendees at the free event range from corporate executives to working artists.
Space is limited, so grab your RSVP at CharlotteIsCreative.com at 9 a.m. on the Monday before a meeting. It sells out fast.
---
17. Kevin Smith at Charlotte Comedy Zone (April 18)
The writer/director brings his "An Evening with Kevin Smith" brand to Charlotte, where he filmed his 2014 film, Tusk. Hear him talk pop culture, Hollywood, and the occasional on-set anecdote from one of his 11 and counting films.
Also at the Comedy Zone:
• Dave Attell (May 12-14)
• Craig Robinson (May 26-28)
---
18. Hit the Museums
A few exhibitions worth your time:
• Pumped: The Art & Craft of Shoemaking at Mint Museum Uptown (May 7-Oct. 16)
• ¡NUEVOlution! Latinos and the New South at Levine Museum of the New South (through Oct. 30)
• Enter The Dragon: A Contemporary Chinese and Chinese American Art Exhibit at the Charlotte Museum of History through (May 31)
---
19. The Charlotte Jazz Festival at Knight Theater (April 22-23)
The two-day event comes from a partnership between Blumenthal Performing Arts and the Leon Levine Foundation. Local and national acts take the stage at the Levine Center for the Arts, with two performances from Jazz at Lincoln Center Orchestra. Not enough jazz for you? Go to one of the concerts at these monthly concert series:
Jazz at the Bechtler:
• Brazil at the Bechtler (March 4)
• Tribute to Milt Jackson and Modern Jazz Quartet (April 1)
• Smoking Saxophones (May 6)
The Jazz Room at Stage Door Theater:
• Tribute to Nina Simone (March 18) Knight Theater:
• Charlotte Symphony Knightsounds: The Jazz Room (April 15)
---
20. BOOM in Plaza Midwood (April 8-10)
In April, Plaza Midwood will host three days of performances and visual art for the first-ever BOOM. Wilmington's Alban Elved Dance Company and New York's Questionable Acts Theatre Company will be a part of the festival. Local faces include Matt Cosper's XOXO and Quentin Talley's OnQ ensembles. There will be more than 30 shows during the weekend, with live music, art installations, and open-air performances.
Organizer Manoj Kesavan, who also organizes the local talk-based Pecha Kucha night, says he and other members of the Charlotte arts community have been trying to have an annual festival for years. "Charlotte can be so institutiondriven; this is a grassroots effort," Kesavan says. "That's something we need to hold on to, the realness and grittiness of the city."
---
This article appears in the March 2016 issue of Charlotte Magazine
Did you like what you read here? Subscribe to Charlotte Magazine »
---