Spring Arts Preview 2017
A Grammy nominee, a MacArthur Fellow, and "An Evening You Will Forget for the Rest of Your Life," with Steve Martin. Here are 54 reasons to get excited.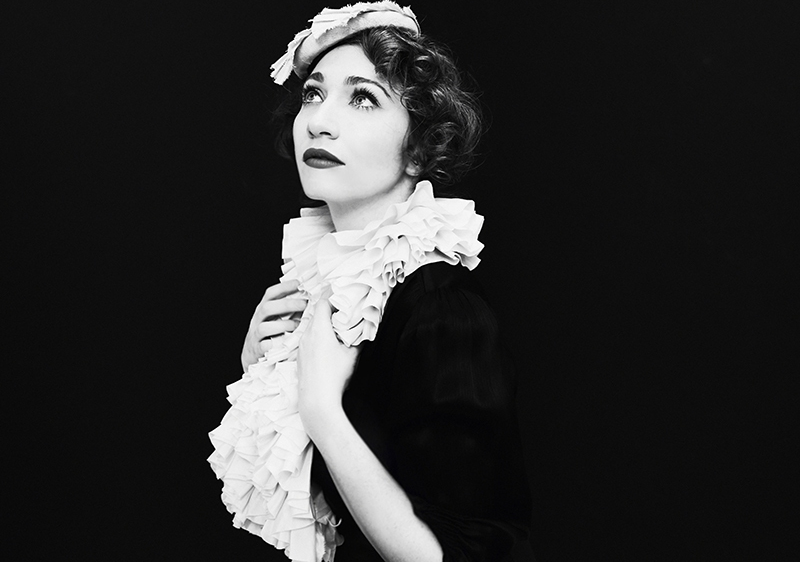 Regina Spektor
The Fillmore (March 17)
REGINA SPEKTOR IS BACK. Four years after her last record and tour, Spektor released Remember Us to Life in September. She recently talked to Charlotte magazine about the new LP, how parenthood has changed her career, and her appearance on the Hamilton Mixtape.
Charlotte magazine: Your new record, Remember Us to Life, is your seventh. What inspired this collection of songs?
Regina Spektor: Most of them were written after I had become a mother (in 2014). I think there were one or two that were written while I was pregnant. Usually, when I write a new song, I just add it to the pile from over the years. But these were all mostly written in a group together.
CM: Is that why youth and nostalgia are part of so many of these songs? Your first single, "Bleeding Heart," comes to mind. Did becoming a parent bring that feeling out?
RS: Maybe. But I think it just goes back to my own childhood. I remember promising myself that I wouldn't be one of those adults who grows up and forgets what it's like to be a kid. Even then, I really connected to artists who cared for kids. When I was a child in Russia, I connected to children's literature like Mary Poppins, and in America, authors like Salinger and Kafka—people that felt this connection toward youth and that spirit. I pledge allegiance to that rather than this disconnect from your authentic self.
I love that you can talk to a kid and ask them what they think of something and they say, "It sucks."
CM: How has touring and songwriting changed for you since parenthood?
RS: Your world is your world, and it's constantly shifting. Every tour is a different stage of your life. And every tour, I play a new collection of songs. And you're always changing as a person.
CM: Whether it's the theme song you created for Orange Is the New Black or your appearance on the Hamilton Mixtape, what's it like to be introduced to these new, rabid fan bases?
RS: I really love complete worlds. I get such a great feeling when I get to relax into an artwork, whether it's films like Boyhood or Rogue One. I've gone to a bunch of Radiohead concerts, and if it's Neil Young or Gogol Bordello, from the first moment of the concert, you know it's going to be awesome. It's really nice and an honor when you get taken by the hand into a new world and get to become a part of it.
Also at the Fillmore:
HousingFest, with St. Paul & The Broken Bones (March 11)
Trey Anastasio (April 20)
Dawes (May 3)
---
Visit a Gallery
Looking for a gallery show to visit? Here are four of our most anticipated spring events.
---
Neil Diamond
Spectrum Center (April 28)
Diamond's only stop in the Carolinas during his 50th anniversary tour is in uptown. The 76-year-old continues to spread joy across demographics—from old-time diehards who celebrate his entire catalog to beer-chugging fans who sing full-throated choruses of "Sweet Caroline" at sporting events.
Also at Spectrum Center:
The Weeknd (May 17)
Lionel Richie with Mariah Carey (May 21)
---
Did You Know?
The Flaming Lips Edition
One of The Flaming Lips' best albums is their 10th LP, Yoshimi Battles the Pink Robots, which came out in 2002. The robot on the cover should look familiar to Charlotteans. In a 2015 Instagram post, singer Wayne Coyne said Niki de Saint Phalle's "the Firebird," which has stood in front of the Bechtler Museum of Modern Art since 2009, was "the original inspiration for the Pink Robot!!!" At the time of his post, Coyne was at Charlotte Douglas International Airport but wasn't able to visit the Firebird. "Hope it stays there!!" Coyne wrote. "I wanna see it!!"
The Flaming Lips visit the Fillmore on March 30 . And, yep, it'll still be there, Wayne.
---
Steve Martin & Martin Short
Ovens Auditorium (April 22)
Touring as a duo, these comedy greats bring a blend of bluegrass instrumentation and one-liners to Ovens. The show's subtitle is "An Evening You Will Forget for the Rest of Your Life." Steep Canyon Rangers, who frequently collaborate with Martin, are also on the bill, as is pianist/keyboardist Jeff Babko.
---
Get Spacey at Discovery Place: Nature
The digital planetarium at Discovery Place: Nature debuted in January in the domed room that once housed the Charlotte A. Kelly Planetarium, which offered sky shows from 1964 to 1980. At the digital planetarium, visitors can choose from a collection of multimedia presentations that explore space travel, solar phenomena, and other adventures. Or they can take in a narrated star program that looks at what Charlotte's night sky offers during different seasons of the year.
---
Charlotte Ballet's Legendary Leader Retires
Jean-Pierre Bonnefoux joined Charlotte Ballet as artistic director in 1996, and this season is his last. You can bid adieu to Bonnefoux at the final two productions of the season:
Sleeping Beauty
March 10-19 at Knight Theater
Wuthering Heights
April 27-29 at Knight Theater
---
Game of Thrones Live Concert Experience: By the Numbers
Spectrum Center (March 9)
Hear Ye, Hear Ye!
On the ninth day of the third month in the two thousand and seventeenth year of our Lord, the sights and sounds of Westeros will descend upon Spectrum Center, our kingdom's grandest stage. These numbers doth describe the affair:
807: linear feet of video walls project the imagery of Game of Thrones
136: speakers deliver White Walker battle calls and dragon screams
15: semi-trucks transport materials of the Seven Kingdoms to Charlotte
11,588: miles will be traveled by said trucks during the North America tour, a great distance even if traveling by dragon
11: instruments perform the songs of ice and fire
7: battle scenes will be projected during the two-hour show
---
ACCLAIMED AUTHOR and MacArthur Fellow George Saunders will be one of the speakers at Central Piedmont Community College's Sensoria Festival (March 31-April 9). As the Irene Blair Honeycutt Distinguished Lecturer, he'll do readings and sign books April 5 at Halton Theater. In his 23-year career, the writer has produced short stories, novellas, essays, and a children's book. In our conversation with him, Saunders shares the story behind his first novel, Lincoln in the Bardo, which came out in February, and what it's like to visit schools such as CPCC.
Charlotte magazine: Why did you decide to make Lincoln in the Bardo your first novel-length story? And what inspired you to tell a supernatural tale about Abraham Lincoln's son Willie, who died while Lincoln was president?
George Saunders: Years ago, we were driving in Virginia. My wife's cousin mentioned that the cemetery we were passing was where Lincoln's son was temporarily buried. And she had mentioned also in passing that Lincoln was so upset and saddened during this time that he had visited his tomb in the middle of the night. First, it was fascinating to think about a time that the president could just leave the White House and do that. And just thinking about what he was doing in there, in a way, it became a mystery. And I carried it for many years.
In a way, I'm a guy who keeps getting broken up with. There are so many stories over the years that I thought, Could this be it? And it would just end up feeling overbloated if I took it further. It's actually kind of nice. In a way, I had just gotten over the lifelong desire to write a novel. And then this appeared in my lap.
CM: You're also a professor at Syracuse University. How do you divide time between writing and teaching? Has that gotten easier over the years?
GS: I don't have a certain division of time. Teaching will always take priority, and teaching will tell you how much time you have. Whatever is speaking to me the most loudly is going to get the most attention.
CM: You seem to enjoy the opportunity to speak to students. What does speaking at a place like CPCC offer?
GS: Right now, literature is a flame. It's not flickering, but it's small. This last election has lots of lessons about literature—and even literacy—and about how we reason. In our time, there's so much information about this idea of influence. Likes and retweets are a deceptive way to think about influence. To have someone in front of you, talking about their experience, can have a much more powerful impact on your life than stumbling across a Facebook post. I keep that in mind.
It's good to remember that everything is literature. Every life is literary. And what makes it literary is that person's relationship to that experience.
CM: I'm sure some people get nervous talking to you. You've shared your own stories about being in college and embarrassing yourself in front of a beloved author. Do experiences like that give you more grace with people you meet?
GS: (Laughs.) Absolutely. I remember that everybody is like that with someone. All of the teachers I've had in my life were gracious with my stupidity. You know that it's not a problem; anyone can get over being nervous or uninformed.
Other events to check out at Sensoria 2017:
Ma Rainey's Black Bottom (March 31-April 2, April 6-9)
Tosca by Giacomo Puccini (March 31-April 2)
Artists MyLoan Dinh & Lee Baumgarten: We See Heaven Upside Down (April 6)
Paul Taylor Dance Company (April 7-8)
---
Check Out Charlotte Symphony's Spring Menu
The orchestra is for everyone. But for the uninitiated, the experience can be intimidating. We break down three of the symphony's series in the style of a restaurant menu. Whether you're looking for a simple introduction or you're a veteran attendee, there's something for any appetite.
The Acquired Taste (for those with the more refined palate)
Classical series
The Standards (for those with a taste for the familiar)
Pops series
Kids' Menu (for, well, kids)
Lollipops series
Mendelssohn Elijah
Belk Theater
March 3-4
The Beatles: Classical Mystery Tour
Belk Theater
March 18
Peter and the Wolf
Knight Theater
April 1
Dvorak Symphony No. 7
Belk Theater
March 24-25
Great American Songbook with Storm Large
Knight Theater
March 31-April 1
Rachmaninoff Piano Concerto No. 1
Belk Theater
April 7-8
Pixar in Concert
Belk Theater
May 6
Mahler Symphony No. 2
Belk Theater
May 12-13
---
On The Cover: Andrea Mumm
​ANDREA MUMM REMEMBERS admiring the harp from behind the stage as a child. Her parents, Craig and Mary Ann Mumm—a violist and violinist, respectively—practiced with the Metropolitan Opera Orchestra in New York City. She eventually became one of the premier players of the instrument. After performing with groups across the world, she arrived as the principal harpist for the Charlotte Symphony Orchestra five years ago. The self-described "Jersey girl" was surprised to find a thriving symphony scene here. And she also found love: She met Michael Trammell, one of the singers in the Charlotte Symphony Chorus and her soon-to-be-husband. The pair will be married in April.
A month later, Mumm's most anticipated symphony program of the season arrives. The Classical series show "Mahler Symphony No. 2" ( May 12-13 at Belk Theater) features Mumm on first harp and Sophie Baird-Daniel, one of Mumm's bridesmaids, on second harp. The harp is typically a solitary instrument, so Mumm says she's excited to "finally have a cohort" with the program's central piece. Just performing a Mahler piece on its own gets Mumm excited. "Mahler just gives you all the range of emotions," she says. "He moves through anger, sadness, and joy in just one piece."
---
Broadway Returns to Tryon Street
The Bodyguard
Belk Theater (March 7-12)
This is the only spring performance in the Broadway Lights series at Blumenthal Performing Arts. Based on the 1992 Whitney Houston/Kevin Costner movie, an unexpected romance develops between an ex-Secret Service agent turned bodyguard and the pop star he has been hired to protect. A special treat for this tour: R&B luminary Deborah Cox stars as the show's main character, a role portrayed by the late Houston in the film.
Hedwig and the Angry Inch
Knight Theater (April 11-16)
The national tour for Hedwig has its own set of theater stars. Euan Morton, who plays the glam-rock singer, is a Tony and Olivier Award nominee, and he's joined by Hannah Corneau as Yitzhak. The boundary-pushing show includes rock 'n' roll, a botched sex-change operation, and romance.
A Night at the Opera
Belk Theater (April 23-29)
When we think of the opera, we don't envision an Old West backdrop. The Girl of the West was Giacomo Puccini's answer to the American Western narrative. Think Gunsmoke with singing.
---
Boom Is Back
The artist-run festival BOOM (April 28-30) will utilize several venues in Plaza Midwood—including Petra's, Snug Harbor, and a makeshift outdoor stage. There will be performances from local and national acts in theater, dance, visual art, performance art, and spoken word. Thousands attended last year's inaugural event.
The signature art for this year's event was created by Charlotte artist Nico Amortegui. The painter's works adorn walls at Sabor Latin Street Grill in Elizabeth, Advent Coworking, and multiple NoDa businesses.
---
Local Theater Troupes' Spring Shows
Here's what's ahead for the following groups:
Theatre Charlotte
A Raisin in the Sun (March 17-April 2)
Facing tensions and prejudices at a time shortly before the Civil Rights struggle of the 1960s, a Chicago African-American family must come together.
Three Bone Theatre
The Actress (Duke Energy Theater, May 18-20, 25-27)
This is the Charlotte premiere for Peter Quilter's comedy about the backstage drama that develops as a thespian prepares for a farewell performance.
OnQ Performing Arts
Miles & Coltrane: Blue (.) (Duke Energy Theater, March 22-April 1)
This production transports the audience to a vital time in jazz history.
Donna Scott Productions
Women Playing Hamlet (Charlotte Art League, March 9-25)
Donna Scott Productions and Chickspeare team up for a comedy about an actor taking on the lead role in Hamlet and obstacles she faces along the way.
Actor's Theatre of Charlotte
Bootycandy (Mint Museum Randolph, March 2-19)
This Robert O'Hara-penned tale is a semi-biographical comedy. A fun advisory from the production: "This play is called Bootycandy, so they'll be talking about booty, and showing some booty."
---
Sound Off: Comedy in Charlotte
Charlotte has become a popular destination for stand-up comics. Here's a sampling of jokes from three who will be in town this spring:
Gilbert Gottfried
Charlotte Comedy Zone (March 16-19)
"I wanted to be a brain surgeon, but I had a bad habit of dropping things."
Blayr Nias
Charlotte comedian/host of the Almost Famous Comedy Show at Comedy Zone (March 29)
"I'm also not good at walking in heels. My mom let me know that. She told me I looked like a baby giraffe taking its first steps."
Brian Regan
Ovens Auditorium (April 21)
"I have to lay off dairy, though. That's what my doctor threw in. As I was leaving his office, 'Oh, and uh, leave off dairy.' What kind of blanket sweep is that? 'And no more happiness! Away with you!'"
---
Indie Rock Shows in Charlotte: Six-Word Descriptions
The Head and the Heart
Ovens Auditorium (March 10)
"Folk rockers sing about rustic stuff"
Drew Holcomb and the Neighbors
McGlohon Theater (March 30)
"A Nashville band that's so Nashville"
Jonny Lang
Neighborhood Theatre (April 19)
"Was a blues legend at 16"
---
Visit the Museums
Make sure you see these exhibits from Charlotte's premier arts institutions.
Don't forget: You can take a free 30-minute guided "ArtBreak" tour of the Gantt, Bechtler, or Mint Uptown on the third Thursday of each month at noon.
---
New Frequencies Program Continues at McColl Center
The schedule of cutting-edge arts events across several mediums includes music from Noveller (March 2), Mary Lattimore & Mac McCaughan (April 20), and the Ken Vandermark & Nate Wooley Duo (May 12), as well as a literary reading from John Darnielle (March 30).
---
Coming Attractions Filmmakers Return to Prepare a Folk Thriller
Sisters Erin and Kyle Frederick moved back to Charlotte in July to prepare for the filming of their Appalachian thriller Among Mountain Crags. Erin wrote the screenplay and stars in the production, and Kyle is the director. The movie will be filmed mostly in West Virginia, but the sisters also plan to do some shooting in western North Carolina. Although they aren't filming in Charlotte, they've been casting and planning it here. The siblings, who moved around a lot as kids, consider Charlotte their "adopted hometown," and say they missed the city's spirit while living in Los Angeles. They plan to film this spring, and you can follow the process at amongmountaincrags.com.