Spring Arts Preview 2019
Carol Burnett, Dear Evan Hansen, and 31 more ways to celebrate the arts this spring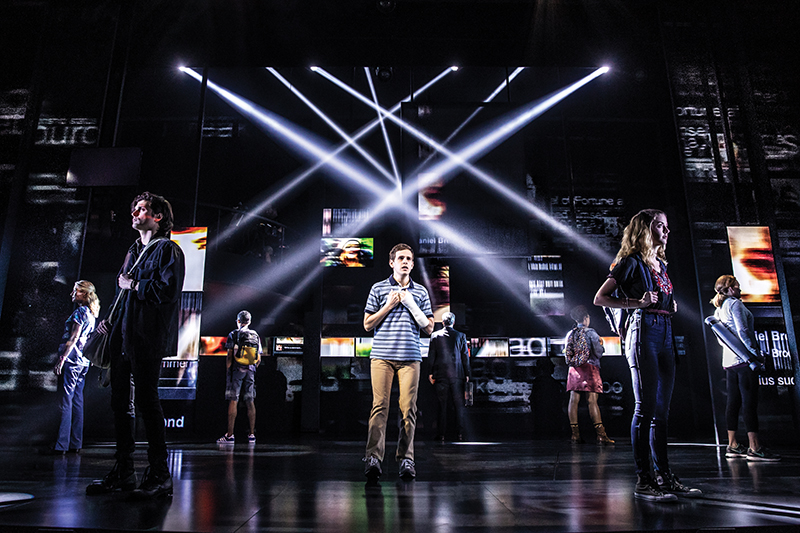 THEATRE & DANCE
By the Numbers: Dear Evan Hansen
March 19-24, Belk Theater
Evan Hansen is a high school senior battling social anxiety. When his classmate commits suicide, he concocts a story to become closer to the family of the deceased. The emotional Broadway hit comes to Belk Theatre this month.
9: Nominations for a Tony award in 2017. The show won six, including "Best Musical"
23: Age of Ben Platt during Dear Evan Hansen's premiere on Broadway. Platt starred in the title role, a high school student five years his junior
$115: Millions of dollars earned from Pitch Perfect, a sleeper hit about dueling a cappella groups that Platt starred and sang in as the lovable and nerdy Benji
60: Cities the national tour will visit
Local Spotlight: Theatre Charlotte
Terms of Endearment
March 22-April 7
The dynamics of a decades-long mother-daughter relationship are examined in this adaptation of the best-selling novel and Academy Award-winning movie. The stage production is equal parts dramatic and comedic as it navigates the complexities of life, love, and family.
The Producers
May 24-June 9
Mel Brooks' long-running farce is the story of a conniving producer and his accountant who set out to produce the biggest flop on Broadway in an effort to scam their investors. The only problem is, the show is a smash hit.
3 Things to Know: Diavolo​
March 13, Belk Theater
Seen by more than 95 million people as one of the top 10 finalists on NBC's America's Got Talent, Diavolo: Architecture in Motion is a fusion of dance, acrobatics, and gymnastics. The program includes Diavolo's signature work, Trajectoire, as well as their latest work, Voyage, which features meticulously designed architectural structures. Here's three more things to know about the show that defies the laws of gravity:
1. It's a metaphor. The Los Angeles-based dance company uses acrobatic and modern dance movements to create metaphors for everyday struggles like relationships and maintaining our humanity in an increasingly technological world.
2. It's the NFL of dance. "We practice like football players," says artistic director Jacques Heim. "You have to be a part of a team, because everybody works with one another."
3. It's the dance equivalent of going on a roller coaster. The show pushes dancers beyond their own physical and emotional limits, so brace yourself for incredible feats and acrobatics … or, as Broadway World put it, "a pure shot of adrenaline."
Most Buzzed About Musical Adaptation
A Bronx Tale
April 16-21, Belk Theater
Directed by Robert De Niro and Jerry Zaks, this musical is based on Chazz Palminteri's coming-of-age story about growing up on the streets of the Bronx in the 1960s. The Broadway show's 18-stop tour comes to Belk Theater in April.
Four Events for Kids
American Girl Live
March 7-9, McGlohon Theater
Charlotte Ballet: Peter Pan
March 8-17, Knight Theater
Tap Dogs
April 2-7, Knight Theater
Peter Rabbit's Garden Adventure
April 6-7, Daniel Stowe Botanical Garden
---
LIVE MUSIC
Ella Fitzgerald, Billie Holiday, Anita O'Day. Those are some names of the prominent ladies of jazz you know. What about the ones you don't? To celebrate Women's History Month, this three-day event (March 14-16, Stage Door Theater) is dedicated to the ladies of jazz, specifically highlighting the work of famous composers. Jazz Arts Initiative is a nonprofit that elevates the genre through its Jazz Room series and through educational workshops at its Jazz Academy uptown. This special event, featuring an all-female group of musicians, is in partnership with Blumenthal Performing Arts.
Spring Mixtape
Our favorite tracks from some of the acts taking the stage this spring:
➊ Dr. Dog, "Survive" (March 4, Neighborhood Theatre)
➋ Wild Moccasins, "Sponge Won't Soak" (March 7, The Evening Muse)
➌ Travis Scott, "Butterfly Effect" (March 24, Spectrum Center)
➍ Marshall Tucker Band, "Can't You See" (March 30, Fillmore Charlotte)
➎ Rnie, "Homeroom" (April 5, Snug Harbor)
➏ Leon Bridges, "Bad Bad News" (April 11, Charlotte Metro Credit Union Amphitheatre)
➐ Cassadee Pope, "Take You Home" (April 19, The Underground)
➑ The 1975, "Sincerity Is Scary" (April 19, Charlotte Metro Credit Union Amphitheatre)
Read our Q&A with local act Hectorina, which appears in our March issue, here.
---
COMEDY
7 Reasons to Laugh This Spring
Funny Bus
Every Thursday Through Sunday
Hitch a ride on the Funny Bus for a tour of the city led by a comedian. Each 90-minute tour is BYOB. $27. Funny Bus.
Friends! The Musical Parody
March 13-17
You can try to not clap during the theme song for Friends, but it probably won't work. These comedians take the beloved TV series and turn it into a rousing musical. $25-30. The Comedy Zone.
David Koechner​
March 28-31
Whether you know him as Champ Kind in the Anchorman movies or Todd Packer in The Office, you won't want to miss David Koechner's stand-up act. $20-$25. The Comedy Zone.
Off The Cuff
March 30
This local improv troupe is similar to "Whose Line is it Anyway?" in that the audience is encouraged to participate in hilarious games and more. $10, 7 p.m. Charlotte Comedy Theater & Training Center.
Dane Cook
April 27
Dane Cook is best known for his brutally honest, sometimes dark humor. He's also starred in a few big films including Employee of the Month and My Best Friend's Girl. $39-$59, 7 p.m. Ovens Auditorium.
Carol Burnett
May 14
Burnett's groundbreaking variety show ran for 11 years in the 1960s and '70s. And she's still at it: In 2019, the Golden Globes created the Carol Burnett Award for Achievement in Television, appropriately honoring Burnett as its first recipient. $87-$127, 7:30 p.m. Ovens Auditorium.
Elder Millennial
May 5
Iliza Shlesinger, often known as just Iliza, recently released her fourth Netflix stand up special, Elder Millennial, ahead of her tour. See her side-splitting set in May. $35-$135, 7 p.m. Knight Theater.
---
MUSEUMS & GALLERIES
Five Gallery Shows to See
Nomadic Murals: Tapestries of the Modern Era
April 5-Dec. 1, Bechtler Museum of Modern Art
An exploration and presentation of tapestries and rugs designed by artists usually associated with painting, sculpture, and architecture.
Holly Coulis: New Works
March 27-May 10, Soco Gallery
A showcase of the Athens, Georgia-based artist's minimal still life paintings and works on paper.
Jose Luis Landet​
March 21-May 11, LaCa Projects
The celebrated Argentine artist repurposes everyday images like paintings and photographs, and creates material objects that reveal new narratives.
Annuale 11
March 28-May 24, The Light Factory
The Light Factory makes its annual call for entries. Juried by Noriko Fuku and John Jacob, the competition showcases work from artists throughout the photographic community.
Beyond the Mountain
March 15-April 27, Elder Gallery of Contemporary Art
Beyond the Mountain is a celebration of the outdoors and a look at the effect of humans on the landscape, with paintings by Jessica Singerman and Martha Armstrong.
Coming to Jerald Melberg Gallery
Revisit the longstanding Jerald Melberg Gallery for two new exhibits this spring. Monotypes (March 23-May 4) features the work of Robert Motherwell, an American abstract expressionist painter and printmaker. From May 11-June 22, check out Reflection, an exhibition by Argentine painter Raul Diaz, whose dreamlike paintings look at the child we all once were.