Spring Craft Beer Festivals in Charlotte: 2019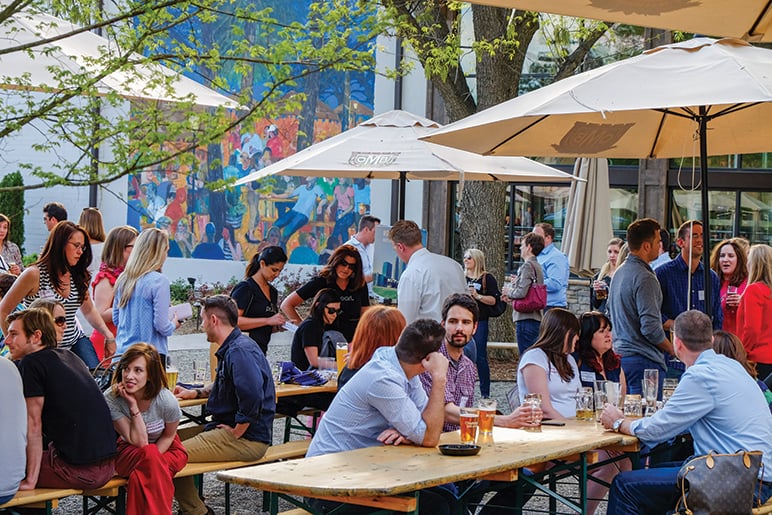 SEVENTY-DEGREE temperatures and sunny skies are back, and it's making us thirsty. To calm your springtime craft beer cravings, here's a look at the beer festivals and related events happening in the next two months.
---
Moo and Brew Fest
Date/Time: April 13, 2 p.m. to 6 p.m.
Where: N.C. Music Factory grounds
Cost: $40-$55
Details: Can you name a better duo than burgers and beer? This annual festival will have over 150 beers to try from 50 different breweries. Plus, local restaurants will be competing for the title of "Best Burger" to be crowned at 4:30 p.m. There will be live music throughout the day by Everclear, Big Something, Junior Astronomers, and DJ Overcash.
---
Sycamore Spring Fest
Date/Time: April 20, 12 p.m. to 10 p.m. (Moved from original date due to weather.)
Where: Sycamore Brewing
Cost: Free to attend
Details: At their biggest event of the year, Sycamore Brewing celebrates the beer-drinking weather that makes their large outdoor setting so appealing in the warmer months. Beer and cider will be served from indoor and outdoor stations as well as prosecco pops and frosé. Plus, enjoy performances by Of Good Nature, Zach Deputy, Falconheartnc, and more.
---
Tuck Fest
Date/Time: April 25-28, times vary
Where: U.S. National Whitewater Center
Cost: Free to attend
Details: This four-day event features music, craft beer, outdoor sport competitions, and some interesting activities. Those include a night obstacle race, stand-up paddleboard yoga, a dog jog, a bicycle stunt show, and plenty of others. Headlining the music line up this year is J. Roddy Walston and The Business, Tyler Childers, The Milk Carton Kids, and Fantastic Negrito.
---
Louisiana Spring Fest
Date/Time: April 27, 11 a.m. to 11 p.m. and April 28, 11 a.m. to 10 p.m.
Where: Olde Mecklenburg Brewery
Cost: Free to attend
Details: At the ninth annual Louisiana Spring Fest, Olde Meck will have your Mardi Gras beads ready for you as you enter the biergarten. You'll get a taste of some authentic Louisiana cooking, such as jambalaya, boiled shrimp, and fresh crawdads flown in overnight from the bayou. Of course, there will be New Orleans-inspired music throughout the day.
---
The Untappd Beer Festival (Level 1)
Date/Time: May 4, times vary
Where: Bank of America Stadium
Cost: $50-$200
Details: At what will be Charlotte's largest craft beer festival ever, more than 170 brewers will be pouring samples on the Carolina Panthers' sidelines. Untappd, the beer discovery app that is putting on the event, hopes to highlight North Carolina breweries, but there will also be some other popular ones that do not distribute in the state.
---
North Carolina Brewers and Music Festival
Date: May 10-11, times vary
Where: Rural Hill
Cost: $8-$80
Details: This two-day festival is an opportunity to camp out on a Colonial-era farm just outside of Huntersville. The festivities start with a "Friday Night Jam," featuring Donna the Buffalo, Danger Muffin, and Fireside Collective. Attendees can purchase tickets to just this event or get a weekend camping pass and stay the night. The next day, a beer tasting runs from 12:45 to 4 p.m. and there will be live music performances between two stages from 11:45 a.m. to 10 p.m.
---
South End Hops Fest
Date/Time: May 18, 2 p.m. to 6 p.m.
Where: 308 W. Carson Blvd.
Cost: $35-$45
Details: Forty breweries plus some wineries and cideries will be pouring at this South End fest. As the city's "favorite dog-friendly beer festival," proceeds benefits the local dog rescue RescuedMe and, unique to this year, there will be a pre-festival pup parade and doggy costume contest. The festivities start early with a kickoff party at Triple C Sunday, a beer dinner at Angeline's on Wednesday, and other events.