Spring Feasts
Meal plans for two big holidays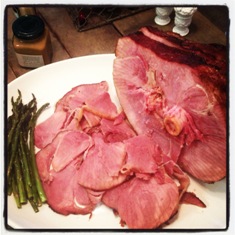 For those of us who are celebrating either of the big spring holidays, Easter or Passover, you may have put off meal planning till now. For shame. Don't worry. Regardless of which holiday you'll be celebrating this weekend, I have ideas for a main dishes, sides, and desserts!
Passover: Clearly, I'm no expert, but there are people on the Internet who are. I have been to seders, though, so I have a grasp on what is and isn't allowed for this traditional holiday. Apologies for any oversights or glaring mistakes …
Appetizer: Ah, gefilte fish. It has a really bad rap, but this unorthodox recipe from Bon Appetit does make the "favorite" more palatable. Of course, this parsley fennel salad is both more traditional and light on the stomach before the gastro-fest.
Main Attraction: Although this particular short rib recipe looks amazing and spicy, I have to vote lamb on this one. These slow roasted lamb shanks stay juicy and flavorful.
Sides: For us in the south, a little deviled egg action is always appreciated. Also, in honor of spring, I like the idea of this carrot salad.
Dessert: This flourless walnut date cake is sweet and decadent. But, if you want chocolate (I do), go with this dense treat.
Easter: I personally get a little bored with the same stuff year after year, so I've chosen dishes that seemed a bit more imaginative.
Appetizer: Like our Jewish friends, we too should partake in the deviled egg feast. Also, serve up a smoked salmon dip with crudities or an asparagus cheese tartlet to celebrate spring veggies.
Main: Although I may attempt a leg of lamb this year thanks to Martha Stewart (I may have made a terrible mistake), ham is always a lovely go-to for this holiday. A chile-brined version is a nice twist on the old standby.
Sides: Potatoes, obviously. For an easy gratin, try this recipe with scalloped potatoes and onions. Also, make use of spring carrots and fresh green peas to make the table more colorful.
Dessert: Although I'd be happy eating a box of Peeps for dessert, maybe this almond-lemon torte or chocolate coconut pound cake would be a better option.
Hopefully this list provides you with at least one or two ideas for your holiday feasts! Wishing everyone a happy Passover and happy Easter!