Spring into Culture
From mainstream to alternative, here are eighteen can't-miss events to put on your spring cultural calendar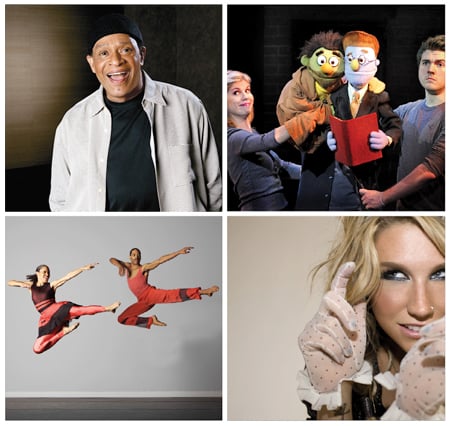 Charlotte's artistic outlets are revving their engines for the sunny season, bringing new productions and exhibits to the city. While you can pack your calendar with all-time favorite concerts and plays, many local companies are filling the second half of their seasons with edgy, alternative shows. We found the season's can't-miss events, from the big names to under-the-radar gems, all equally worth your time.
Classical Music
Safe bet: Charlotte Symphony Orchestra's Light My Fire In tribute to a new exhibit from the Bechtler Museum of Modern Art featuring works by Niki de Saint Phalle (whose Firebird looms outside the Bechtler's main entrance), the CSO will gather at the Knight Theater under conductor Christopher Warren-Green to perform six fire-themed works, including Handel's "Music for the Royal Fireworks," De Falla's "Ritual Fire Dance," and, of course, selections from Stravinsky's The Firebird: Suite. Ticket price also includes admission to the Bechtler after the concert, where you can cool off with a museum stroll, appetizers, and drinks. March 25 at the Knight Theater.
Also consider: In a concert titled April in Paris, a trio from Charlotte Chamber Music will perform three romantic works from turn-of-the-century French composer Maurice Ravel at this free show on April 5 in uptown's First Presbyterian Church.
Jazz
Safe bet: Al Jarreau Smooth jazz and R&B, before they developed a reputation as the soundtrack to root canals, had a growth spurt in the 1970s. One of the instigators was vocalist and soul music legend Al Jarreau. His soft, melodic crooning went quiet for a while, but has appeared in the public ear again with the release of four albums since 2000, including a Grammy-nominated compilation with George Benson. March 20 at the Knight Theater.
Also consider: On February 4, as part of the monthly Jazz at the Bechtler series, the Ziad Jazz Quartet will add a little sentiment to the modern atmosphere with love tunes from Rodgers and Hart, Gerswhin, and Porter.
Pop
Safe bet: Ke$ha If Lady Gaga was the queen of the dance floor anthems in 2010, Ke$ha was the duchess. Top 40 staples like "We R Who We R" and "Your Love Is My Drug," which combine throbbing bass and catchy lyrics, have made her a pop favorite, and when she blasts her punk princess vocals at The Fillmore, we think she'll have you dancing like you're dumb, dumb, dumb, d-dumb … April 19 at The Fillmore.
Also consider: Sugar Glyder—an unsigned, unsung gem in Charlotte's indie rock scene—has an offbeat, alternative sound that doesn't skimp on electric guitar handiwork, and they're playing Amos' Southend on February 11.
Dance
Safe bet: North Carolina Dance Theatre's Director's Choice This fortieth-anniversary performance from Charlotte's premier dance company is curated by artistic director Jean-Pierre Bonnefoux and offers a four-act production of classic, modern, and brand-new dance numbers. The show kicks off with Tchaikovsky's Pas de Deux and continues with Satto (Wind Dance), choreographed by former artistic director Salvatore Aiello. Following Le Souffle de l'esprit, from Czech choreographer Jiri Bubenicek, the show ends with a world-premiere production from resident choreographer Dwight Rhoden, a stylistic tribute to the 100th birthday of Romare Bearden. March 10-12 at the Knight Theater.
Also consider: The Garth Fagan Dance Troupe (whose director choreographed Broadway's The Lion King) will bring its tour to the Knight Theater March 31-April 3. Fagan is a contemporary troupe that offers an edgy alternative to traditional ballet shows.
Drama
Safe Bet: The Glass Menagerie at Theatre Charlotte Usually confined to the syllabi of high school English classes, this classic Tennessee Williams drama follows a tortured Southern gentile with a mothering style best described as overbearing. It's a tragic story that grapples with family and its fragile bonds, and it's the perfect material for Theatre Charlotte, which has been on top of its game this season. March 18-April 3 at Theatre Charlotte.
Also consider: Carolina Actor's Studio Theatre will be the first theater in the region to stage A Behanding in Spokane—a dark, just-off-Broadway play about a man (originally played by Christopher Walken during the show's New York run) in search of his missing hand. Catch it between March 3 and April 2.
Musical
Safe bet: Avenue Q When a recent college graduate moves to the Big Apple with very little cash and few prospects, he sets up shop on Avenue Q, where he finds a community of eccentric neighbors. Avenue Q, performed by both humans and puppets, is packed with hysterical (if raunchy) dialogue and musical numbers, and is touring through Charlotte for the second time since it earned a 2004 Tony Award for Best Musical. April 5-10 at the Knight Theater.
Also consider: For a musical with a little more swing, check out Ella the Musical, an all-new touring show about the First Lady of Song herself, and the story behind her legendary soprano; it'll be at the Knight Theater from February 11-13.
Opera
Safe bet: Opera Carolina's H.M.S. Pinafore For most of us, the best kinds of operas are the ones that don't include a helmet-clad lady dying (loudly) for eighty minutes. Using the same world-class performers and sets for even the most imposing operas, Opera Carolina is putting on this Gilbert-and-Sullivan composition, in which Josephine, daughter of the captain of Her Majesty's Ship Pinafore, falls in love with a sailor whom dear old dad considers beneath her station. It's a whimsical, lighthearted opera that's as entertaining as it is classic. May 12-15 at the Belk Theater.
Also consider: In April, CPCC Opera Theatre Chorus and Orchestra will perform Giuseppe Verdi's Requiem, the musical accompaniment to the Roman Catholic funeral service—not a traditional opera, but gloomy in a thrilling way.
Kids
Safe bet: Children's Theatre of Charlotte's Lord of the Flies If you still haven't made peace with the final season of LOST, CTC has got a family show to quench your thirst. This play, adapted from William Golding's dark, metaphor-charged novel about young boys creating their own society on a deserted island, is one of the theater company's most big-kid productions this season. It's the perfect family show if you've got older, too-cool-for-Disney middle- or high-schoolers. May 12-14 at the Wachovia Playhouse.
Also consider: If you'll have little ones in tow, however, the Matthews Playhouse will stage The Wizard of Oz in April.
Museums
Safe bet: Chanel: Designs for the Modern Woman at the Mint Museum For many women, the mere sound of the word "Chanel" activates the fashion-forward salivary. This May, the Mint Museum Randolph will unveil fifty works from (deep breath) Gabrielle Bonheur "Coco" Chanel herself, as well as more contemporary items from the House of Chanel. The Mint will have the iconic skirt suits, as well as gowns and accessories. Just mind you don't drool on the eveningwear. Opening is May 21 at the Mint Museum Randolph.
Also consider: Clothes are the least of the concerns of photographers Joyce Tenneson, Jock Sturges, and Mona Kuhn, whose images of the (very much unclothed) human body will open this month at the Light Factory as part of the new Body & Soul exhibit.