St. Patrick's Day Parties in Charlotte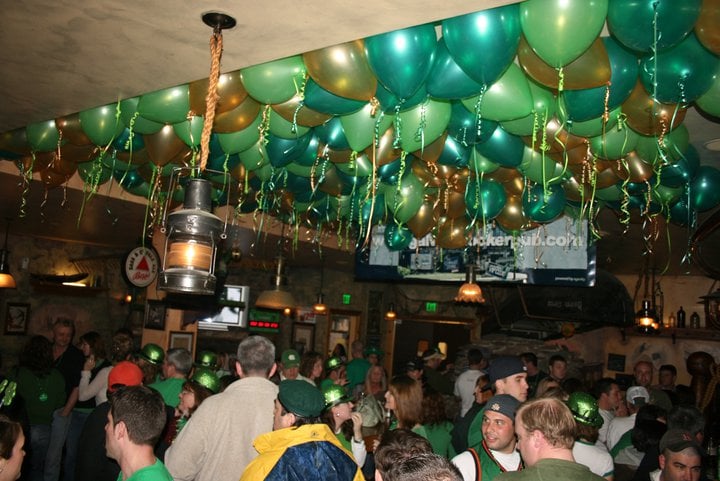 Charlotte shows its love for Irish culture each year by celebrating St. Patrick's Day in large fashion. Okay, let's be honest. People love the holiday because of the drink specials at bars and the rowdy behavior that comes with it. This Thursday, March 17, you'll find St. Paddy's Day parties from sun up to sun down from south Charlotte to Lake Norman. Here's a rundown of a few of them. And don't worry, many of the venues promise to show the NCAA Tournament games, so you don't have to miss any of the shots while you take yours.
Galway Hooker Restaurant and Irish Pub has been putting on Lake Norman's most festive St. Patrick's Day celebration for the past eight years. The festivities begin Thursday with a special beer-n-breakfast, from 8-11 a.m., featuring scrambled eggs, grits, imported bangers sausage, and breakfast combinations that include corned beef hash or a pint of Guinness. Live music begins at 11 a.m. inside the restaurant, while the area outside is transformed into an Irish oasis with more live music, bagpipers, Irish dancers, corn hole, basketball contests, and face painting. There will be special giveaways, including a Guinness Mountain Bike and Guinness Wakeboard. There's also a VIP package for $75, which includes an Irish dinner buffet at 7 p.m., open bar, late-night breakfast, VIP lounge access, and a swag bag. Galway Hooker Restaurant and Irish Pub, 17044 Kenton Dr., Cornelius, 704-895-1782, galwayhookerpub.com.
Several of the EpiCentre's restaurants, bars, and nightclubs are getting into the Irish spirit. Mortimer's Café and Pub is celebrating St. Patrick's Day and its one-year anniversary Thursday. Suite and Whisky River are hosting a St. Patty's Day Bar Crawl so you can bounce back and forth from both places all night. Wild Wing Café is celebrating with Irish drink specials and featuring popular local rock band U-Phonik. Howl at the Moon is kicking off the evening with a complimentary Irish feast along with green beer and drink specials (RSVP required). And BlackFinn American Saloon, which wants you to call it BlackFinnegan's for the holiday, has been celebrating St. Patrick's Day since last Thursday. This Thursday features an all-day celebration, beginning at 9 a.m. with a special kegs and eggs breakfast. EpiCentre, 210 E. Trade St. Visit epicentrenc.com and click on the calendar for more details on the day's events.
NC Music Factory is promising to have Charlotte's largest St. Patrick's Day party with its ShamRock n' Roll Bash. One ticket gets you into seven venues and you'll get to see three bands perform: Paper Tongues and Sister Hazel at The Fillmore, and Simplified at The Saloon. The other venues include Bask on Seaboard, Butter NC, Halo, Mattie's Diner, and Wet Willie's. There will be a $500 leprechaun costume contest, and various specials at the different bars. Doors open at 5 p.m. and advance tickets are $15. NC Music Factory, 1000 Seaboard St., 704-987-0612, ncmusicfactory.com.
For the Irish-for-a-day folks in south Charlotte, Sir Edmond Halley's Freehouse and Restaurant is the place to be. The celebration begins at 11 a.m. and runs until 2 a.m., and will feature an outdoor bar under a heated tent, with Irish dancers and bag pipers. Plus, there'll be a special menu consisting of Irish potato cakes, Guinness stew, Sheppard's pie, corned beef sandwich, Scotch eggs, and more. Sir Edmond Halley's Freehouse and Restaurant, inside Park Road Shopping Center, 4151-A Park Road, 704-525-7775, halleyspub.com.
And you can't forget Charlotte's long-running Ri Ra Irish Pub, which is now in its fifteenth year of bringing you a taste of Ireland. Ri Ra celebrates all-day long with Irish dancers and traditional music, and rocks out with a 10 p.m. performance by Crashbox. And of course the house-made corned beef, fish and chips, and other delectable items on the menu will be served, while the Guinness and $4 Harp and Smithwick's flows. Ri Ra Irish Pub, 208 N. Tryon St., 704-333-5554, rira.com.