St. Paul & The Broken Bones, Langhorne Slim Perform at Tuck Fest (Plus: Weekend Arts Events)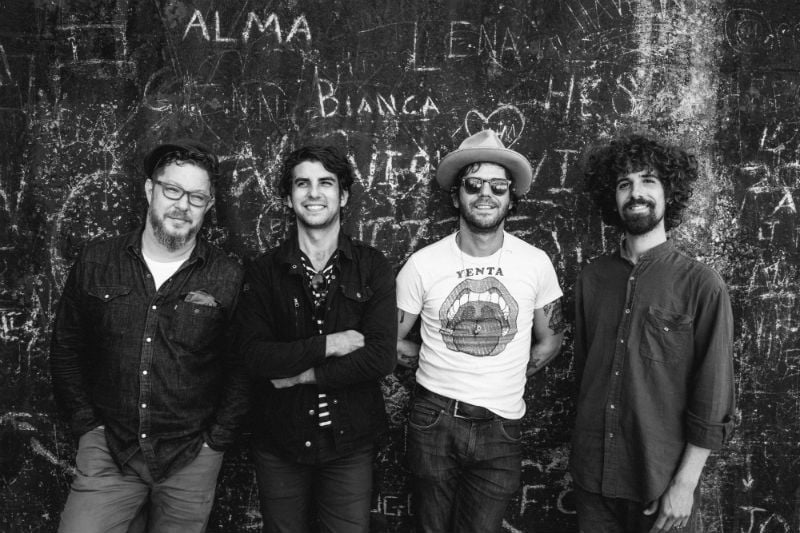 TUCK FEST returns to the U.S. National Whitewater Center this weekend, with outdoors competitions taking place across the 1,100-acre property. Though, for many Charlotteans, its free live music offerings garners the most excitement for the 3-day festival. Last year's event had Jason Isbell, Trombone Shorty & Orleans Avenue, and JJ Grey & Mofro. Check out this year's acts below:
On Friday, Tuck Fest hosts St. Paul & The Broken Bones, the Southern soul-rock act that's gained a national reputation with singer Paul Janeway's bombastic vocals. Beforehand, Nashville-based Los Colognes brings its own vibes, influenced by jam and classic rock.
Langhorne Slim & The Law is the main act hitting the stage Saturday. Slim is a favorite of the folk-rock crowd, performing in Charlotte multiple times over the past couple years. Other acts on Saturday include Ryan Montbleau, Phil Cook, Major and the Monbacks, and Jamie McLean Band.
And Sunday brings another big name, in the form of roots rock's Dawes. The Los Angeles band first received attention for songs like "When My Time Comes" back in 2009, since acquiring a following and charting on the Billboard 200. The Oh Hellos and Family and Friends also perform.
---
See what else Charlotte offers for arts and culture below:
FRIDAY
CHARLOTTE JAZZ FESTIVAL
The Jazz at Lincoln Center Orchestra, led by Wynton Marsalis, hits the Knight Theater stage with several more acts for two days of jazz. A parade, workshops, and youth contest will also take place. There's a lot of jazz this month.
ALABAMA SHAKES
Led by dynamic vocalist/guitarist Brittany Howard, Alabama Shakes have defined the Southern rock of 2016. From "Hold On" to "Future People," the singles have only gotten more progressive and experimental.
MCCOLL CENTER FOR ART + INNOVATION
With its multiple artist residencies, exhibitions, and open workshops, McColl lets you get up close and personal with contemporary artists. New Frequencies, the program that features both jazz and film at the venue. Trio Red Space offers live jazz (April 22). Artists-in-residence include performance artist Carlos Alexis Cruz, painter/ceramics artist Carlos Estévez, and visual artists Hollis Hammonds and Heather Hart.
JERALD MELBERG GALLERY
For more than 30 years, the Jerald Melberg Gallery has represented the art buyers' market in Charlotte. The gallery currently occupies a spot in a Cotswold plaza, packing the space during opening weekends for exhibitions. See works by contemporary painter Robert Kushner (through April 23), known for his engrossing depictions of flowers and his involvement in the pattern and decoration movement.
SATURDAY
JIMMY BUFFETT
Margaritaville. (Do you really need anything else for this one?)
CHARLOTTE MUSEUM OF HISTORY
A colonial home and its grounds are the backdrop for this museum. Built in 1774, the 5,000-square foot Hezekiah Alexander House is the oldest surviving structure of its kind in Mecklenburg County. Guided tours are available throughout the grounds. Enter The Dragon: A Contemporary Chinese and Chinese American Art Exhibit (through May 31) is a series of solo art exhibits of prominent Chinese and Chinese-American artists, including Qinnian Tang (April 1-30). Also, a photo exhibition (May 1-31) will chronicle the experiences of Chinese-Americans in Charlotte over the past 100 years.
FLY BY NIGHT
This musical, conceived by Kim Rosenstock, is labeled as a "rock-fable" by Actor's Theatre of Charlotte. A sandwich-maker's monotonous days are interrupted when two sisters come into his life.
SUNDAY
BEAUTIFUL: THE CAROLE KING MUSICAL
Carole King's personal life and musical career are explored in Beautiful. Through that process, hear tunes like "Will You Love Me Tomorrow," "Chains," and of course, "Beautiful."
NASCAR HALL OF FAME
Owned by the City of Charlotte, the NASCAR Hall of Fame has 40,000 square feet of exhibition space to give visitors a peek into racing history. Celebrating the 50th Anniversary of Team Penske (through June 30) explores the team's life in NASCAR and other racing disciplines.