Stacked City: Real Estate 2015
Home sales are down, rental prices are up, and everywhere you look in South End, a new apartment complex is rising. Charlotte is finally attracting legions of young professionals to its urban center, but that means some families are fleeing to the outskirts of town. The latest real estate boom raises an old question: Will we grow up, or out?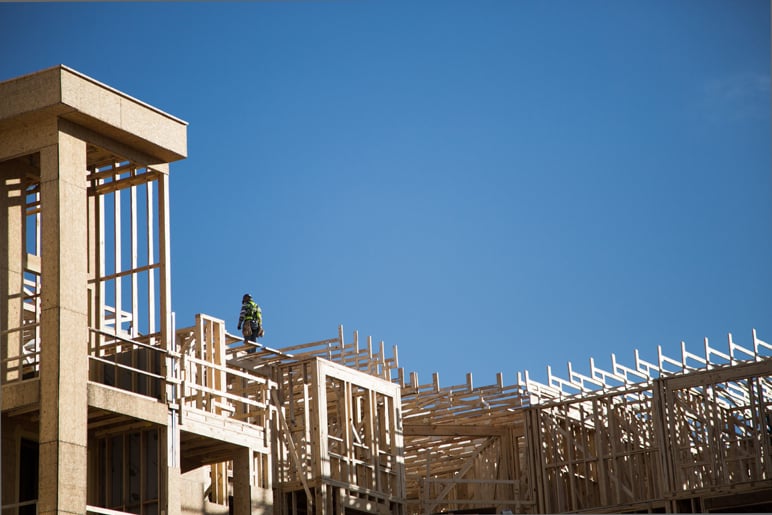 ON A COLD SUNDAY AFTERNOON in January, Horace Wynn is at work. With an orange vest pulled on over his winter coat, he's helping to pour the foundation for a new Publix on South Boulevard. The grocery store will be next door to a new apartment complex, which is also under construction.
Like other developers in South End, Wynn's employer, Blythe Development Co., has its employees working weekends. A five-day week just isn't enough to keep up with the building boom Charlotte is experiencing. Wynn is glad to have the extra pay, but he doubts South End needs more apartments. "You drive out here and it's just people stacked on people," he says.
After stalling during the recession, builders are making up for lost time with the construction of high-end apartments in the city. More than 10,000 new residential rental units were under construction as of last September—2,406 of them in South End alone.
Developers point to the area's job and population growth as evidence that demand will remain high. Still, some real estate analysts say this is a bubble. Apartment vacancy rates are projected to rise from the current 5.3 percent to almost 8 percent by early next year. Residents of the high-end apartments, meanwhile, worry about the lack of shops, inflated rent, and increased traffic placing pressure on the roads.
When he finishes work for the day, Wynn starts his car and lets it warm up while he stands outside finishing a cigarette. Cars roar past on South Boulevard, past the fast-food joints, pawn shops, and tower after tower of luxury apartments. Between pulls on his cigarette, Wynn wonders why people are moving to an area with limited retail and sky-high rents. "I have no earthly idea," he says. "All I know is: money."
***
WEEKS LATER, in the lounge of the Colonial Reserve at South End apartment complex, Ray Charles' "Georgia on My Mind" pipes through the speakers. Inside the leasing office, a couple looks over floor plans (one-bedrooms rent for between $1,225 and $1,560 per month), while waiting for the leasing agent to finish talking to a resident.
"Did you see the controls in the shower?" the man perusing floor plans asks the woman beside him. "It was like a spaceship. I would be afraid that I was going to push the wrong button and blow something up."
Some of the amenities at these and other high-end developments seem almost too beautiful for daily use. It would feel like a small crime to sweat on the glossy hardwood floors of the yoga studio, or spill barbecue sauce on the cut stone walkway that surrounds the poolside grill.
And Colonial Reserve isn't the only apartment complex offering these amenities. Other developments include saltwater pools and dog-grooming equipment, or keep masseuses on staff. Pool tables in the lounge are as common as poolside grills and outdoor wide-screen televisions. While some people wait shivering in the mid-January wind on the light rail platform at the New Bern station, residents of Fountains Southend can wait for the train in the climate-controlled "Lynx Lounge," which has a coffee machine and leather chairs.
Most of these perks are similar from one apartment complex to the next, down to the fake white orchids in some of the showrooms. Developments keep close tabs on what their neighbors are doing—who is offering fancy tile or upgraded appliances. And with such low vacancy rates, there is little reason to stand out from the competition.
No one is more surprised by the extravagance, and the price, of some of the apartments than the leasing staff themselves. "A one-bedroom here is the same price as my house," says one of the leasing consultants in South End. For roughly $1,400 a month, "I have a two-car garage, a fenced-in yard, my house is nearly four times the size, and I live in a nice neighborhood."
After pointing out the hand-scraped hardwood floors and stainless steel appliances of the showroom, the regional manager at the Allure luxury apartments in SouthPark goes off script. "When I was in college," Wes Berry says, "an apartment was just four walls, a little kitchen, and a bath. Now they're so extravagant."
And it's not just the traditional amenities; apartment managers go to great lengths to keep their residents entertained. Chris Harker, co-owner of Triple C Brewing Co., says his company supplied beer for an event at Fountains Southend in 2013. This wasn't a typical meet-the-neighbors barbecue: "They had a girl inside this plastic inflatable sphere, another girl with this thing that let her shoot water out of her fingertips," Harker says. "It was like something out of Maxim."
The party also went through 12 kegs of Triple C beer.
***
COLONIAL RESERVE is close to the aging Sedgefield Shopping Center, scheduled for demolition later this year. A Thai restaurant is still open, but the parking lots outside the shopping center are almost empty. Star Cleaners & Laundry has closed, and a paper sign taped to the window says it has moved to a new location next door. "We ask for your continuous business and love," the sign says.
Strip malls like this one rub shoulders with some of the most expensive apartments in the city, illustrating how retail growth has not always kept pace with residential growth. In 2004, then-mayor Pat McCrory called the fast-food restaurants and strip malls behind cracked parking lots on South Boulevard the "corridor of crap." More recently, some apartment residents have complained about the lack of nearby retail shops in South End. One woman tried to help solve the problem, but ran into some unexpected roadblocks.
Since 2013, Krissy Oechslin has been searching for space to rent for her dream business: an ice cream shop. The South End resident has the money, a business model, and even a name—Queen City Scoops—but she hasn't been able to find a space to rent in her neighborhood. She's considered repurposed rooms in office buildings and even contemplated renting space in one of the many unused brick warehouses around South End, relics of the city's once-booming textile industry.
"I never thought the thing standing between me and opening a store would be lacking space," she says. "I have money to open a business today, but there's no retail space for a small business."
According to a report from Center City Partners, 10 new apartment developments were slated for construction in South End between the end of 2013 and the middle of 2015, totaling roughly 2,400 new residential units. Meanwhile, developers were adding only 102,625 square feet of retail space. And much of this space—such as the Harris Teeter that will replace the Healthy Home Market on South Boulevard—will take the place of existing stores rather than create new shops.
The result? "It's a walkable neighborhood with nowhere to walk to," Oechslin says.
Shannon Binns, head of the nonprofit group Sustain Charlotte, says that retail often follows residential. But he cautions that the city and developers need to make smart choices now to ensure there is enough space for stores once the apartments are built. "Once the densities are up and retail wants to enter the market," he says, "it will be tough for them to find a place if our buildings don't accommodate it."
For now, the lack of shops around South Boulevard hasn't kept residents from moving in. None of the leasing consultants interviewed for this article reported occupancy rates lower than 90 percent. The average monthly rent in uptown was $1,524 as of last August. And according to the latest report from the real estate research firm Real Data, even people who stay in the same unit may see their rents increase by 2 to 3 percent this year.
Many people in South End—real estate agents, construction workers, residents, neighborhood association members—agree that the rent is too high. But the price tag isn't driving renters away.
***
TERRANCE GRIGG and his girlfriend, Julie Cava, are walking their dog along the greenway next to the light rail in South End one winter afternoon. Trains thunder past, and the dog, Dolce, occasionally picks fights with other passing dogs, but Grigg says the greenway remains one of the features of South End he enjoys most. At least it seems peaceful compared to the traffic and construction racket along South Tryon Street and South Boulevard.
Grigg and Cava were among the first to move into the Silos South End in 2013, and they can quickly list the pros and cons of the apartment development. "There's not a whole lot of retail nearby," Grigg says. "Right now you have to drive to go to restaurants. I guess we have to give it a couple years to get more developed."
He also worries about the price of rent, and the traffic: "South Boulevard's pretty dangerous."
Despite the downsides, the couple says the convenience of apartment life is worth it—no yard to maintain, no homeowners' association to negotiate with. Cava compares it to another coddled lifestyle: "It's like college," she says.
Thousands of other newcomers to Charlotte have made the same decision, choosing to rent rather than buy. Real estate developers are trying to figure out if this is a lasting cultural shift in attitudes, or just a result of foreclosures and the dip in home values after the recession.
The city appears to be entering a familiar cycle: Developers over-build to meet a perceived demand, and the abundance of apartments leads to higher vacancy rates. But some industry officials say that pattern doesn't apply to post-recession Charlotte. "What would traditionally be an overbuilding environment isn't anymore," says Ken Szymanski, executive director of the Greater Charlotte Apartment Association.
Szymanski points to several reasons that vacancy rates might stay low: the large number of people moving to the Carolinas to work, baby boomers moving out of McMansions into apartments, and millennials choosing to rent in the urban core rather than live in the suburbs.
Grigg's reasoning has less to do with a lifestyle choice and more to do with the rising cost of college tuition. He says student debt has raised his debt-to-income ratio, making it harder for him to secure a house loan. "Once we get across that regulation bar from the bank, we'll be great. We can probably pay down for a nice house," he says.
Whatever the reason, the rental frenzy is showing no signs of slowing down. As one leasing consultant at Spectrum South End put it: "I sell apartments like Girl Scouts sell cookies."
***
A DOG SNARLS and snaps at Amy Farris Ray as she wedges a copy of NoDa News between the bars of an iron fence guarding a home in her neighborhood. After delivering the monthly community newspaper, she jogs back to her daughter Larken's stroller, blowing on her hands in the sub-freezing January air, eager to move on to the next house and the next delivery.
The February edition of NoDa News is a timely issue; it focuses on the history of the neighborhood that was once a mill village. And with all the new apartments being built in the area, some residents fear that history, and the affordability of the area, is in jeopardy.
But at least one newly renovated apartment complex in the area is both historic and affordable. The Lofts at NoDa Mills, in the former Mecklenburg Mill building, includes 48 units with prices ranging from about $600 a month for a studio to $775 for a two-bedroom. The apartments are limited to low-income residents—those earning between $22,500 and $38,520 a year. People with federally subsidized rental vouchers may also apply to live there.
Those apartments—along with many others in the neighborhood—are within walking distance of the new light rail stop in NoDa, scheduled to open in 2017. Given the skyrocketing rents along the light rail in South End, the question now is whether the artists, musicians, and others who give NoDa its character will have a place to live and work in the area. "The light rail lures development. That drives up the value of land and makes property owners want to cash in and sell," says Mary Newsom, associate director of urban and regional affairs at the UNC Charlotte Urban Institute. "So unless smaller businesses own their property, they're going to face a lot of insecurity."
If NoDa wants to make sure its music clubs and funky shops remain intact, the neighborhood can apply to become a local historic district—a designation City Council would have to bestow.
Hans Drost, a tattoo artist who works at Fu's Custom Tattoos on North Davidson, says he is concerned that his apartment might be sold off to a developer. His living space doubles as his studio, and he may not be able to find an affordable place to live and work if he has to move out. Many artists have already left NoDa, their galleries replaced by bars and restaurants.
"With light rail coming here," Drost says, "I'm sure it's only a matter of time before someone makes an offer and we have to start looking for somewhere else to live."
Meanwhile, across town in South End, Wynn is finishing up his construction work on a Sunday afternoon. He doesn't worry about overbuilding, rental prices, or vacancy rates. He's thinking about much more practical matters: bricks and mortar, walls that withstand storms, and roofs that's won't blow off. His task—a job that may sound foreign to the developers and leasing agents caught up in the rental frenzy—is to do his part to avert disaster. "We're out here laying the foundation," he says, "so we don't have no sinkholes."
Jonathan Cox is a reporter for DavidsonNews.net. Reach him at jonathan.cox.c@gmail.com or on Twitter: @Geezhawk.