Stagioni's Debut Season
Bruce Moffett opens his much-anticipated Italian restaurant on Providence Road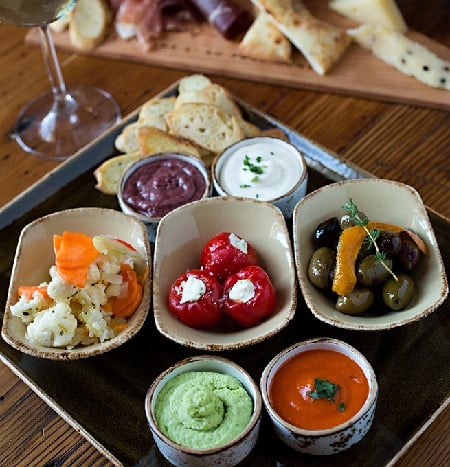 When Bruce Moffett first walked into the mansion on Providence, he knew its old stones and bricks were going to be the warm touch needed for an excursion into Italian cuisine.
Behind garden walls, the rustic house seemed to be an ideal spot for the new sister restaurant of Barrington's and Good Food on Montford. Soon, he was laying plans for Stagioni, which means "seasons" in Italian. The new restaurant opened in January, promising locally-sourced food that will change with the weather.
Larry Schreiber, formerly the executive chef at Good Food, asked Moffett to let him make Stagioni his. The mansion, a historic landmark that was formerly owned by socialite Blanche Reynolds Gormajenko, provides an elegant backdrop (and a very large kitchen) for classic Italian dishes, reimagined and refreshed with flourishes and ingredients native to this region. The menu includes produce from New Town Farms, pork from Heritage Pork, and local beer from Olde Mecklenburg Brewing.
Moffett believes that, like a big house hidden by walls on a busy road, the brilliance of the Italian meal can often get lost in newer, flashier cooking styles. "People have a particular perception of what Italian food is," Moffett says, "but we want to remind them why veal saltimbocca or chicken cacciatore is so good."
Schreiber and Moffett don't disappoint. Stagioni offers first, second, and third courses including sides, dips, snacks, pastas, entrées, and pizzas. Diners can dabble in Italian mainstays that may not be as conventional as dishes they're used to. Short lists of dainty dishes, such as Marcona almonds ($4), chicken skin ($4), and olives ($4) are available in combinations of one, three, or five. The Per Il Pan course, which means "for the bread," offers spreads that range from a truffle cauliflower dip ($3) to a spicy sausage concoction called nduja ($3) that tastes like smooth and smoky pepperoni.
The beauty of many of the dishes here is that you may be able to get them only once a year. The Agnolotti ($15) tastes and looks like autumn, with house-made pasta full of creamy butternut squash filling atop warm apple foam. On the standard menu, the pizzas—served with large scissors (a standard practice in Italy) and offered year-round—are hot out of the wood-burning oven in the kitchen. The meatball pizza ($14) is unfussy, with big slices of the Italian favorite, flanked by fresh mozzarella. Desserts range from the traditional, such as a creamy tiramisu cheesecake ($8), to the diverse, such as a pear skillet cake ($8) served alongside avocado ice cream.
To wash it all down, drinks are separated into "sweet," "bitter," and "signature." Be warned: If it's specified as sweet, it's very, very sweet. The same warning applies to the bitter. The Bella Rosa ($13) falls somewhere in the middle, getting a tangy kick from grapefruit juice and evened out with blood orange liquor.
Moffett's desire to create a home-style atmosphere is evident from the bar to the kitchen to the dining room. The sound of Schreiber calling out orders in the kitchen, mingled with the echoing voices of restaurant-goers, makes the old stones feel alive with the hospitality and satisfaction that come with a home-cooked Italian meal.