Start Me Up
As the city races to retool its economy, all eyes are on entrepreneurs, because wouldn't it be nice if the next Google came out of Charlotte? But it won't be easy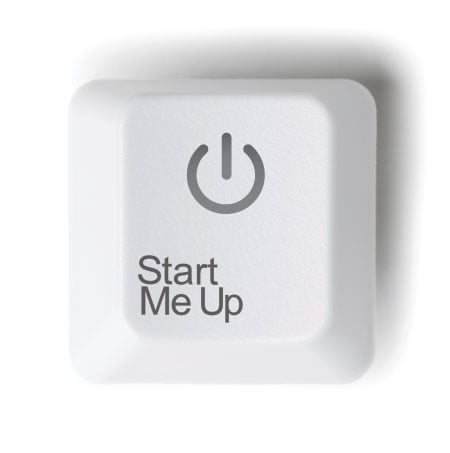 Check out our exclusive features:
Zerrick Bynum spends a lot of time pondering food. Specifically, a Southern delicacy involving pastry crust and fruit filling.
"I'm a cobbler man," he says.
Not long ago, he found himself on a quest to find the best cobbler in Charlotte. Which got him thinking: what if other people are also looking for the best cobbler? Or pie? Or cupcakes? And what if a different group was making scrumptious cobblers or pies or cupcakes at home, toying with the idea of selling them, but no one knew about them?
And, Bynum thought, what if I could start a company that connected the two groups?
That company is Viddlz.com. Think of it, he says, as "Etsy meets local food," referencing the popular online marketplace for crafters and artists. It's the kind of company that, five or ten years ago, Bynum would have had to move to Silicon Valley or New York—both overflowing with tech geeks and eager investors—to start.
Bynum, forty-one, is a Charlotte native, but he's familiar with other tech hubs. He graduated from the North Carolina School for Science and Mathematics in Raleigh. He majored in electrical engineering at Stanford. He got his MBA at Harvard. And he worked at private equity and leveraged buyout firm Bowles Hollowell Conner and Co. (as in Erskine Bowles). But, for now, he's staying here.
Viddlz.com is far from a home run. It launched in alpha mode, which is tech-speak for a working prototype, and Bynum says he identified some problems with the site that his team is working to fix. But it's early yet, and he's optimistic. Everyone tells him it's a great idea, he says, which puts even more pressure on him to get the next phase right.
And, in a way, the story of Zerrick Bynum, an overeducated former investment banker who stayed home to start a tech company, is the story of Charlotte's nascent startup scene: there are good intentions, good ideas, and smart people, but it takes more than that. You can't be afraid to fail. And that's something Charlotte has a problem with.
Time was, folks at the Charlotte Chamber or in local government looked at a local entrepreneur like you might look at photos of your friend's new puppy on Facebook: "That's cute, but I'm glad I don't have to house-train it."
Then came 2008, when the financial services industry almost imploded. Banks still make up the nervous system of Charlotte's economy, but leaders got a glimpse of a world without Bank of America and its kin. They did not like what they saw. As the city begins to climb out of the recession and retool its economy, two sectors are being looked at with big, bright, pleading eyes: energy and tech startups.
Energy is a no-brainer. The largest utility in the world is headquartered here. Twenty-five other large energy companies have a presence here. And energy is in a growth cycle.
Look at that paragraph again. Swap out "utility" for "bank" and "energy" for "financial services." Remind you of 2006? You can see why politicians and economic development types have taken a sudden interest in the startup scene. A point of clarification: It's all well and good if someone wants to open a car wash or a bakery. But that's not the type of startup we're talking about. We're talking about what's called high-growth startups. We're talking about The Next Big Thing. We're talking about two guys in a garage geeking out and somehow founding Hewlett-Packard or Google or Apple. We're talking about Instagram, which, a year after two dudes launched it, was sold to Facebook for $1 billion. Those are the kinds of companies that can transform a city's economy, and those are the kinds of companies that make city council members salivate.
So let's do this, right? Charlotte has money, it has cheap(ish) real estate, it has lots of ex-bankers looking for something to do. Let's get ourselves a startup economy. Not so fast, my friends.
"We've had all the right elements for a strong, vibrant, interconnected community for probably two decades," says Dan Roselli, reciting his stump speech. "But it just hasn't come together in the right way, for whatever reason."
Dan Roselli, who walks fast, talks fast, and smiles often, has made himself into a sort of pied piper for Charlotte's startup scene. In 2010, Roselli and his wife, Sara Garces Roselli, former corporate execs turned entrepreneurs, bought an old building uptown, christened it Packard Place, and set to work developing Charlotte's first true hub for startups. The building isn't close to full yet, but wander the cyber café or the gallery or the co-share space, and you'll bump into plenty of eager guys (yes, these high-growth startup types are almost all men, for whatever reason) hoping to hatch the next big thing.
Like Zerrick Bynum. His Viddlz.com employs three people right now, two of whom are contract workers. The company was accepted to the first class at RevTech Labs. The tech incubator, which is located in Packard Place, provides three months of free office space, mentorship, and programming, with the intention of helping people like Bynum get their startups launched and stay in Charlotte while doing so.
"Charlotte is not currently viewed as a tech town," Roselli tells me as he leads me on a speed-walking tour of the five-story Packard Place. "Five years ago, if someone had a great tech idea, they moved to Boston or Austin. Now, they can look at this"—he gestures around the room at RevTech—"and say, I love Charlotte, I love tech, I can do this here."
If they can raise the cash, that is.
Mac Lackey, forty-one, has floppy brown hair and looks like the former college soccer player that he is. He's founded or cofounded five companies here, one of which he sold to ESPN for $15 million. He says that Charlotte's startup scene has improved but faces challenges—one in particular. "First and foremost," he says, "is capital. The amount of money that flows to early-stage, seed-level companies is really low."
Lackey recently raised $1 million for KYCK.com, a soccer-oriented social network that he cofounded with Ross Saldarini. Most of the dough came from California, New York, and Dubai. "It's hard to fight not moving where the money is," he says.
Shafi Mustafa and Steve Villa recently raised $2 million in seed money for their startup, Savveo, an online portal for buying and selling local advertising. "We've had institutional investors who said to us, if we relocate our headquarters to another major market [they] would be interested in investing," Mustafa tells me in his industrial-chic offices in the N.C. Music Factory. "In our instance we happened to have a great group of investors who are comfortable with where we're located."
Adds Villa, the former CEO of Fort Mill–based Muzak, "you see in our funding round and in other funding rounds, not a lot of money is coming from Charlotte. … Anyone can have a good idea, but if they can't focus on it full time, if they can't get resources around it, it's not going anywhere."
There is money in Charlotte, of course. But local investors seem reluctant to put capital toward what they perceive as risky startup companies. Most people I talked to attribute that to Charlotte's traditional banking culture. "We have a boatload of money in Charlotte," Roselli says. "Other cities are envious of us. But our community hasn't come together in a way where the Charlotte money has found the Charlotte deal flow"—meaning fundable ideas—"in a really efficient way. And that's one of the things that we've got to solve.
"Sometimes it's hard to realize that the next big idea might be a block away. It doesn't seem possible, right? That's part of the mind-set we're trying to change."
The word "mind-set" comes up a lot when talking to local entrepreneurs. They contend that, yes, money and talent are important, but mostly, a city needs to have a mind-set that supports entrepreneurs. Charlotte has a history of doing so, but it's relatively ancient. Family Dollar, Belk, Lance—all founded here. More recently, Hugh McColl employed an entrepreneurial spirit when he built what became Bank of America. But as Charlotte transitioned to a corporate town, it fell out of love with entrepreneurs.
"Sometimes it's hard to realize that the next big idea might be a block away. It doesn't seem possible, right? That's part of the mind-set we're trying to change."
Mayor Anthony Foxx has met a few times with a group of local entrepreneurs, including Roselli and Mustafa. I talked to him just before a City Council committee meeting. The first item on the agenda? "High Growth Entrepreneurship Strategy."
"In the past," Foxx told me, "we have underappreciated our entrepreneur community."
Foxx says the city government can play the role of "convener"—trying to make it easy for an entrepreneurial ecosystem to develop. He also points out the potential significance of UNC Charlotte as a research institution. The little campus that could has burgeoning programs in data analysis and bioinformatics (think drug development and artificial intelligence), both of which promise to be lucrative fields over the next two decades, spawning lots of startup companies. But they are little known and not well funded. Universities in the Research Triangle, Foxx says, attract tons of funding to support their research efforts. Last year, UNC Chapel Hill received about $800 in industry grants and contracts. UNC Charlotte got $35 million. "We need to attract vastly more resources in research, then monetize it," Foxx says.
But government can do only so much. The city's culture has to evolve. Until recently, Charlotte's white-collar workers heard "entrepreneur" and thought "unemployed." Risk, an essential element of a startup, has been a dirty word (the little mortgage-backed securities dustup aside).
"I've been meeting for twenty years with people who I call 'almostpreneurs,'" says Lackey. "They have an idea and say they want to start something, but the fact is I know they will never leave what they perceive to be a cushy job."
But the economic crash showed that those supposedly cushy corporate gigs might not be so safe after all. "Are you really safer working at a big corporation?" Lackey asks rhetorically. "You could lose your job or your division could be eliminated, versus controlling your own upside and destiny. I feel safer than many of my friends working at big corporations."
He sees the mind-set beginning to take hold. "There is a little bit of groundswell in Charlotte. At parents night at school, I almost feel like introducing myself as an entrepreneur, as a title. The notion of being an entrepreneur is suddenly more accepted and even intriguing to people."
Lackey, Mustafa, and Villa say that the mind-set is essential if Charlotte is to develop a startup economy, both for attracting local investors and talent.
"It takes someone who is willing to try a couple new ideas," Mustafa says. "Some will be successful, others won't. It's OK to fail. It's OK to try something and it not be a swinging success."
The key phrase in there is "new ideas." In the recent past, Charlotte has celebrated only one kind of risk: real estate. In the 1990s and early 2000s, real estate developers were rock stars here. The new startups don't deal in tangible things like land and buildings. They trade in ideas—new ways of solving new problems. Or, to use a popular buzzword, "disruptive" concepts.
Zerrick Bynum's Viddlz.com might be the next Etsy.com. Ebay might buy it for a zillion dollars. Or this could be the last time you ever read Bynum's name.
Either way, Mustafa says, he should be celebrated. "We should be willing to applaud those who are willing to take some risks, even if they fail. As long as you've made progress, you've contributed to something positive." —Richard Thurmond
Also check out our exclusive features: