StartUp RockOn Kicks Off At the DNC with The Roots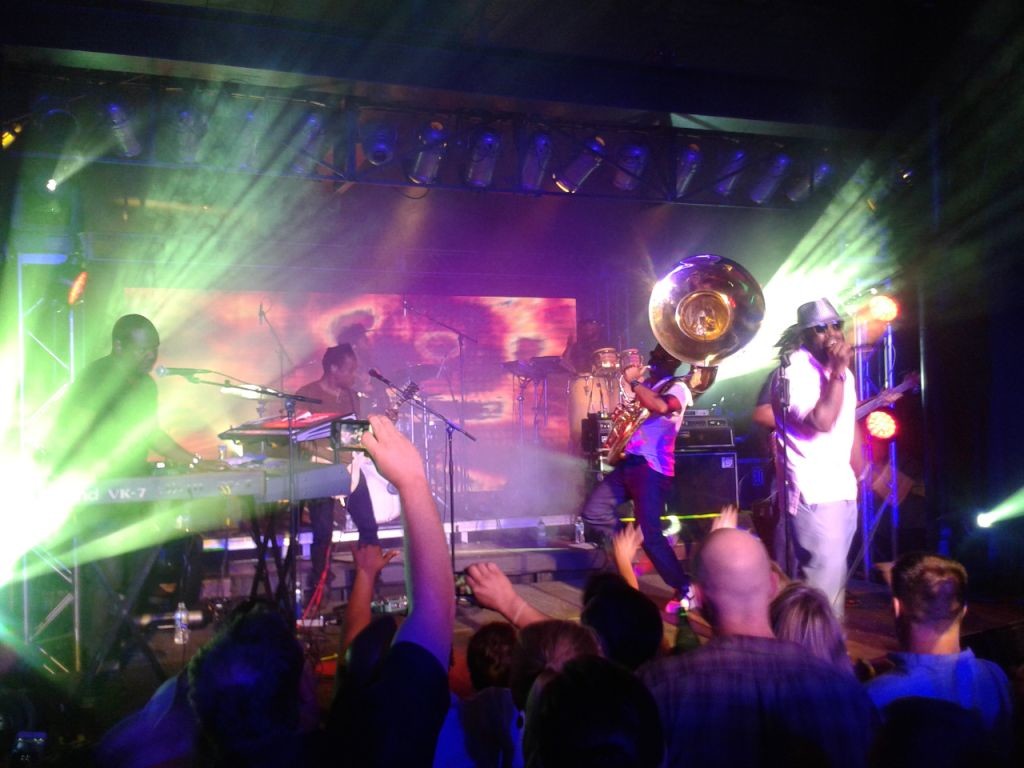 The Democratic National Convention is a weeklong party, right? DNC-related parties certainly began over the weekend, but they escalated Monday night. While I still consider the moment I'm typing this to be Monday night, technically it's early Tuesday morning.
So, Monday night I attended the highly publicized StartUp RockOn Music Extravaganza at Amos' Southend. Although this was an invitation-only event, the buzz had been building for months because this was one of the first DNC-related parties to be announced, with hip-hop band The Roots slated as the headliner. StartUp RockOn, an organization founded by three technology startups to "blend the enthusiasm and excitement of the startup community with music and entertainment to create experiences that showcase startups…," reads its mission statement, is presenting events all week during the DNC, with support by major companies like Microsoft and Facebook.
I arrived right at 10 p.m. and saw a line of people on one end of the building, whom I assume we're hoping to get in. At the main entrance, foot traffic flowed much easier. Because I, like most other guests, had RSVP'd online, connecting with my Facebook account, when I got to the check-in table I simply handed them my ID. After they checked me in using a digital tablet, I was given a plastic card, similar to a hotel key, for dwinQ, which on the card says "is the easy, frictionless way to bring social media to real-world events and venues." Inside Amos', dwinQ stations were placed throughout where partygoers could swipe their cards and instantly check-in and post statuses and photos on their social media sites.
But the night was as much about the music as it was the technology. When I walked in, soul singer Allen Stone was performing with a full band. I must admit I'd never heard of him or his music, but I am now a fan. For a rather unassuming-looking white guy from Washington, he hit some incredible notes that, in my opinion, resembled Stevie Wonder. The night's main attraction, The Roots, hit the stage right about 11 p.m. and they certainly didn't disappoint. The crowd was rocking with them from the first beat drop, and The Roots displayed an array of music of almost every genre imaginable.
It was a packed house and the crowd was filled with people whose appearances you would stereotype as being part of the tech community–plenty of dudes wearing blazers with graphic tees and jeans; and chicks dressed like Zooey Deschanel. I would estimate that the majority of the guests were between the ages of 25 and 35. And while I ended up seeing about a dozen people I know, it was also evident that a lot of people in the room were out-of-towners, who, hopefully, by the end of the week will leave the Queen City with a favorable impression. Four hours of open bar and a concert by The Roots certainly can't hurt.