Steak, Collards, and Taxes
Councilman James "Smuggie" Mitchell dishes about his astronaut wife and his streetcar dreams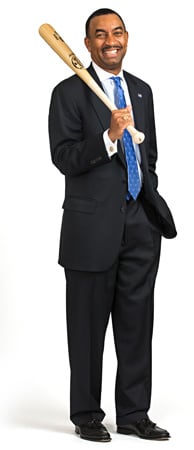 Stepping through the door of Simmons Soul Food, James "Smuggie" Mitchell fist bumps the guy in the first booth, pivots to grin at a table of women, and turns again, greeting the people shouting hello from the back of the restaurant.
The walls of this popular North Graham Street dive are crowded with photos of its celebrity fans. As Mitchell makes his way to a booth, which a waitress rushes to clear for him, the longtime Charlotte city councilman stops to pat a picture of a beautiful astronaut hanging on the wall of fame. It's his bride, Joan Higginbotham, the third African American woman to travel to space. They married last June. "But we got off to a rocky start," he says, laughing. "She never liked elected officials."
He sits, ordering the cubed steak without pausing to consult a menu or interrupt his story.
Mitchell met Higginbotham in Washington, D.C., while he was climbing his way to the top rung of the National League of Cities advocacy group. As president of the group, he was required to travel a lot, and his absence upset some of the constituents in his district, which covers a northwestern swath of the city from North Tryon to Mount Holly-Huntersville Road. But Mitchell didn't flinch. He says he does what he thinks is right, even if it could cost him voters. "I'm not the typical politician," he says. "My wife thinks it's because I have a heart," he adds in a stage whisper.
Besides, his travels gave him more knowledge to share with Charlotte. "The worst thing a city can do is sit still," he says. Especially when question marks punctuate the economic situation.
That's why he championed moving the Knights baseball stadium to Charlotte (and to his district) and having the city chip in $8 million to cover some of the cost. It's also why he voted for the $900 million capital improve- ment plan that was shelved after City Council balked at raising taxes.
"That's where we lost the battle," he says. "With the word taxes." He laughs. "Right now, everyone in District Two is loving me because there was no tax increase." But Mitchell favored the improvement plan; he considered it modest. "If you live in a two-hundred-thousand-dollar home, you'd be paying an extra eighty dollars," he says. "You're not going to lose that home over that."
Mitchell is no stranger to conflict. In 2011, his ex-wife, Vivian Mitchell, campaigned (unsuccessfully) to oust him from his council seat. He has also been fighting for years to get the streetcar line extended through his district. He thinks the project will boost the area's accessibility and its reputation.
But in an era when the word tax is political kryptonite, why wouldn't he worry that his support for the tax hike could cost him voters? "I truly think no one would get voted out [of City Council] for raising taxes," he says. "To kick me out of office for one issue … " He shrugs, pausing to chew some collards.
"Look, the easiest thing I could do is nothing," he says. "That way I'm everybody's friend. But I'm not like that. Charlotte's not like that. We're a bold city."