Stearns Ready to Make 20,000th Skydive
Six months after an accident left her grounded, the former US Army Golden Knight is on her way back up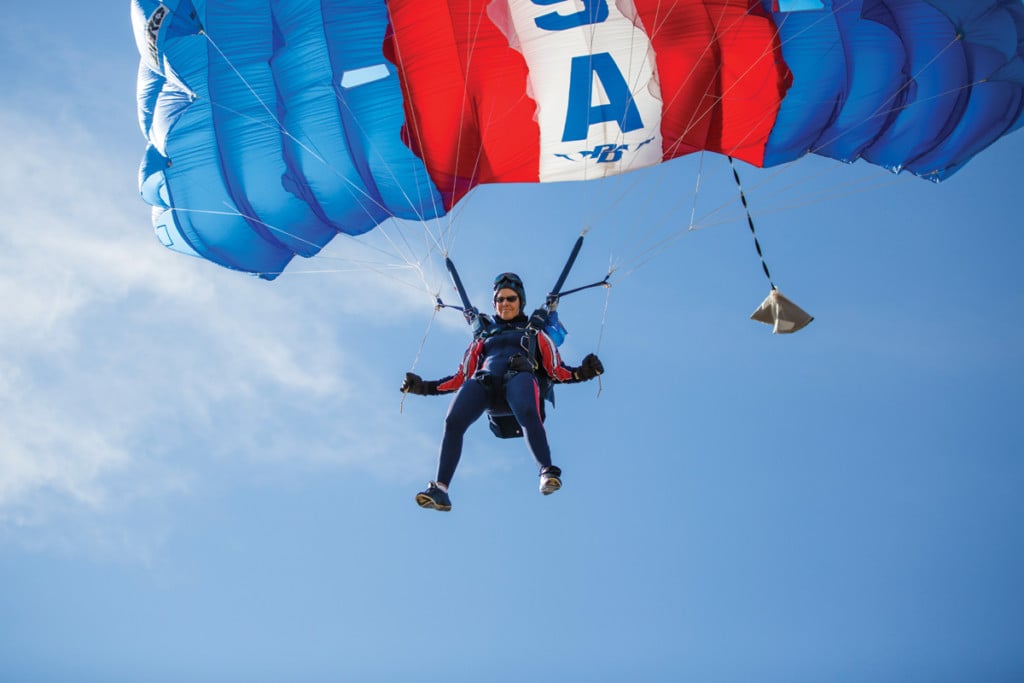 A few months ago, we published this story on Cheryl Stearns, a Charlotte resident and the most accomplished female skydiver in history. She was on the verge of becoming the first woman to complete 20,000 skydives when she was hit by a car while riding her bike in November. The accident left her with a brain injury, and she had to stop jumping.
Stearns received a good bit of attention after the story ran—The New York Times recommended the piece in its weekly "What We're Reading" newsletter, The Week magazine ran a trimmed-down version as its Last Word page in March, and several other websites, including Longform and Buzzfeed, gave it a bump as well. When I saw Stearns at her mother's funeral service in February, she told me she'd been overwhelmed with responses from people all over the world.
But time passed and the calls slowed, and her brain still hadn't healed. She grew frustrated. She snapped at friends and family who told her to rest. She snapped at doctors who told her she couldn't run or bike or fly. For a few days, she even stopped eating. As a person who understands the world only in terms of what she can see and measure, Stearns still rejects the idea that she could've been depressed.
"The only way to heal a brain injury, I think, is to learn new things, to make one wire connect to another wire, which connects to another wire," she told me Thursday morning. "And I couldn't do that."
Last month, she went to Arizona and hiked. Then Stearns, who's also been grounded from her fulltime job as a US Airways pilot for a year, bought a standby ticket to France for a coworker's retirement party. Now, she believes she's ready. Her doctors should clear her to jump this week. Next week she's going to Lodi, California, to run the jumping school she founded several years ago, the Cheryl Stearns Accuracy Camp. And when she's there, she plans to jump again.
"I'm going to coach and teach and do what I have to do," she said. "And then, when things are quiet, I'll go make a skydive.
"The doctor says, 'You can't hit your head, Cheryl.' And I told him, 'I don't hit my head skydiving. I might hit my head bending down to pour cat food into a bowl, but I won't hit my head skydiving.' I can't lock myself in a padded closet for the rest of my life with a helmet on."
If all goes well, she says, she will make her 20,000th skydive on April 20, without fanfare, into a quiet field in Lodi.