Steph Curry, Star of Stars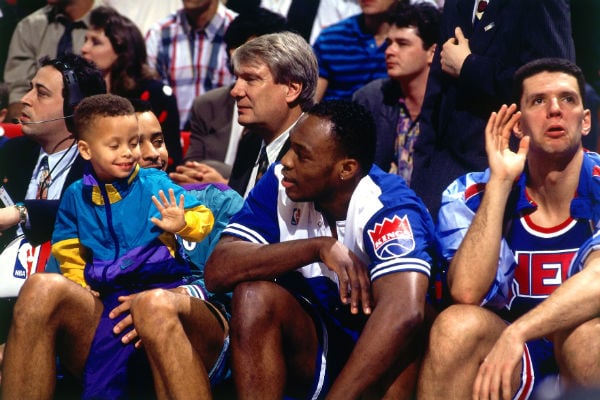 Saturday night, Valentine's night, my wife and I sat together on our purple living room couch and watched our 50-inch TV as no-longer-a-kid Steph Curry won the NBA Three-Point Shootout. It was thrilling, even if it wasn't all that romantic.
Anyone who knows me, or who has visited my office, or who has read my tweet stream, knows that I am an unabashed fan of Curry. He went to the same college I did, and while I am an alum of that school, he is an international ambassador for it. America's basketball fans began to adore him in March 2008 when he led that school, "tiny Davidson College," as headlines called it, deep into the NCAA Tournament. The world has fallen in love with him since. The NBA's All-Star Game is a popularity contest–fans vote for the players. This year, more people voted for Steph Curry than any other player. We may be on a first-name basis with LeBron, but skinny Steph owns our imaginations.
Tonight, Sunday night, Curry will lead the Western Conference all-stars at Madison Square Garden. A lot has been written about Curry in the last two years or so. It's hard to say anything new or newly profound about him (although here's hoping we give it a shot sometime in the next year). So instead I'll look back to what we wrote about him back when. Below is a sort of greatest hits of our coverage of Curry, dating back seven and eight years. There's some really good stuff there, written by really good writers.
First, though, think about this. Steph Curry is from and of Charlotte. In the offseason, he lives here with his wife and daughter (and another child is on the way). He went to Charlotte Christian and Davidson, and his dad, Dell, was an original Hornet. His dad, too, works for the Charlotte Hornets 2.0, calling the games on television. Those Hornets are owned by Michael Jordan, who also lives here a little bit. And if Steph is the most popular basketball player in the world–that's the conclusion I am choosing to draw from the NBA All-star balloting–MJ is still the world's most famous basketball player. So if the heart of basketball is beating in Manhattan tonight, a whole lot of blood is pumping through Charlotte, North Carolina.
Now for those old stories:
"Lefty, Bob, and the Kid" (December 2007)
With Coach Bob McKillop calling the shots and star sophomore Stephen Curry taking them, Davidson's basketball team is looking to make national waves this season. And Charlotte just might rediscover a long-lost love
By Michael Kruse
Kruse is senior staff writer for POLITICO.
Note on the above story: Kruse totally called it.
"What It Means" (March 2008)
The day after Curry leads Davidson to the Sweet Sixteen, Michael Kruse reflects on what it all means: "Last fall, I wrote a long story for Charlotte magazine about this highly anticipated '07-'08 Davidson basketball season, and in that story I posited the theory that this kid, all of 19 at the time, and just turned 20 now, could at the end of his four years be the most important player in the history of Davidson basketball. … We all might have sold the kid short."
"Staying Stephen" (November 2008)
Last March, Davidson's Stephen Curry became an instant national celebrity. Now he returns for his junior season, and the hype is building. How will this story end?
By Michael Kruse
"See Stephen Go" (May 2009)
Davidson guard Stephen Curry's decision to enter the NBA draft was a difficult one, but not for the reasons you might think
By Michael Kruse
"The Cult of Curry" (May 2010)
In his first year in the NBA, Davidson hero Stephen Curry has spawned one of the most rabid and unlikely fan followings in professional sports
By Mike Giglio
Giglio is a foreign correspondent for BuzzFeed.
Go, Steph.