Stephen Curry Returns to Charlotte
In honor of former Davidson star Stephen Curry's return home, presenting our greatest hits of Curry stories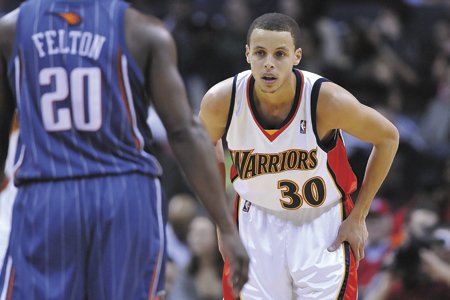 Tonight, Charlotte native and former Davidson star Stephen Curry returns home as his Golden State Warriors face the Charlotte Bobcats in Time Warner Cable Arena. Stephen, who is the son of former Charlotte Hornets start and current Bobcats television analyst Dell Curry, first captured the city's—and the country's—imagination in 2008 when led Davidson on an improbable run to NCAA's Elite Eight.
After another season at Davidson, he was drafted by the Warriors, a team that had the ignomious distinction of being A) terrible and B) on the West Coast (meaning the games are on too late for most local fans to be able to watch them). This season, his fourth, the Warriors have improved, and Curry, who recently signed a $44 million contract extension, is off to an excellent start.
Since 2007, we have published a number of stories on Curry in print and online. Written by journalists such as Michael Kruse, a multiple award-winning reporter for the Tampa Bay Times, and Mike Giglio, now a foreign correspondent for Newsweek/The Daily Beast, the stories have been among the most popular stories we've ever run. To mark Curry's return, I've gathered the stories below:
"Lefty, Bob, and the Kid" (December 2007)
With Coach Bob McKillop calling the shots and star sophomore Stephen Curry taking them, Davidson's basketball team is looking to make national waves this season. And Charlotte just might rediscover a long-lost love
By Michael Kruse
Note on the above story: Kruse totally called it.
"What It Means" (March 2008)
The day after Curry leads Davidson to the Sweet Sixteen, Michael Kruse reflects on what it all means: "Last fall, I wrote a long story for Charlotte magazine about this highly anticipated '07-'08 Davidson basketball season, and in that story I posited the theory that this kid, all of 19 at the time, and just turned 20 now, could at the end of his four years be the most important player in the history of Davidson basketball. … We all might have sold the kid short."
"Staying Stephen" (November 2008)
Last March, Davidson's Stephen Curry became an instant national celebrity. Now he returns for his junior season, and the hype is building. How will this story end?
By Michael Kruse
"See Stephen Go" (May 2009)
Davidson guard Stephen Curry's decision to enter the NBA draft was a difficult one, but not for the reasons you might think
By Michael Kruse
"The Cult of Curry" (May 2010)
In his first year in the NBA, Davidson hero Stephen Curry has spawned one of the most rabid and unlikely fan followings in professional sports
By Mike Giglio
Good stuff, all of it. Some of the best stuff we've done, actually. On a personal note, I'm a Davidson graduate and a basketball fan. I saw most of Curry's home games at Davidson, and I attended three of the four games in the 2008 NCAA tournament. Collectively, it was one of the more amazing things I've had the privilege of witnessing. I'll be at the game tonight. I'll watch, and I'll remember.