Stephen Hayes Exhibits Human Cargo with Cash Crop
The Gantt Center's haunting new show puts a face on slavery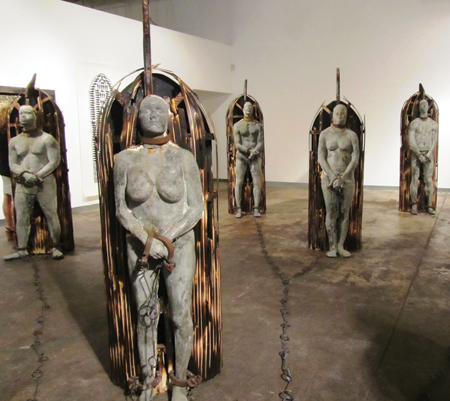 The Gantt Center's installation Cash Crop, which is up through June 30, is part art exhibition and part history lesson. And if the lessons make viewers uncomfortable, that's fine with Stephen Hayes, a twenty-eight-year-old Savannah College of Art and Design alum and rising star on the arts scene.
The subject of Cash Crop is slavery, but there's a larger message. Hayes sees a parallel between the centuries-ago transportation of humans and today's shipping of products made by people in Third World sweatshops. The lesson: our hands are still dirty.
The artist's exploration of the topic began when he saw a slave ship diagram in a printmaking class. That image led Hayes to create fifteen life-size relief sculptures of slaves—men, women, and children.
Hayes himself, along with fourteen friends and family members, posed as models. The experience was emotionally wrenching for some, but not for Hayes. "I go into machine mode when I'm working," he says. Hayes says he'll use "any material I can get my hands on." The materials in Cash Crop include cement, metal, wood, and fabric.
His first goal is always to "wow [his] audience," but he doesn't want to "beat them over the head with a message." Viewers can draw their own conclusions.