Steve Smith and Me
The Panthers will be without their greatest receiver next season. What's that about? It's about me.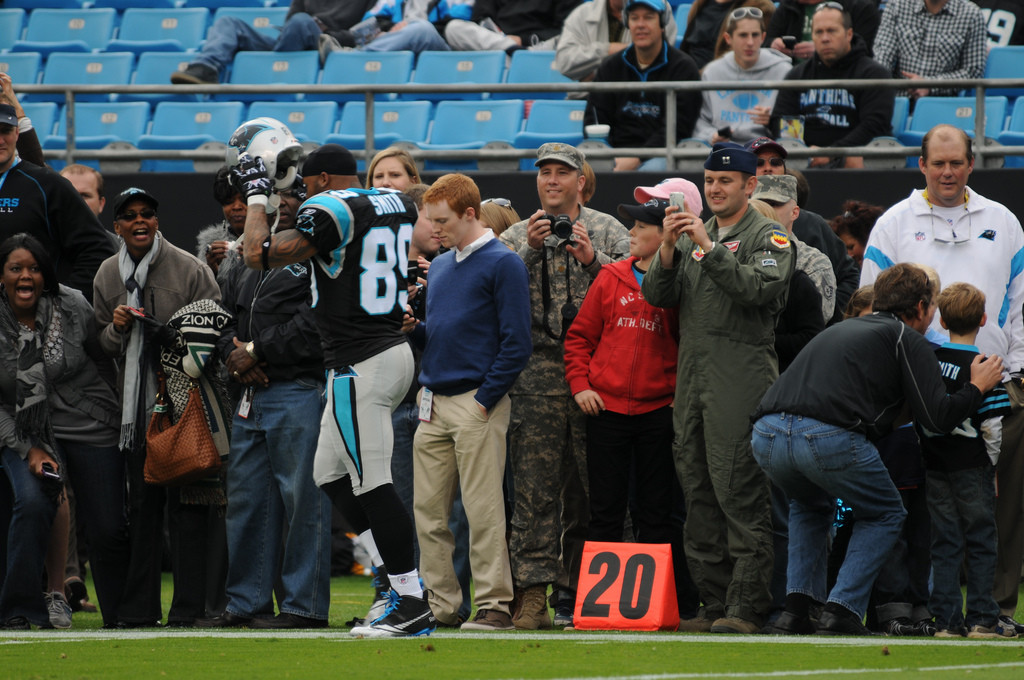 I'm going to have a son sometime this summer. Someday, we will be watching some sporting event, and I will lean in and say, "You know, I saw so-and-so play." This will bring me great joy. He will not be impressed.
That's the thing about sports. They're meant to be lived in the moment. Seconds after those moments happen, they start feeling stale. Sure, you can try and re-live them. You can watch the video again. You can look at old pictures. You can replay the radio call. They might make you choke up a little. They might give you chills. But they won't make you weep, or jump out of your seat, or clap, or groan. We like to say that moments live forever. But moments grow old, just like we do.
Take, for example, the play that many Carolina fans say is the greatest play in Panther history. During the 2003 NFC Divisional playoff game, the Panthers and Rams were tied at the end of regulation. At the start of the second overtime, Jake Delhomme dropped back and fired a pass to Steve Smith over the middle. Smith bobbed and weaved through the St. Louis secondary and scampered to the endzone. The 69-yard touchdown got the Panthers to the NFC title game, which got them to Super Bowl XXXVIII, which they lost.
People talk about that play with pride. It was a moment. A big moment. But it's an old moment. I try to feign some enthusiasm. I didn't see it. I wasn't a Panthers fan back then.
That play has become relevant again this week because today, Carolina cut Smith from the only professional team he's ever played for. After 13 seasons, 836 catches and 12,197 yards, Smith will no longer be a Panther.
I'm a Panthers fan. I like Steve Smith. I've seen him get up after both routine catches and circus grabs, slap his head and scream. I've seem him push cornerbacks and safeties out of the way like dominoes — running over them like a 5'9" bull without horns. I've seen him dance in the endzone. I've seen him spin the ball. I've seen him say what I'm sure are horrible things to the people he plays against. I don't need to hear the exact words. I get the gist. He's made me cheer. He's made me jump out of my seat.
I like Steve Smith. But I don't know Steve Smith.
I know he has a wife and kids. I know he's a great player. But I've never really met him. I've never talked with him. I know what he's like on the field. I've listened to soundbites. I've read interviews. But I don't know him. I know how he makes me feel. I remember the moments he's given me.
Me.
This is not about the Panthers. It's not about Steve Smith. It's about me. That's selfish. But I can't help it. Great players make us moment junkies. We're addicts. We can't wait to have more. We don't know where our next fix will come from. We continue to watch, hoping to be there for the next one.
I've already had my share of Steve Smith Panther moments. I'm sad, because there will be no more. No more for me.
Someday, I'll tell my son I saw Steve Smith play. I'll feel a little bit of pride. He'll probably feign some enthusiasm. And then we'll keep watching whatever we're watching, waiting for the next moment to happen.