Steve Smith Has Something to Say
As he begins his final season in the NFL, the former Panthers star has more than a few words about icing up, carpool duty, and life after football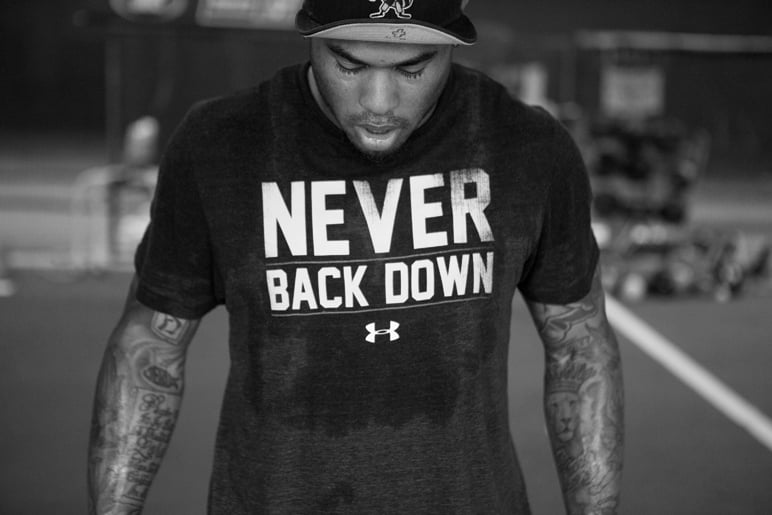 I. SEPARATION
THE START catches Steve Smith off guard. Slow reactions are unusual for an athlete who's accustomed to standing on a line and waiting for someone else's signal to run. But here he is, the veteran wide receiver, talking and joking right down to the command, "Set!" He's not paying attention when the starter screams, "Go!"
This is the beginning of the second Lace Up Son Family 5K, sponsored by the Steve Smith Family Foundation. The Memorial Day event was organized by the man himself—plus a team of volunteers and, always, Angie. The two met in college and married during Smith's senior season, 15 years ago this fall. She has his initials tattooed on her arm; he has her name tattooed on his wrist.
She's standing next to Steve, holding onto a jogging stroller that carries Steve Smith Jr.—Deuce, they call him—the youngest of the couple's four children. The others, Peyton, Baylee, and Boston, are here, too. Smith has a race bib, white with black numbers, pinned on the middle of his shirt. The bib's number is 89, the only number he's worn through all his years in the National Football League, the number on the jersey he'll hang up for good at the end of this season.
The race's name, Lace Up Son, is a play on Smith's catchphrase, shouted into a television camera after a Panthers win in 2013, directed at an opponent who left the game early with an injury. "Ice up, son! Ice up!" It wasn't long before the saying landed on T-shirts and ball caps and in backyard football games. This morning, Smith pumped up the crowd by getting them to yell, in unison, "Lace up, son." A few people shouted "Ice up" instead.
There are more than 600 people lined up behind him, packed between the sidewalks of a street in Matthews, ready to get the signal to run. They're young and old, out of shape and regular competitors. There's a 92-year-old woman, Harriette Thompson, getting in one last jog before flying to California to become the oldest woman to finish a marathon. A few dozen people wear Smith's Carolina Panthers jersey. Others, but not as many, wear his Baltimore Ravens jersey. The Ravens uniforms are newer. The fall sun hasn't faded them. Weekly tumbles in the dryer haven't cracked the white 8 and 9. They don't have the history that the Panthers shirts do.
When Charlotte's professional football team picked Smith in the third round of the 2001 NFL draft, the 74th player selected that year, he heard the talk. At 5 feet 9 inches, critics said, he was too short to be an elite receiver. He came from the University of Utah, they said, and couldn't hang with guys who played at powerhouse programs from the bigger conferences. Maybe he should be just a kick returner, they suggested.
During the 13 seasons that followed, before the Panthers cut Smith in 2014 to make room for younger players, fans here loved and loathed him, sometimes in the same conversation. They argued that he was the greatest Panther ever; they barked on sports talk radio that he should have been cut years ago.
Smith will end his career among the top 15 NFL wide receivers of all time in terms of total receiving yards, and if he puts up another 1,000-yard season this year, he'll move into the top 10. He's scored more touchdowns and caught more passes for more yards than any player in Panthers history. He has a good chance of landing a spot in the Pro Football Hall of Fame. He's been to a Super Bowl, but has never won one. Smith will leave the league like he came into it. Outspoken. A dad. Misunderstood.
"Steve keeps a tight circle, but if he likes you and trusts you, you're in."
When the race starter hollers, "Go!" Smith is slow to start because he's looking around, surveying the crowd, checking on Angie and the kids. He hasn't made his plans to retire public yet, but he grows nostalgic as Panthers fans run past him and gasp, "We'd love to have you back, Steve!" Smith talks about a T-shirt he bought recently, with big block letters on the front: ENJOY THE JOURNEY. "I remind myself of that," he says. "When you're a guy and you're evaluated and it's highly competitive and everyone has opinions about your performance, I think you kind of fall into the trap of having something to prove.
"As I've gotten older, I've realized it's less and less about that and more about enjoying the journey."
Five or six minutes into the race, Smith's family has built a hundred-yard lead on him, slowing down only when 17-year-old Peyton turns around to give his dad grief about their latest video-game soccer match. Angie leads the family, despite the fact that she's pushing Deuce in the running stroller. The pack of runners breaks free from downtown Matthews, toward the cool shade of a treelined neighborhood street. Smith is getting tired. The race has already covered the length of four or five football fields. "I've got practice tomorrow," he says. The breaths between words come harder and longer.
"We get to the bottom of this hill and I'm about to walk."
He waves his hands at his family, the gap between them widening, and he motions to Angie that he'll catch up later.
***
ABOUT TWO WEEKS earlier, on the morning of his 36th birthday, Smith whips his burgundy Bentley into a parking space outside a warehouse building in southwest Charlotte. He is a little late, but makes no effort to hurry.
Inside the building, Smith's trainer, Jed Hartigan, wanders in circles on the artificial turf, stretching a resistance band behind his back. He watches through a bank of windows as Smith lingers outside the open door of the Bentley, pecking out a message on his phone.
"I guess he's taking his time today since it's his birthday and all," Hartigan says. The pair has worked together—four days a week during the offseason— for more than eight years. "Steve keeps a tight circle, but if he likes you and trusts you, you're in."
Finally, Smith jogs toward the front door and into the gym. He apologizes for being late. "I had to open birthday presents with my family before the kids went to school," he says. Angie gave him a map of the world with countries he can scratch off, like a lottery ticket, after he visits.
After a warm-up and a few stretches, Smith is ready to work out. The inside of the gym is industrial, and sound bounces off the metal ceiling. The artificial turf takes up one side and is marked like a real field, 30 yards worth. Hartigan has set out four short, orange cones in a square, with a couple of yards between each one. Smith straps on a chest harness tethered to a thick blue rope, sort of an oversized rubber band. Hartigan holds the free end and braces himself. When the trainer starts a stopwatch, Smith zigzags from cone to cone, quickly changing directions, straining against the resistance from the rope.
"No wide receiver in their 30s is doing anything right now," Hartigan says of Smith's on-field performance at this age, "except him. He's in amazing shape. I've never seen anything like it."
Ten minutes later, on the opposite side of the room, Smith is jumping rope when a Rick Ross song starts. It's Smith's choice of music, blasting out of speakers throughout the gym. The rap song is unedited and came with an Explicit Content warning label. Mid-jump, Smith drops the rope and jogs toward the turf, where six women are getting ready to start a group exercise class.
"Hey, is this music OK?" he asks their instructor.
"Yeah, man," the trainer responds. "It's cool."
"I just don't want to offend anyone," Smith responds. "If it offends them, I can turn it off." Twice more during the workout, Smith stops what he's doing to check on the other group to make sure his music hasn't made the women uncomfortable.
This is the Steve Smith that Panthers fans have rarely met, despite how well they think they know him as the guy who pops off at critics, who has pushed teammates, who yells "Ice up, son!" into a TV camera. "They typecast me," Smith says.
"I take that personally," he says. "That's serious when you're talking about my job. If I started walking around and telling bank tellers they're slow and commenting on their performance and their character, that would hurt their feelings."
He's tried, in return, to keep that principle in mind. He's practiced restraint. But sometimes he just can't help himself.
The target this day is a guy named Andy, a random person with a Twitter account and a couple of hundred followers. Last fall, Andy sent Smith a tweet that included a black-and-white picture of an elderly black man carrying a top hat and a cane, along with the hashtag "#WashedUpSon."
The words and the picture stayed with Smith. For months, he held a grudge, until today, when he stood next to his Bentley in the parking lot of the gym with his phone in his hand.
"Been waiting for the right time!!!" Smith posted on Twitter while his trainer waited, tagging Andy, who likely had a very active phone in the hours that followed. "Even at 36 I would put you to sleep … u cookie dough." More than 300 people favorited Smith's comeback tweet, and almost that many re-tweeted it.
Smith explains that he chafes at fans such as Andy because he says they don't understand football is more than a game to him. It's a job, a retirement plan. He recalls posting a picture on social media of Deuce, then an infant, wearing a Ravens jersey. "Some guy commented and said, 'If it ain't Panthers, it ain't s–t,' " he says. "That's my 10-month-old son. Is that appropriate? Why would you think that is appropriate?"
His tone shifts between combative football player and defensive dad. Come at him all you want, he says, but don't bring his kids into it.
"If I was walking down the street with my son and he says that to us, by the time he's finished, he'd be going to the dentist. People say that's a thug mentality. But you don't disrespect someone to their face. You don't disrespect their children."
Social media is one part of being a professional athlete that has worn Smith down the most, especially since his departure from the Panthers. "When you're sitting behind that keyboard, you know you would never say those things to my face," he says. "Just because you bought a ticket doesn't give you the right to cuss me."
***
II. THE FIRST MILE
WITH ANGIE and the kids long out of sight, Smith turns around so he can slap hands with other racers. "Let's go, let's go," he says. Some people pose for pictures with him; a few others try, with varying degrees of success, to take selfies with Smith while jogging.
A woman, about 60, runs by.
"I was cheering for you in Baltimore last year," she says.
Before Smith can respond, another person speaks up.
"We still love you here!"
"Well thank you, ma'am," he says. "I love you, too."
This happens over and over, until Smith finally turns on the asphalt and runs ahead. He's flattered by all the attention, he says, but wishes fans would understand he's more than an athlete. The toughest route he's had to learn is the carpool line at his kids' schools.
"You still have to juggle your first job, which is being a parent, and that's tough," he says. "I don't know what I'm doing. I just have to figure it out." Smith, a guy who's raising a high schooler who will turn 18 this fall and an infant who's learning to walk, wants to get it right.
Smith drops back again and walks until he's beside a group of people from his church trotting next to a young man with special needs. The teenager sports a Ravens cap and a purple jersey with SMITH SR. in white letters on the back. He grins as Smith flings an arm around his shoulder and calls him by name. Smith starts to say something but hesitates.
"Hey, turn those cameras off," he yells to the news photographers riding on a golf cart about a hundred yards ahead. The lenses drop, and Smith turns his attention back to the group. He doesn't realize anyone else is within earshot.
"We need to get you up to Baltimore this season for a game, OK?" The boy's smile widens. Smith looks at the adults. "I'm serious. We'll take care of it. Just pick a game. Pick a game and let me know. We gotta make it happen this season."
***
DURING HIS FINAL seasons with the Panthers, Smith became a regular on the call-in talk radio shows. He enjoyed it. If he is anything, he is a terrific interview. Some of his best zingers have come on talk radio.
The morning after his birthday, Smith sits in a mostly empty radio studio in Concord, underneath the speedway, guest-hosting "The Opening Drive," a sports call-in show out of New York that airs on satellite radio's NFL channel. Former NFL player Brad Hopkins, the announcer, asks Smith to list his best and worst attributes.
"I'm best at cooking, and being a dad," Smith says. "Worst? Having a filter on my mouth."
And with that, Smith starts a four-hour show that offers plenty of opportunities to be unfiltered. Talk radio, especially on satellite, meanders. The conversation bounces around as Smith opines about everything from the Philadelphia 76ers' new logo, featuring Benjamin Franklin dribbling a basketball—"Terrible, just awful"—to "this great cupcake place [Cupcrazed Cakery] right down the road" from his house in Weddington.
About 30 minutes into the broadcast, Smith digs into a white fast-food bag resting on the table in front of him. He pulls out a Bojangles' chicken biscuit and fries, opens a paper carton of orange juice, and finishes his meal between calls. He meticulously wipes the seasoning salt from his fingertips before adjusting the mic.
A caller from Utah asks Smith if he would consider coming back to Salt Lake City to join the Utes' coaching staff. Smith smiles and adjusts his headphones.
"I can't coach," he says. "I can't dedicate the time to coach someone else's kids when I've got kids of my own that need me to coach them. They need me in the house and I need to be there." He could stay in the NFL for a few more seasons or he could get a gig as a TV commentator. He'd be good at it, too. But television means long hours and weekends away from his family. That's why, he says during a commercial break, he wants to give sports radio a try after he retires. He can work from a studio in Charlotte, maybe even from a room in his house. Angie could meet him for lunch after the show. He could get back into the carpool line.
"I've missed assemblies; I've missed programs," he says. "I've missed a lot of things because of my work. I want to experience some of those things."
Not that he's ungrateful. Even after his contentious split with the Panthers—he later went on the radio and said he felt "stabbed in the back"—Smith has enjoyed the journey.
He is especially thankful to the team's founder and owner, Jerry Richardson. "This is a game on Sunday, but it's also a way of life," he says. "The things that Mr. Richardson has done for me and given me an opportunity to do, he's changed me for the rest of my life."
Smith says those last words with emphasis. He knows the rest of his life starts after the final down of this season. Smith wants to travel with his family, to have a reason to scratch off more countries on the map in the shadow-box in his study.
"My folks don't even have passports," Smith says, sounding a little bewildered. "The things my kids are doing at their ages, I'm doing for the first time at 35, 34."
***
GROWING UP in Los Angeles, Smith spent periods of his childhood taking the city bus from a motel to his high school, two hours each way. He'd leave his track cleats and football pads in his locker.
His mother's ex-husband—not Smith's father—routinely beat her for years. Smith, his brother, and their mom escaped to the motel for a few weeks until they found an apartment, but witnessing years of abuse affected him. "I know what it feels like watching my mom have a man standing over her at two in the morning after punching her in the face. I know what that does to you, mentally."
When he and Angie met, through mutual friends at the University of Utah, and after they had Peyton, he vowed to be a better husband and father than the men who abused his mother. "My family is everything," he says. "Without them, I'm just a dumb football player."
They moved to Charlotte, the young family, not sure what to expect. "Obviously we knew where North Carolina was," Angie recalls, "but not really. We both kind of pulled out the map and said, 'OK, this is one of the furthest places away we could go from where we lived.' "
The Smiths weren't sure how long they would be here, or whether he would make the team at all. When Smith signed his rookie contract, he bought a red Chevy Trailblazer—the first car he'd ever owned. Both Steve and Angie spent much of their childhoods living in apartments; they had to adjust to the space and responsibilities that came with owning a home. "We had so much to learn," she says. "The fame, the money. It was all so different."
On the first play of the first game of his first season in the NFL, Smith returned the opening kickoff 93 yards for a touchdown in a win against the Minnesota Vikings. It would turn out to be the bright spot of the year; the Panthers lost every one of the 15 games that followed.
Two seasons later, Smith scored a game-winning touchdown in the second overtime against the St. Louis Rams in the NFC divisional playoffs. On third down, quarterback Jake Delhomme hit Smith, who was cutting across the field, with a pass that the receiver turned into a 69-yard play. As Smith streaked toward the end zone, he stretched his arms wide and tilted his head back. He spiked the ball hard in front of a stadium full of Rams fans.
His best season with Carolina came in 2005, the year after he broke his leg. He led the NFL in receptions, receiving yards, and receiving touchdowns, and was named Comeback Player of the Year. But Smith's career had its low points, too, particularly in 2008 when he and then-Panthers cornerback Ken Lucas got into a fight at training camp. Smith broke Lucas' nose, and the team suspended him for the first two games of the regular season. In his second game back, following a touchdown reception against the Falcons, Smith ran to the sideline and gave Lucas the ball.
As Smith became an on-field fixture for the Panthers, he and Angie settled into life in the Charlotte suburbs. They hunted for schools for the kids. With each contract extension, they felt more stability.
They could get comfortable here.
***
III. THE MIDDLE
A GROUP of women passes Smith, going the opposite direction of everybody else in the 5K. They've finished the race and they're barely winded, and now they're running toward the back of the pack to find and encourage stragglers. "We're going to cheer," one of them tells Smith.
"You are just disgusting," Smith shouts to them with a laugh. "Nasty. Running the race backwards."
The women, he says, go to church with him at Elevation, the Charlotte mega-church. Faith is important to Smith, even if, by his own admission, he struggles to be a model Christian. "I'm probably not a Tim Tebow kind of guy," he says, referring to the quarterback who became famous for dropping to a knee and praying on the field. "I should probably speak out about it more, but I'm more focused on doing it at home. That's where it counts the most."
His family foundation is an extension of his faith, he says, a way to serve others even if there's not an explicit mention of Christ.
On a Tuesday afternoon this spring, at a meeting of his foundation's board of directors, Smith sits on a metal bar stool at the end of a long, wooden table inside The Summit Room, a Dilworth restaurant that hasn't yet opened for dinner service. He's dressed up in gray suede wing tips that match his shirt and a burgundy newsboy cap coordinated with his pants. A manila folder is on the table in front of him. Angie sits to his right.
The Smiths started the family foundation in 2013. But, as is the case with most young nonprofits, they're still trying to hone its mission. They know they want to focus on promoting child health and wellness and combating domestic violence.
Smith's mother's abuse— and escape from it—led him to these issues, long before a string of high profile cases involving professional football players, including Smith's former teammate, ex-Panther Greg Hardy.
Smith doesn't hesitate to talk about the way the NFL handles domestic violence allegations against players. "They're trying to do the best they can. Just because they try to do the best they can, that doesn't always equal to being good enough," he says. "It's a people issue. It's not an NFL issue. The NFL does not commit domestic violence. People commit domestic violence. They happen to play football, they happen to play basketball, baseball, hockey. They happen to be CFOs, employees."
Angie addresses the board first at the meeting. She's nervous, and she looks around the table as she speaks to gauge the directors' reaction when she talks. "Steve and I were talking last night and I just stepped back and said, 'What are we doing here? How are we helping people?' "
Later, the group adjourns and moves to the opposite side of the restaurant for a reception with the board, community supporters, important donors, and other special guests. Before long, Smith is talking about his son Boston's recent flag football game. Smith coaches the 10-, 11-, and 12-year-olds, and on the first play of the game, he called a trick play. But the kid who was supposed to get the ball ran in the opposite direction. "Fumble. Dead ball. They were killing me."
He's a passionate coach, often wandering far from the sidelines, well into the field of play, emotions on display. Smith uses a bright pink beach towel to wipe his dry-erase board after each play, including the Xs and Os and arrows he drew for the game-winning touchdown pass. "I coach them with enthusiasm and I correct them, but I also love on 'em," he says. "Every kid on that team got the ball. And it's not some token, 'Oh, he hasn't got the ball so let him carry it a couple yards.' They all get to participate."
This will be Smith's life after football. Coaching kids' sports teams. Hobnobbing with people sipping chardonnay and munching deviled eggs. In many ways, it's stereotypically Charlotte—setting aside the fact that the flag football team plays on a field named in Smith's honor, Field 89, and the reception guests line up to take pictures with him.
"Hell-oooo! Ding, ding, ding!" Smith, standing in the center of the room, mimics the sound of a knife tapping a wine glass to get the crowd's attention.
Smith tells the donors that he expects his foundation board and staff to operate as he would on the football field. He wants them to be relentless, to push harder, to refuse to quit. "If you don't get on people's nerves, you're not getting their attention."
Smith has little room for nuance in his life. It doesn't interest him, nor does it fit with his world view. Things are black or white, right or wrong. You catch the ball or you don't. He's passing this philosophy down. "I teach my kids—and I speak pretty plain—if you hit a woman, you're a punk," he says. "And I'm not raising any punks."
***
IV. THE HOME STRETCH
ABOUT A MILE from the end of the 5K in May, Smith says, for the first time to a reporter, that he's going to retire. It wasn't an easy decision. "It's hard to put down that adrenaline that the NFL gives you. The NFL is one of the most addictive legal drugs there is." His body is still able, but it's clear his heart is with Angie and the kids. It's time. He's done.
"I don't want to be one of those guys moving to three or four more cities to play, just chasing something," Smith says. "If I did that, it's about me. And then I'm a hypocrite."
Angie's birthday, in mid-August, always coincides with pre-season games and practices. He's ready for the year they can celebrate that day without football getting in the way. He wants to travel. He's ready to fully become a suburban sports dad. He wants to take advantage of the time he's still able to spend with his kids, before they grow up and move out. Peyton is a senior in high school this year, and he spent the summer looking at colleges where he can play soccer.
"Ever since [Peyton] was one, he's been putting on my jersey on the weekends," Smith says. "Now I'll get to put on his jersey on the weekends. That's a huge honor. It means something."
Later this afternoon, after the 5K race, Smith will get on a plane for Baltimore to start workouts with the Ravens. One of his cars is already packed—there's a crib for Deuce in the trunk—and ready to be shipped north. There will be lots of "lasts" this season, and Smith is still trying to understand how those moments will make him feel. The last training camp. The last touchdown. The last weekend away from home.
At the finish line for the race Smith started to benefit the charity he founded, a DJ is playing some kind of pop music. A female singer's voice is too far away to be distinct, but close enough to pull Smith out of his nostalgic moment. He begins to jog, slows down to high-five an elementary school kid, and accelerates again. He rounds a corner, passes an old brick building with a giant oak tree in the yard, and starts up the next block.
The finish line comes into view. His family is waiting for him.
He's almost there.
Adam Rhew is a frequent contributor to this magazine. Reach him by email at adam. rhew@gmail.com, or on Twitter: @AdamRhew.
STEVE SMITH'S BEST QUOTES THROUGH THE YEARS
"Ice up, son! Ice up!"
—Smith's message to then-Patriots DB Aqib Talib after the Panthers' Monday Night Football win in 2013.
---
"You can ask my wife about my stamina."
—Smith's response to a reporter's question about his stamina after missing a week of practice due to illness.
---
"Take your [butt] back to Carolina. Make sure you mow my lawn while you're out there. Keep it clean for me."
—Smith's message to his former teammates in a sideline interview during the Ravens-Panthers game in 2014.
---
"He sucks. I wouldn't let Mark Sanchez throw me a paper bag sandwich."
—On the former New York Jets quarterback
---
"Everybody wants to say Tim Tebow is that difference maker. He wouldn't be on my son's flag football team."
—On the former Denver Broncos quarterback
---
This article appears in the September 2015 issue of Charlotte Magazine
Did you like what you read here? Subscribe to Charlotte Magazine »
---