Sticker Shock: Inside Charlotte's Property Revaluation
Eight years after a disastrous overassessment of Mecklenburg County land values, the county exercises more diligence this time—and oversees a spike in values with some tax bills to match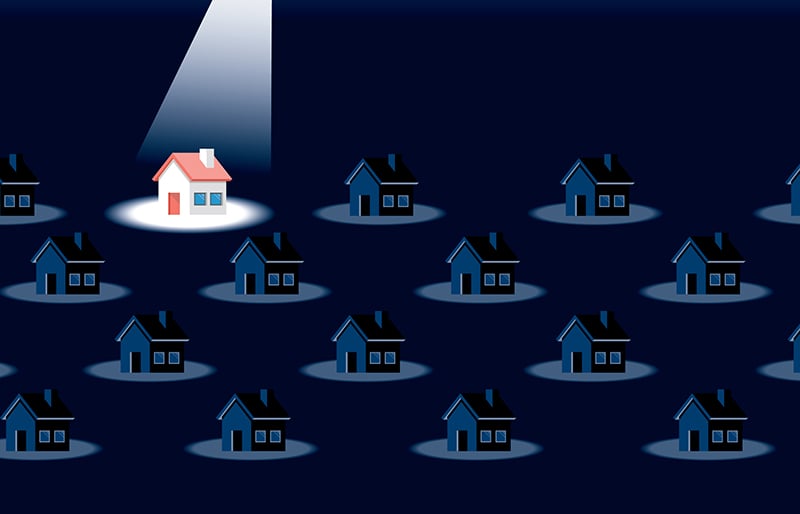 KEN JOYNER WEARS an olive suit and talks about median ratios and coefficients of dispersion with just enough of a Southern drawl to make it all seem like folk wisdom.
You might say he has the toughest job in Mecklenburg County: tax assessor, which means he runs the agency that's updating the value of more than 370,000 real estate parcels for the first time since 2011; state law requires revaluation at least every eight years. Those values, combined with whatever tax rate county officials approve in the budget this May—plus the municipal taxes the City of Charlotte or the seven other Mecklenburg towns tack on to their land—will determine how much you'll pay in property taxes this September.
All told, those property values are up a median of 54 percent—43 percent for residential, 77 percent for commercial. Within Charlotte, those numbers are slightly higher—58 percent overall, 46 percent residential, 80 percent commercial. In some neighborhoods, particularly near uptown, property values more than doubled.
When some homeowners received their notices reflecting these value increases in late January, many assumed their taxes would rise at the same rate. That's not likely to happen, as the county and city are almost certain to adjust the tax rates during their budget sessions in May.
The county's current tax rate is $0.8232 per $100 of value. City of Charlotte taxpayers pay an additional $0.4887 per $100. For a Charlotte house valued at $200,000, that means a combined $2,624 annual property tax bill.
The county is required to publish (but not required to adopt) a "revenue-neutral" tax rate, which means the rate at which the county would be able to collect roughly the same amount of total property taxes, slightly more than $1 billion, plus a small percentage that reflects growth. That's revenue-neutral for the county, not every homeowner. Whatever rate the county and city choose will lead to a "break-even" point. Property owners whose values have risen above that point will probably see their tax bills rise.
Where that break-even point will be is up in the air. That depends on the tax rate, which the county Board of Commissioners won't approve until May.
***
ALL THESE COMPLICATIONS and if-thens are what Joyner has to explain in Cornelius on a Wednesday night in February. At this meeting, you can tell why Joyner was hired for this job. Not many public administrators earn rounds of applause after they've spent 90 minutes calmly defusing questions that range from detailed soliloquies on square footage to anxious speculation on the county budget.
"Will the county think they have carte blanche to spend whatever they want?" a gray-haired man asks from the back of the town hall chamber.
"Without a vote on the tax rates, I'm not qualified to answer that," Joyner replies. "I can tell you there is nothing in it for my office for these values not to be correct."
That's an understatement considering the ordeal the county and its taxpayers endured after the Assessor's Office bungled the last revaluation in 2011. The office overestimated many of its assessments, which led to court cases and a 2013 state review that cost the county $7 million in consulting fees and required more than $100 million in refunds to landowners.
The county hired Joyner in 2013 to oversee the redo and establish a better process for 2019. Since then, he and his 142-member staff have trawled the county to update the condition of properties, some of which hadn't been visited in 20 years. They've compiled sales data and upgraded technology to prepare to explain the value changes. Property values are based on three things: physical characteristics, location, and comparable sales. Joyner says he's confident this year's revaluation will be more accurate. Two things are different this time: more staff and more data. The Assessor's Office has added 46 employees since 2013. During the last revaluation, at the pit of the mortgage crisis, assessors had to rely on sales data from only 33,694 homes to come up with estimates. This year, they have data on 72,348, more than twice as many.
***
ALL THOSE NUMBERS might improve accuracy, but they won't change the fundamental concern of many neighborhood advocates—declining affordability. In fact, it's likely to reinforce it. Property values are up, way up. And while opposition to the 2011 revaluation ran hottest in areas like Lake Norman and Myers Park, the largest property value gains this year are near Center City and along the LYNX light rail line.
In the Belmont neighborhood (Census Tract 8) just northeast of uptown, the average property value has risen from $102,000 in 2011 to nearly $234,000 in 2019, an increase of nearly 130 percent. Across Parkwood Avenue in Villa Heights (Census Tract 9), the increase is even steeper—143 percent (from $134,000 to $327,000).
The revaluation did not cause gentrification. The investment groups, LLCs, and bulldozers, tapping into a tight housing market, and flocks of young newcomers with money and a preference for city living long preceded the hike in property values. In 2018, developers demolished nine homes in Belmont—a rate four times the county average, county data show. Thirty-three new houses were built in 2018, more than five times the countywide rate, and 30 houses were renovated, nearly six times the countywide rate.
You can see the change in the neighborhood by walking down Pegram Street, where the homes alternate from squat turn-of-the-20th-century bungalows, some neatly painted and others with boarded-up windows set back from chain-link-fenced lawns, to new, two-story mini-mansions with balconies and stone ballasts. On a Sunday afternoon in January, a young couple in sweatshirts that advertise flagship universities walk their dogs past the boarded-up old corner store to Catawba Brewing Co., one of dozens of craft breweries that decorate the landscape of Charlotte's changing, close-in neighborhoods. A sheriff's deputy directs a steady stream of traffic leaving the afternoon service at nearby St. Paul Baptist Church.
Raina Purvis works behind the counter at Queen's Coffee Bar, a brick storefront built in 1947 that the county this year valued at a little more than $127,000, up from $72,000 in 2011 and just $27,000 in 2003, the appraisal year before that. Purvis, a realtor in Charlotte for the past 20 years, opened the coffee shop in November. Neighbors, both newcomers and old-timers, have been talking about the property value changes.
"You bought into the neighborhood five years ago," she says, referring to her neighbors, mostly newcomers, who chronicle their worries about potentially higher tax bills on Belmont's Nextdoor site. "You had to know this was coming."
***
ALONG WITH the property revaluation notices, many homeowners in close-in neighborhoods are getting offers from development companies to buy properties sight unseen. Here, land is often assessed at double or more than the value of the homes that sit on them.
But the 66 percent of Belmont residents who rent their homes, and the 43 percent countywide, may never see a notice about property value increases. While renters don't directly pay property taxes, higher taxes often compel owners to pass the hike to renters, and the effects could land hardest on those who live in apartment complexes. For purposes of valuation, apartment complexes are classified as commercial buildings, the values of which have grown at a rate higher than residential properties. As with the final tax breakdown, apartment dwellers will have to wait. No analysis of average complex value increases was available at press time.
To prevent sudden spikes in the future, Joyner says his office may conduct another valuation as soon as 2023 and move to a four-year cycle in the future. Other urban counties, such as Durham, have already moved to shorter cycles.
For now, Joyner and his staff focus on answering a constant stream of inquiries from property owners, including more than 4,300 just between January 24 and February 5. Owners will be able to formally appeal their values through May 20. Whatever new tax rates the county and city decide to levy, the bills will be in the mail by July.
Between now and then, back in Belmont and throughout the county, property owners wait nervously. "Some of my customers are people in their 20s who grew up in the neighborhood," Purvis says. "They talk a lot about how the neighborhood's changing. But you can't stop the city from growing."
---
How the property revaluation might affect your tax bill
A hypothetical example shows how the property revaluation could affect tax bills if the city and county decide to change their rates, as expected. The City of Charlotte used this sample rate for city taxes in a public meeting in February. The Mecklenburg County tax rate is hypothetical. Mecklenburg County and the City of Charlotte will approve actual tax rates during their budget process this spring.
2011-2018
PROPERTY VALUATION: $250,000
CURRENT TAX RATES
$0.8232 Mecklenburg County = $2,058 Mecklenburg County Taxes
$0.4887 City of Charlotte = $1,221.75 City of Charlotte Taxes
TOTAL TAX BILL = $3,279.75
2019
PROPERTY VALUATION: $365,000
(reflects the City of Charlotte's average residential property value increase of 46 percent)
SAMPLE TAX RATES
$0.60* Mecklenburg County = $2,190
$0.35* City of Charlotte = $1,277.50
TOTAL TAX BILL = $3,467.50
*In this hypothetical case, a property value increase of 46 percent would result in a tax bill increase of 5.7 percent. The "break-even" home property value increase would be around 37 percent for county taxes, 39.5 percent for city taxes.