Stocks & Bonds
Making two become one isn't the only math involved in getting married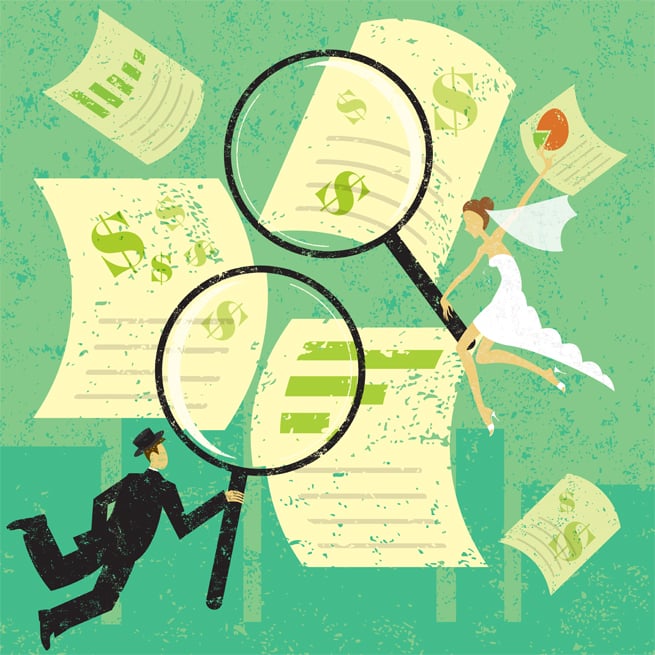 So you're engaged. Congratulations! Flowers, dresses, cake, dancing, happily ever after … what's not to love about weddings? Oh, right: paying for them. In 2011, the average price of a wedding in North Carolina was $23,004—and that price is lower than the national average. If the arithmetic of holy matrimony is making you dizzy, these seasoned Charlotte wedding pros have some great advice for gliding down the aisle in style (without robbing any banks).
Q My parents and soon-to-be in-laws want to invite what seems like the entire world to our wedding. Is there a gentle way to let parents and in-laws know we need to keep the guest list short?
A Carrie Ann Drinnen, owner and creative designer of Serendipity Weddings & Events, likes to take a direct approach. "I remind families that this is Suzy and Mark's wedding, not the mom's or groom's mother's wedding. Let's focus on making sure this wedding represents the couple. We're creating memories for the newlyweds and not for the extended family."
Fully half of Drinnen's clients cover the cost of their weddings themselves, which gives couples a little more control over their guest list. She recommends having a budget and price per person before you tell your parents how many people they can invite. You can point to your bank account if they argue.
Carla Eustache, owner of Style Perfect Weddings and Events, knows that asking the couple or parents to limit a guest list can be a touchy subject. "What I do to help with this decision is show the couple the bottom line for 150 guests versus 200 guests. Seeing that number can often help them make some tough decisions."
She sets a couple's priorities early by asking them to rank a list of items, including the venue, caterer, flowers, dress, cake, and more. "Prioritizing helps guide the planning process and budget. For example, if a wedding cake is ranked low on the list, I recommend we go with a smaller, simply designed cake with a [second] sheet cake in the back."
Sometimes parents may offer to cover the costs for their extra guests, so it pays to clarify that extra guests require not only dinner, but also extra chairs, linens, servers, and a larger dance floor. To prevent hurt feelings, keep the numbers fair (regardless of who's paying); if your parents get to invite 20 couples, so do your groom's parents.
Q I've got my heart set on a spring wedding. Will that drive up my costs?
A Not necessarily. Weddings are more popular in spring and fall, but Charlotte planners don't see a lot of seasonal price changes. That ritzy ballroom will cost the same price in January as it does in June. And at many of Charlotte's more popular venues, Saturdays are booked a year or more in advance—as are the fancy chairs and premium linens.
Sikky Rogers, event designer for The Clarke Allen Group, discourages budget-minded couples from looking at country clubs and hotels, which often have a catering minimum and higher fees. Instead, she suggests cost-conscious brides to consider spaces that work for a smaller number of people and include a garden or outdoor space. "You might have to put up a tent, but it still costs less than a high-end hotel where you might have to spend a minimum on food."
Brides are also choosing "off-hour" weddings, with a morning ceremony and brunch reception. Because venues can use the same space that evening, they're often willing to drop the price for a morning or midday event. You may be able to splurge on a decadent brunch menu with a mimosa or a Bloody Mary bar, rather than shell out for bartenders and liquor.
Drinnen also recommends that brides find a venue that provides items they would otherwise have to rent. "You can eliminate entire sections of your budget that way."
Q I'm pretty crafty, and I'd like to add a personal touch to my wedding day—but I don't want to overextend myself, since wedding planning can be stressful enough. What are the best projects for a DIY-minded bride?
A Unless you have access to a letterpress machine (and know how to use it), you may want to stay away from handmade invitations. "I can't tell you how many times I'm sitting in Kinko's redoing a DIY menu card the day before a wedding," warns Drinnen. "Unless you're already in the printing field, you need to let someone else do that."
Eustache agrees. "Making invitations? I would not advise that at all. Making bouquets? Also a no." One potential compromise? Find a stationer who can handle print and design, while you see to the assembly and mailing.
"If someone wants to have a personal touch, I recommend putting it into the favors. It's less stressful," says Eustache. Grab your bridesmaids and have a macaroon-baking party. To maximize your efforts, let these items double as place cards for each table setting.
Décor is often a way for a bride to get creative at lower cost. "Lighting helps create atmosphere," says Rogers, suggesting gobos, stars, and uplighting. She also suggests choosing less expensive flowers and a one- or two-color palette. Submerged flowers and glass columns of floating candles are popular with modern brides. She has seen collages of family photos, postcards, and even a collection of antique cameras as centerpieces. "Anything that's meaningful can be beautiful and produce magic."
In the long run, most guests won't remember the color of the tablecloths or even the menu. What they will remember is their reason for being there in the first place: the connection and affection they share with you and your groom.
Q Why is photography so expensive? Does the band really need a stage? I can't stand haggling, and I don't know what this contract means. Help!
A Eustache is not a fan of negotiation. "I prefer to always be up-front with the budget … Tell them, 'I love your portfolio, I have X amount of dollars, how can we make this work?' Let vendors help you if they can accommodate it. If not, they may be able to recommend someone else who would fit your needs and budget better."
However, if you want to score the best deal, Rogers maintains there is always wiggle room. If you have a favorite band that is high in your price range, call the booking company and ask if the band will work for less. "They'll ask the band, and chances are, they'll do it. And if you're hiring them for a Friday or a Sunday, they'll almost always work for less."
Eustache suggests considering photographers in varying stages of their careers. "If a really popular photographer is already booked for a particular day, I've seen where you can hire his or her assistant for a much lower associate rate, and you end up enjoying a lot of the same style photography." Photographers might also sell you your wedding pictures on a disc rather than producing the photos themselves—giving you a chance to purchase printed photographs at a later date rather than lump it in with other wedding-related costs.
For hidden costs and complicated contracts, read the fine print. The cost of the wedding band includes fees for the musicians' time and the minimum amount of equipment needed. If your venue is very large, like the Duke Mansion, they may need to bring additional amplifiers or outdoor speakers. Make sure all of these details are spelled out. Look for vendors who don't limit their hours, and for contracts that explain gratuity, delivery fees, breakdown costs, and schedules with crystal clarity.