Stodghill Named Columnist
Former New York Times staff writer and Nieman Fellow will take over back-page duties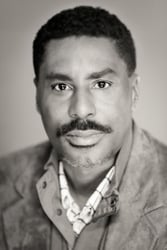 We raised a glass and toasted Jeremy Markovich at Sir Edmond Halley's this week. He ordered an Olde Mecklenburg Copper, like he always does. He was funny, like he always is. He told us he'd spent the day power-washing his house, and, like Jeremy would do, he'd amused himself by using the power-washer to write his name in the driveway. Jeremy's moving to Greensboro and Our State magazine, ending six years as a regular contributor to Charlotte magazine, and we're sure as hell going to miss him here.
But I'm happy to announce this: Ron Stodghill will be our new back-page columnist. As a writer, Ron has few peers in Charlotte. His resume includes stops as a staff writer for The New York Times, Time Inc., and BusinessWeek. He was a business columnist at The Charlotte Observer until 2011, when he went to work for Johnson C. Smith University as an assistant professor and the director and founder of JCSU's Innovo Laboratory, a leadership development initiative. He's also the director of diversity, small business, and workforce development at the Smith Institute for Applied Research.
Ron was a Harvard University Nieman Fellow in 2001, in the same class as best-selling author J.R. Moehringer, who remains a close friend. He also holds an MFA in creative nonfiction from Queens University and earned his bachelor's degree from the University of Missouri.
It goes on. He's an author. HarperCollins published his first novel, Redbone: Money, Malice and Murder in Atlanta, in 2007, and the book received praise from publications around the country. Ron's second book is nonfiction, exploring the changing face of historically black colleges and universities, and it's scheduled to be released this fall.
Those are his credentials, but his resume is hardly the only reason we're excited he's joining us. Ron and I had lunch last week, and we talked about stories and writing for nearly three hours. We talked about this piece he wrote last fall for The New York Times on the complex identity of Savannah, Georgia. We talked about Charlotte, its beauties and its flaws. We talked about how writers should search for the gray spaces in their subjects—an especially important quality, I believe, in a media landscape that's full of hot takes and loud noises and unhinged opinions. We talked about other things, too, about his wife and his three kids and where his oldest son might go to college next year.
Ron, 51, has everything you'd want on the back page of your city magazine. He's a terrific writer and a man who cares deeply about his family and friends. He's often the smartest guy in the room, but he's not afraid to ask questions and learn more. He's enthusiastic about Charlotte's future, but he sees what ails us. And he wants to start a conversation with you.
His first column will appear in our June issue.