Stoke Offers Slow-Cooked Satisfaction
Restaurant is both comforting and surprising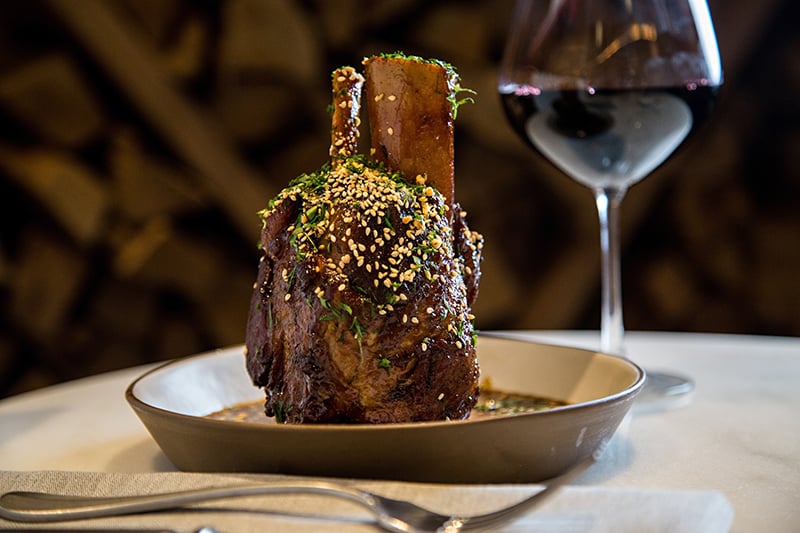 IN THE WEEKS leading up to Stoke's opening, I'd heard it a lot: The new hotel restaurant is something different for Marriott. I heard it from Chris Coleman, the hotel's culinary director; from Marriott's public relations team; from the restaurant's PR team. I'd heard it so often, I became a skeptic. Until Stoke opened.
Top: The deviled eggs' whites get a tan hue from being ember-cooked.
Middle: Chris Coleman, the chef at Stoke restaurant in the uptown Marriott, sits in the dining room.
Bottom: The one-pound doughnut is more than enough doughnut for six people.
My husband, Jon, is a Marriott loyalist. He travels frequently for work, and his points have gotten us free hotel stays in places including London, Chile, and Puerto Rico.
Yet we've only once eaten at a Marriott restaurant, mostly because they don't feel like the kind of places that help you learn about a new city. They seem interchangeable.
Stoke, though, could only be in Charlotte. Coleman grew up here and studied at Central Piedmont Community College, and his menu is heavily sourced from local farms and centers around Southern cuisine.
Chicken wire accents and reclaimed wood lend the dining room a rustic feel, but vibrancy exudes from the bright, white countertops and shining, stainless steel appliances in the open kitchen. That contrast between old and new runs through the menu at Stoke, which—as a hotel restaurant—is open daily for breakfast, lunch, and dinner. Traditional Southern dishes that encourage sharing (sides and mains come separately) get Coleman's creative touch, such as a fall-apart, slow-cooked "sticky pork shank" covered in a chili sorghum glaze ($22) or a lamb shoulder that's been cooked underneath the embers of a wood fire ($24).
Coleman, who came to Marriott from The Asbury at the Dunhill Hotel, continues his relationships with local farmers, even on this larger scale. New Town Farms, Border Springs Farms, and Small City Farm supplement bigger providers with local produce, which is served without much flair. The heirloom carrots ($7) come purposefully stacked and topped with a carrot-top pesto, a clever preparation for an often wasted ingredient.
I'm even more surprised looking at the beverage list. Cocktails cost around $10, and Todd Bayley's craft creations stray far from the standards you find at a hotel bar. The Hive is my favorite, a smooth, frothy drink using North Carolina's own TOPO gin, lemon, honey, egg white, and Bénédictine, a French liqueur.
I see Stoke's identity most in the must-order dessert: a one-pound doughnut covered in sugar topped with diplomat cream and Heath Bar crumble. The hole-less doughnut is served warm on a massive cutting board with a knife, though the doughnut is so big, a saw might be more appropriate. The idea started as joking banter in the kitchen, but embodies what Stoke does best: delicious, flavorful food with no pretentiousness. So what if it's in a hotel?
STOKE
100 W. Trade St.
704-353-6005
Entrées: $14-$24