Stone Table: On Trend in Monroe
Spot has its pulse on what's new in food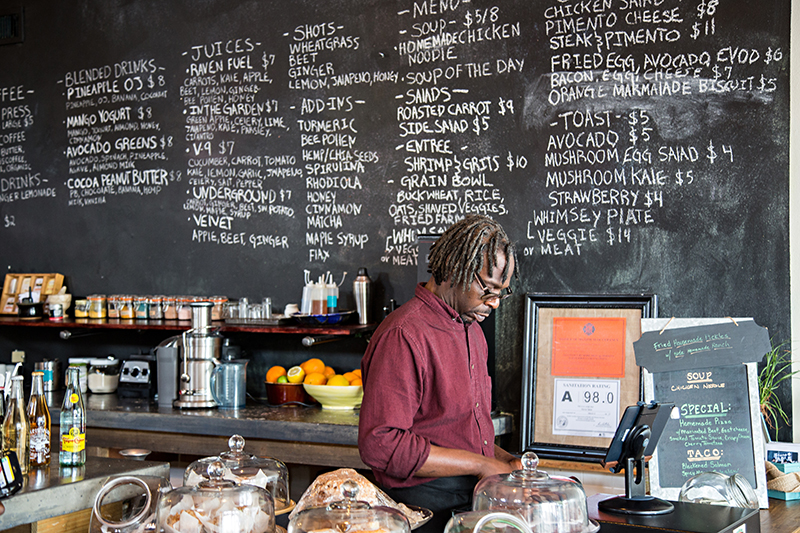 THE BUTTER COFFEE is delicious. It tastes as if a Samoa, the chocolate-coconut-caramel Girl Scout cookie, has been soaking in the coffee, infusing its flavors into my cup. The drink is simply coffee made more indulgent, with grass-fed butter, coconut oil, and organic sugar. I'd read about it in trendy food publications, including Bon Appétit, and told myself to remember it the next time I was in a city larger than Charlotte, maybe New York or San Francisco.
Yet here I am, sitting at a metal, six-top table in Monroe with mismatched stools, sipping on the beverage during lunch at Stone Table. I've driven 45 minutes south of Charlotte, not realizing my first sip could start a habit I don't have time for.
I find the restaurant on Franklin Street. Patriotic flags proudly mark the small-but-growing downtown. The wide-open dining room and beautifully detailed ceiling of Matthew and Mallory Sganga's restaurant hint at the building's past as a drugstore. The tables are retro to rustic, wooden and metal, asymmetrically placed in the dining room. The décor may be a mishmash, but the menu is right on pulse with what's hot in the restaurant industry.
The restaurant opened in 2015 on Main Street in Monroe. Matthew Sganga left Santé in Matthews, a restaurant known for its support of nearby farms, to open his first restaurant and catering company. He brought with him a respect for farmers and a vow to create dishes with produce from local farms as the centerpieces. Stone Table opened in the Franklin Street space in March.
The menu, written in chalk on a blackboard wall behind the register, has French press coffee, the beautifully creamy butter coffee, smoothies, juices, and even wheatgrass shots. A homemade chicken noodle soup—the noodles are hand-rolled—is on the menu daily, as are staples such as shrimp and grits and a chicken salad. Avocado toast may have been slow to reach Charlotte, but here, the much-loved avocado is ripe and tender, its natural fattiness tamed with crunchy and acidic salted cucumbers.
Staying current, there's a whole list of toasts beyond the avocado: mushroom and egg salad, mushroom and kale, strawberry. The mushroom and kale toast has earthy, cooked mushrooms layered with a house-made farmer's cheese and lemon-massaged kale, keeping the green leaves tender. A "whimsey plate" is available to order in the toast and entrée sections of the menu, where the chef sends adventurous eaters a surprise dish, ordered as either herbivore or carnivore.
Stone Table gives diners the impression they've discovered the next big thing, just in time. In this way, it echoes the town it's in. As empty, historic storefronts become trendy new spots such as this one, serving kale juices and vegan dishes, a small town resembles more and more the big city that overshadows it.
With its sparse dining room and a prep table stuck in the back of the restaurant, Stone Table is the start of a chef's dream. The menu is impressive. The diners are eating it up. Soon, we expect, recognition will follow—and perhaps the financial success to create a dining room that matches the dining.
Kristen Wile is senior editor of this magazine, where she covers food, and editor of Charlotte Home + Garden. Reach her via email at kristen.wile@charlottemagazine.com or find her on social media: @kristenwile on Twitter or @kristen_wile on Instagram.
STONE TABLE
101 W. Franklin St., Monroe
704-225-7675
Entrées: $10-$14