Stones in the Woods: Poinsett Bridge
South Carolina spot offers a glimpse of forgotten history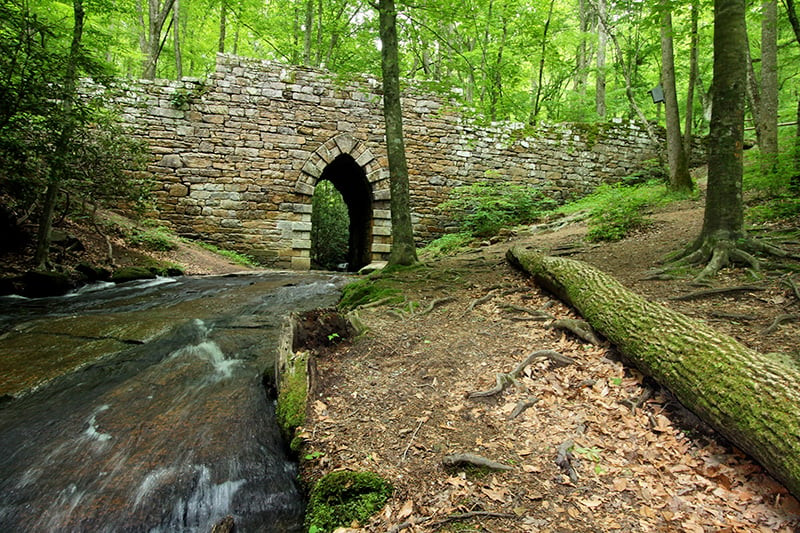 THE ARCH stretches 14 feet above the water, its smooth, flat stones climbing up to a keystone peak. Built four decades before the Civil War, this bridge is hidden in a patch of unmarked forest in the mountains of northwestern South Carolina.
Farmers hauled wagons full of apples over it nearly 200 years ago, and travelers and merchants used it when taking the old State Road from Charleston to Asheville. The waters of Little Gap Creek rushed beneath them and the tall oaks and poplars shaded them from above.
Today, on a warm Sunday afternoon in August, the creek and the shade remain. As sunlight filters in through leaves, a little boy in swimming trunks marvels at the spectacle: a stone bridge with a Gothic arch in the woods off South Carolina's Old State Highway 11.
"I like the bridge!" the boy shouts to his playmates.
Moss grows between the stones of the bridge walls. This is the oldest remaining bridge in South Carolina—possibly the oldest in the Southeast—and it's just two hours from Charlotte.
Three children scramble up one wall and begin spitting over the side. From its beginning in 1820, the span was meant to be impressive. It was part of a new state road designed to help move goods and crops between the port of Charleston in South Carolina and the mountains of North Carolina and Tennessee. Workers hauled stones from a nearby quarry to build the arch in a medieval style.
No one knows for certain who designed it, but historians believe it may have been Robert Mills, the renowned architect who later designed the Washington Monument. A South Carolina native, he joined the state's board of public works shortly after the bridge was finished, and created a pen-and-ink drawing of the span. Politician Joel Poinsett, for whom the bridge is named, was director of the board of public works when the project began.
"If you jump, you die," an older girl warns the young boy in swim trunks.
A small path leads down to the creek, where you can stand beneath the arch and look up at 195-year-old stones, inhaling the smell of earth and moss and water.
Long after the horses and wagons disappeared, and automobiles made a dirt road connecting North and South Carolina obsolete, these stones remain. You can use them as a playground or a quiet refuge. Either way, they'll be here, connecting you to a piece of history hidden in the woods, where you'd never think to look for it.
---
This article appears in the October 2015 issue of Charlotte Magazine
Did you like what you read here? Subscribe to Charlotte Magazine »
---