Stop The Presses?
It hasn't come to that—yet—but this much is clear: The Charlotte Observer is not the newspaper it once was, and it likely never will be again. Walker Lundy, a former top editor at multiple newspapers, details what has been lost and tells the story of the Observer's battle to save itself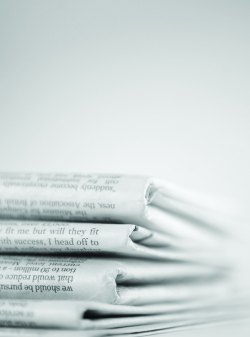 "It makes you want to shake readers and say, 'Do you know what you're losing? Do you understand a free press isn't free?' It brings me to tears. The newsroom used to be the most special place in the world. Now it's a sad feeling." – Kathleen Purvis, food editor, The Charlotte Observer
The six stand-up meetings in the cavernous, block-long Charlotte Observer newsroom over the past two and a half years were supposed to be celebrations, but the funereal feel was inescapable.
The bad news was delivered earlier: large numbers of Observer staffers—who would eventually total 100, a stunning one-third of the newsroom staff—would leave through voluntary buyouts and involuntary layoffs. The meetings were an effort to celebrate the work of the soon-to-be departed.
The meetings were similar. Starting with the first one in May 2008, each began the same way: Editor Rick Thames picked up a hand-held microphone and called the staff together near the Page One desk. It was late afternoon, so both the day and night shifts could attend. Staffers stood, leaned against a wall, or sat on desks or the floor. Listening by speakerphone were dozens of reporters in the handful of regional bureaus that eventually would be shuttered. They were historic, melancholy moments at the paper. All told, perhaps a thousand years of journalistic experience and local Charlotte knowledge walked out the Observer's door. Some were regional bureau staffers who'd been at the Observer a short time. Others had spent almost all their adult lives in the fortresslike building that anchors South Tryon Street.
Thames began each gathering by thanking those who were leaving for the difference they had made in the lives of the Observer and the community. "I hope you can somehow remain journalists," he said. "The world needs more of you, not fewer."
One by one, each departing staffer's picture flashed on a large screen. A supervisor talked about the contributions the staffer had made to the paper. The audience applauded and sometimes laughed when someone recalled a staffer's personal quirks.
As the pictures rolled by, emotions roiled in the room. Thames and his editors fought to keep their composure. Some staffers lost theirs. "I will never forget looking across that room and seeing grown men and women weeping and clasping each other," Thames recalls. Describing the staff meetings in an interview, Thames has to pause to collect himself. "We will always have this bond, this thing we all care about," he says. "People who left understood intellectually where we were. It wasn't about them. It was about being able to continue the mission they cared about." In the backs of their minds, some remaining staffers wondered if their picture would be up there at the next staff meeting.
An informal reception with refreshments followed the farewells, and staffers shook hands and embraced.
The Observer newsroom was—is—a family of sorts. Over the years, staffers have developed a history and a friendship with each other, and when dozens leave the family, it is wrenching. Former visual arts writer Richard Maschal, sixty-six, who took a buyout in 2008 after almost forty years at the paper, recalls, "You should have seen the faces. Good God almighty! Many of us saw in the images on the screen the passing of a great age of newspapering and felt it would never be that way again."
Others also feel something more than routine downsizing was happening to the Observer. Gardening columnist Nancy Brachey, sixty-six, who also took a buyout in 2008 after forty years with the paper, says, "It was really sad to watch, especially the ones in their thirties whom you knew weren't going to get another newspaper job. I feel privileged. I worked in the golden age of newspapers." (She still does a weekly column as a part-timer.)
In the following days, each exiting staffer would wrap up his or her last official day, gather up personal items, and amble out of the newsroom for the final time. The remaining staffers would rise from their desks and offer a standing ovation. It was spontaneous at first,
but as the departures grew, it became the custom.
By the sixth such celebration last January, some staffers could not bear to attend. It was all just too much. "They were the hardest, most painful moments I've ever experienced in a newsroom," Thames says.
And then in mid-September of this year—after eight months of relative peace, just as staffers and readers alike had begun to think the bad days might be over—Observer Publisher Ann Caulkins delivered another blow. As part of cutting twenty more jobs buildingwide, the newsroom would lose four more positions. And every Observer employee would be required to take a week's furlough without pay by year's end, a scheduling nightmare and a monetary disaster for individual staff members as the holidays approached. The reason, Caulkins explained grimly, was that after advertising revenue had finally started heading up this year, August was a bust, and the rest of the year was a question mark. The newsroom already had four open positions, so no more layoffs were required this time.
How many times can you hit someone in the gut before it really starts to hurt? Later on the day of Caulkins's announcement, Karen Garloch, fifty-nine, the Observer's health reporter for twenty-three years and a survivor, came across a colleague eating lunch alone outside the new Mint Museum downtown.
"She'd been crying. She isn't losing her job or anything. I think it's just the cumulative effect of all the loss and turmoil," Garloch says. "I gave her a hug and said, " 'It will be all right.' I hope it will be."
The vacant desks at the Observer today sit like tombstones for the departed staffers and monuments to better times in the news business. It is the same in hundreds of newspaper and television newsrooms across the country. The impact is painfully clear: The Charlotte Observer is no longer the paper it was and likely never will be again.
The 124-year-old Observer has been the scourge of crooked Carolina politicians and winner of dozens of national awards, including three Pulitzer Prizes and a share of a fourth, and a finalist in 2008. But today, with 100 fewer journalists chasing the news, readers are learning less about how Charlotte works—and when it doesn't. Because information is the lifeblood of a democracy, a healthy, aggressive paper can be among a city's most important institutions, whether or not readers always like what it publishes. A newspaper is a combination blabbermouth and conscience for a community. No one else can play those roles as effectively.
For all the hue and cry over the cuts, this story is not just about that. It's also about a newspaper that is scrambling to reinvent itself. Even as its staff shrinks, the Observer is experimenting with new ways of news gathering and reporting, exploring previously unthinkable collaborations, and trying to work with the Internet instead of fight against it. It's too early to know if any of the new strategies are long-term solutions, but at least the paper isn't going down without a fight.
Still, the cuts are breathtaking in scope. What it has meant to readers, so far, is the decimation of regional coverage, less reporting and analysis on key issues and industries, and dramatically reduced lifestyle coverage. (See sidebar "The Gory Details" for, well, just that.)
In addition, newsprint, the second-biggest newspaper expense after labor, also was slashed 17 percent, the rough equivalent of one column of news for every full page of news in the paper. As a result of that, readers saw entire sections disappear and others reduced.
National and world news, which always took a backseat to local news, also took hits to the point where even Thames acknowledges that an in-depth reader needs to go elsewhere for a complete national and world news report. "It was true five years ago in terms of looking at other sources [for national and world news] and it's even more true today," he says. "We think our place now is interpreting what national and world news means to a Charlotte audience."
Editors conducted a top-to-bottom search for other expenses that could be cut. The paper used to pay for theater, concert, and movie tickets for staff critics to avoid the appearance of a conflict of interest with the venues. Now, critics take free tickets. Most other papers have changed to the same policy.
The Observer ameliorated some of the overall cuts by partnering with its sister paper, the Raleigh News & Observer, for state government news and for features and sports news. The N&O has strong state government coverage, which the Observer used to compete against. Now, both papers routinely swap stories. The Raleigh features editor manages both papers' feature sections, taking the train to Charlotte once a week, and the Charlotte sports editor manages both papers' sports sections. It hasn't seemed to hurt the quality much. The Observer's feature section was just named among the fifteen best sections in the nation by the American Association of Sunday and Feature Editors for the fourth year in a row.
The cuts have also led to unintended consequences. While the Observer is aggressively seeking young Web-savvy readers that are the paper's future, the buyouts and layoffs have made the staff older on the average. The percentage of the staff under the age of thirty has dropped by one-third, from 18 percent to 12 percent, mostly because of the role seniority played in the layoffs. The two key editors responsible for the paper's new-media initiatives and its Web site are newspaper veterans in their fifties, not exactly the target audience for these efforts.
Leading this unprecedented business and journalistic transformation are Thames and his boss, Caulkins. Thames is a low-key, likable fifty-six-year-old born in Laurinburg, who grew up in Aberdeen and Rockingham and worked at the Observer in the early 1990s. He returned to the Observer in 2004 from the editor's job in Wichita. He is known for holding open staff meetings every week to answer questions and talk candidly about how things are going. Caulkins is an enthusiastic forty-eight-year-old Louisiana native who arrived here in 2006 from the publisher's job at The State in Columbia, S.C. Unlike many newspaper publishers who care mostly about the paper's bottom line, she also talks proudly about the paper's journalism.
But like every part of the news media, the Observer has been hammered in recent years by two extraordinary events. The most dramatic economic collapse since the Great Depression sent newspaper advertising plummeting. At the same time, the Internet arrived into prime time as a new competitor for both advertising revenue and news.
The Observer, of course, is not alone in its plight. According to the blog News Cycle, which keeps a running count of newsroom layoffs, more than 15,000 journalists lost their jobs nationwide in 2009 alone.
When the first Observer layoff announcement came in May 2008—the first mass newsroom departures in anyone's memory—it was a shock. "They said your job has disappeared," recalls Judy Tell, a photo assignment editor laid off in 2008. "They were saying they didn't need me anymore, so I shut down my computer and went home to look for a job. I've been looking ever since." Lew Powell, sixty-six, who was laid off from the editorial page last year after a thirty-four-year Observer career, isn't bitter. He says he was hired by former editor James K. Batten and last worked for his son, Editorial Page Editor Taylor Batten. "His father hired me and he got stuck firing me," Powell says with a smile.
The string of layoffs and buyouts affected survivors, too. "I've been through all four stages of grief—denial, anger, acceptance, and bargaining," says food editor Purvis, fifty-one, a twenty-five-year Observer veteran. Sportswriter Ron Green Jr., quoting a colleague, said, "You want to be mad at someone but there's no one to be mad at."
The tough times have required Caulkins and Thames to focus the Observer on its most important responsibilities and reduce what they consider to be less important journalism. Thames says that when the first wave of layoffs and buyouts were looming, he had just finished reading the best-selling business book Good to Great, by Jim Collins. "He said one of the things great companies do is figure out what they can be 'the best in the world' at, and that struck me," Thames explains.
He and Caulkins decided on some principles they would follow while chopping away at the Observer's journalistic resources. They would be the "best in the world" at covering Charlotte and continue the paper's strong tradition of being the community watchdog. The paper's investigative resources would not be cut. Thames identified some key beats—local news, especially government; local business, especially banking; and sports, especially NASCAR and the Panthers—that he would protect if at all possible.
If those areas would remain strong, what would they cut? Reluctantly, they decided on the regional sections and almost every member of the forty-person staff that produced them. "That," says Caulkins, "was the most painful decision we made." Thames says he believes most regional readers subscribe to the Observer because they have some connection to Charlotte, not for news from their smaller local communities. Earlier this year, the paper decided to restart a series of less-expensive community sections. If longtime regional readers were confused, there was good reason. Over the past half century, as the Observer publishers and editors (and their corporate bosses) have come and gone and as the economy has risen and fallen, the paper has expanded and then contracted for at least five rounds of regional editions and bureaus. This time, instead of employing experienced reporters, editors made the sections profitable by hiring cheaper beginning journalists and by delivering (for free) the sections to nonreaders in those areas, which made it easier to sell ads. As a result, the sections—south Lake Norman, Cabarrus County, and two in south Mecklenburg—stand on their own. Their weekly circulation has grown to 100,000.
An easier budget-cutting decision was to reduce coverage of the so-called news of record. "We don't cover as many meetings as we used to," Thames says. Some parts of the feature sections, such as entertainment, the visual arts, gardening, fashion, books, and general feature stories, would have to take a back seat to local hard news. The Observer has made up for the loss by using stories in these areas from the Raleigh paper.
Thames wanted to keep as many reporters on the street as he could, so he cut the copy and production desks. Stories used to be edited by three editors. Now it's two editors for many noninvestigative stories. The layout of inside pages follow templates instead of having an editor design each one individually.
It was an easy decision for Thames to keep the investigative team, which many newspaper editors in other parts of the country jettisoned as their first cost-savings move. "It's the most important thing we do," Thames says. "If we didn't do it, it wouldn't get done, and that would be dangerous [for democracy]." He points out that other reporters not on the investigative team also do investigations. An example is environmental reporter Bruce Henderson, who has spent three months researching a project on North Carolina's coast, which is scheduled to run this fall. An examination of the investigative projects the Observer has published during the economic downturn is pretty impressive. You can see for yourself by going to the Observer Web site (charlotteobserver.com) and clicking on "Special Reports."
Investigative reporting is the riskiest, most time-consuming, expensive journalism the paper does. It's also the toughest. Sources don't want to talk or they hide facts. If an advertiser's ox is gored, he or she threatens to pull their ads and sometimes does. Libel lawyers, as well as a half-dozen editors, scrutinize every sentence. Reporters and editors may get taken to court, where everything in their careers can be put under a plaintiff attorney's microscope. Costs can balloon. Last summer's series on sudden infant death syndrome, "Cradle of Secrets," revealed that the state medical examiner had hidden the true causes of some infant deaths for years. If you count salaries of four reporters, a variety of line editors—plus Thames and Managing Editor Cheryl Carpenter—two photographers, two page designers, a computer-assisted-reporting expert, a researcher, a videographer for the Web site, plus legal fees and the newsprint spent on the series, the cost approached an estimated $125,000—for one project.
Results from the SIDS series came quickly. Authorities took a second look at two cases the Observer highlighted where investigations into the suspicious deaths had been halted. The state's new medical examiner also promised to reexamine the state's incurious approach to suspicious infant deaths.
Two years ago in "Cruelest Cuts," the Observer revealed that one of the state's largest poultry producers covered up workplace injuries and hired children and illegal immigrants, which the state wasn't doing much about. It took two years of reporting to unearth the facts and interview all of those involved, including 200 of the workers, many of whom spoke only Spanish.
"Cruelest Cuts" resulted in a number of actions, including U.S. immigration enforcement raids and state legislation that doubles the penalties for child labor law violations, plus a federal investigation into the underreporting of workplace injuries and a $1.5 million fine against the poultry company for hiring illegal aliens. The series also won nine national journalism awards, including the prestigious Robert F. Kennedy Award.
One of the "Cruelest Cuts" reporters was Ames Alexander, forty-seven, a member of the Observer investigative team. He came to the paper seventeen years ago and has spent a career reporting stories that some people prefer he not. He explains his motives simply: "I can go home every night and think I've done a little bit of good." Alexander once spent two months researching a story he had to abandon. He came to realize, "I couldn't get the story." But it's still on his list of twenty story possibilities, and he says he might return to it in the future. Speaking for his teammates, Alexander says, "Investigative reporting has long been the heart and soul of the paper." When the cutting began, "we found it heartening that they assured us we would keep doing this work." But sometimes, Alexander says he "wonders how much of the electorate is paying attention."
Despite the expansion into the region and the new weekly science page, the Observer is parsimonious about spending its journalism expense money. The Observer paid golf writer Green's way to cover the British Open in St. Andrews, Scotland, in 2005, but this year he paid his own way. Green, fifty-three, emphasizes that it was his idea. Thames says, "Our readers would love for us to send someone to St. Andrews, but they don't expect it." Food editor Purvis pitched an out-of-town trip that would only cost $300 and produce four stories. She was turned down. As Green put it, "We're willing to try something [new] if it doesn't cost much."
At the same time, the Observer did send a reporter to Haiti twice to cover the aftermath of the earthquake. Thames said the paper's reasoning was that a number of personal and church connections between Haiti and Charlotte existed that national news services would not cover.
With all the angst, empty desks, and continued penny pinching, staff morale is not great. Before the September announcement of furloughs and more job eliminations, the mood seemed to steady when no further downsizing occurred after the January round of layoffs. Staffers said they were focused on their journalism. A number of the staff talked like shipwreck survivors and seemed determined to stick it out. Cindy Montgomery, who recently left the metro editor's job to become something called reader engagement editor, says, "I know this sounds corny. We had to find meaning in our work. If you feel like you're making a difference in your community, it becomes very focusing. We still have the ability to do great stories. No one can take that away from us." Politics writer Jim Morrill says, "You feel sorry for yourself and then you're on to a good story. It's always about the story. The fact that we're still able to do that is inspiring." Peter St. Onge, forty-five, a local columnist, points out, "We still have people like [columnist] Tommy Tomlinson, [feature writer] Elizabeth Leland, and Ames Alexander. We still have terrific talent, and that is heartening to people." Purvis says, "This has never been just a job for us. It's like the priesthood. We support each other now." Then she jokes. "I'm too young to take a buyout and too old to change careers. If the ship goes out from under me, I'm gonna have to learn how to swim."
Some staffers even empathize with their bosses, Thames and Managing Editor Carpenter, who together had to make the tough personnel decisions. Maschal, the retired veteran visual arts writer, says, "Here were two editors who waited years to get their hand on the controls. These were good people dealing with a horrendous situation."
Believe it or not, while profits are down, the Observer still makes money. And the Observer newsroom is still inhabited by more than 150 journalists who are charging into the Brave New World of media as fast as they can tweet. Caulkins says she thought all the changes the Observer has made in recent years would come gradually over twenty years, not in three. She predicts 20 percent of the company's total ad revenue will come from the Internet by year's end and in five years nearly half will be from the Web.
The Observer's presence on the Web has been gradual over the past dozen years, but it has accelerated under Thames and Caulkins. "It feels like we're changing the wheels on a school bus while it's going ninety miles per hour," says Steve Gunn, fifty-four, who has the New Age title of editor for innovations. In addition to the home page, the paper and its writers also have twenty-two Facebook pages and thirty-one Twitter feeds that keep readers informed on various topics. You also can read more than forty Observer blogs, ranging from Paper Trail, a collection of "documents behind the story," to the Fantasy Football Owner's Manual. The Observer also wants to add other Charlotte bloggers to the paper's Web site to make it a one-stop site for all things Charlotte. In the next year, the paper might make it possible for a reader to tailor the Observer home page to his or her own interests the way Google News does now.
Publisher Caulkins proudly points out, "We have more people reading us today than in the history of the franchise."
True, but the "dead tree" print edition has lost one out of five readers in the past six years, and Sunday readership is down 8% in the same time frame. According to the latest figures, actual Observer daily circulation was down to 166,500 and Sunday circulation to 226,000. What makes those numbers even worse is that the thirteen-county Charlotte metro area has grown by 400,000 new residents during that time, an increase of almost 20 percent.
But it's also fair to point out that in the Charlotte region, about a million different adults read some form of the Observer each week, and an even larger number outside Charlotte read the online edition only. About 10 percent of the Charlotte region readers read only online, which is the key number for attracting local online advertisers. About 75 percent read only the print edition, and about 15 percent read both. In a national a study this year by the Pew Center for the People and Press, one-third of the public said they went online the day before for news.
At the top of the front page, the Observer brags it is "Read by 1 million+ in print and online." The total monthly number of different readers from everywhere is a whopping 2.3 million, which would have been a staggering number of readers for any newspaper in the pre-Internet days. Therein lies the problem. As sportswriter Green puts it, "If you look at our business model, we're trying to sell something [the news] that's now free." Basically, if you read the Observer Web site in the evening, you won't learn much new by purchasing next morning's print edition. The other problem with the Observer's business model is that it really relies on advertising revenue, and so far, an online ad brings in a fraction of the revenue a print ad does.
That's not stopping the newsroom from becoming an increasingly Web-centric operation. The Observer has come quite a ways since it first went online in 1996. Then, it was staffed for eight hours with the goal of updating it once an hour. In 2005, the site changed twenty-five or thirty times a day. Today, the home page is updated at least every ten or fifteen minutes during the twenty hours it's staffed, says Observer Online Editor Dee-Dee Strickland, fifty-two.
Thames remembers a watershed moment in 2006. Reporter Mark Washburn learned that WBT radio was going to move its longtime July Fourth fireworks from downtown to Knights Stadium in Fort Mill. It was a scoop. Editors debated at length whether to post the story on the Web site, which would spoil their exclusive for the next morning's print edition. Finally Thames ruled, "If we have news, we put it on the Web." It's been that way ever since.
Mecklenburg County reporter April Bethea, twenty-eight, is a staff leader in mastering the use of the Web. During county commission meetings, at the same time she's taking notes for her print and Web edition stories, Bethea often tweets when news happens. If a major issue is facing the commissioners, readers can find out the decision first on Twitter. She sends smaller news items that won't make the print edition to her Observer county government blog. "I can do up to a couple of tweets a minute," she says. "So many people are tweeting—even the commissioners are tweeting—it's hard not to make it part of your coverage." Unlike regular news stories, which are edited several times, most reporter tweets are unedited. That would make old-time editors' blood run cold. Thames has made his peace with it. "The reporters know there is no safety net," he says.
Caulkins, who is optimistic about her paper's future, predicts a print edition will survive for "years to come." However, it may not be the mass medium it is now, she says. She foresees a print edition that serves increasingly as a niche publication mainly for the affluent and well educated, a readership highly coveted by advertisers. The future mass publication will be the Web, she says.
Some online experts think the change may happen faster. Ken Doctor, a former newspaper editor and now one of the national observers of the ever-changing electronic media world, agrees the print editions of newspapers will become smaller niche publications, but he thinks print editions of some newspapers could cease to exist in as little as ten years. "Electronic tablets—30 [million] to 40 million will be sold in the next twenty-four to thirty-six months—will hasten print to digital transition," Doctor says, "but printed newspapers will remain for as long as readers are willing to pay the [increasing] pulp and distribution costs."
Even after print editions are gone, newsrooms, as the originator of the content, will still exist. Newspaper circulation and production departments, along with their printing presses, won't, which will sharply reduce the cost of publishing a newspaper in the future. The challenge today is that some readers, mostly the older ones, still only look at the print edition, while other, mostly younger readers, only use the Web. Maintaining both kinds of publications in this interim period is very expensive, especially in a recession.
Even in the midst of this difficult time, the Observer has embarked on a number of new initiatives. The most obvious to readers is the use of former competitors' stories in place of what the Observer itself used to cover. Readers now see stories from newspapers in Raleigh, Rock Hill, Columbia, and Myrtle Beach, all of which, like the Observer, are owned by the McClatchy Company. The Observer also has partnered with several local news outlets, ranging from television station WCNC to smaller community online news operations, such as DavidsonNews.net and QCityMetro.com, which covers Charlotte's black community. As late as five years ago, such cooperation to this extent between competitors was unprecedented.
But the most ambitious new idea is the reader engagement project. Supported by a $35,000 grant from the Knight Foundation, the Observer hopes to invite more readers to become part of the paper's news report.
Thames described how it works. "We will invite people to register on the Web site and tell us about themselves, whether they fly-fish or fly a 747 or whatever. We will aggregate that information, and when we're looking for someone to interview about fly fishing, we can find fifty people who fly-fish." He says the lists would not be sold or used for marketing purposes.
This idea originated at the public radio station in St. Paul–Minneapolis, which developed the software.
Reader Engagement Editor Montgomery, who heads up the project, says the Observer puts extra effort into seeding the database with groups of people who sometimes feel underrepresented in the paper, such as conservatives, church members, and African Americans. The idea is to make more readers feel a part of the Observer and open up news sourcing to a wider variety of people. In the first three weeks after going public with what's called the Carolinas Public Insight Network, almost 700 readers signed up. The Observer was averaging almost one example per day where the paper queried reader-participants and published the results. In late September, Montgomery invited participants to be part of a virtual election panel to guide the paper on the leading campaign issues.
So the Observer, feeling its way into the uncertain future of the 21st century, charges ahead with high hopes and a smaller-but-still-kicking staff of journalist-survivors.
In the hyperchange years ahead, that may be the best a newspaper and its readers can hope for.
Walker Lundy retired in 2003 after a thirty-nine-year career in newspapers. His last job was as editor of The Philadelphia Inquirer. He lives in Sherrills Ford.