Stories of Home: A Conversation with Wiley Cash
Best-selling novelist draws inspiration from his childhood in Gastonia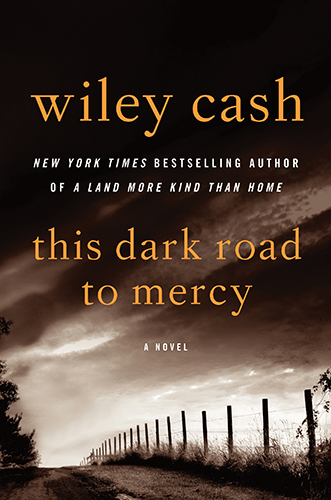 "Everything I've ever written is something I'd heard about," novelist Wiley Cash says. "A lot of it is autobiographical, but I am not portraying myself. I am portraying things I've processed, and I'm regurgitating."
Cash, a Gastonia native, set his first book, A Land More Kind Than Home (2012), in Madison County, North Carolina, and focused his second, This Dark Road to Mercy (2014), on a family in his hometown. He's currently working on a third novel about Ella May Wiggins, who was murdered after she led the 1929 Loray Mill strike in Gastonia.
Cash now lives in Wilmington. He sat down recently to talk with fellow writer Kevin Maurer, who co-authored No Easy Day, about one of the Navy SEALs who confronted Osama Bin Laden. Over beers at the Fat Pelican bar in Carolina Beach, Cash and Maurer discussed how to turn books into movies, the differences between fiction and nonfiction, the best-seller list, and the importance of Jersey Shore.
Kevin Maurer: I know A Land More Kind Than Home was optioned for a movie. How much are you going to work on that?
Wiley Cash: A German director named Matthias Emcke and producer David Giler, who produced the Alien franchise, optioned it. They already sent me a script.
KM: Did you read it?
WC: It's good. I am totally satisfied with it. He made some really cool, smart decisions plotwise about time-line stuff that was really great.
KM: You're now writing a historical novel. I could do it if I sat down with [the subject] and picked her brain. But I don't know if I could do it if I had to make up a woman's voice.
WC: My background is not really in writing. It is in lit. How am I going to write [about] this 96-year-old white lady from N.C.? Oh, Ernest J. Gaines did that with The Autobiography of Miss Jane Pittman. He wrote about a woman in Louisiana. I need to go back and read that and see how she tells a story and then reimagine it. I think that is the best way to learn how to write.
I was teaching a couple of years ago, and I said my real dream has always been to write reality television. I have this dream of getting eight or nine Italian-American kids in a house on the Jersey Shore and just recording it. Somebody was like, 'That show exists, and it is called the Jersey Shore.' How humiliating if I got a meeting with MTV.
KM: What were you doing when you got the call that you were on the New York Times best-seller list? I was covering a county commissioner meeting when my editor called me.
TIFFANY B. DAVIS
Wiley Cash grew up in Gastonia and has chosen the area as the setting for two of his books.
WC: My first event [on the book tour] was at the Ohio River Festival of Books in Huntington, West Virginia. It was a 1 o'clock gig on a Wednesday at the public library.
My reviews had come in, and they'd all been pretty good, and I'm thinking, I'm going to go to this event, and it is going to be a Beatles concert. I get there and it's three librarians, an ex-student, and three people who are asleep in the room when the event started, because it is a public library.
Afterward, I'm driving to the next stop and I'm thinking, My editor is going to ask about the first event, and what am I going to say? He called and said we made the New York Times list.
That was clear to me that you can never get too high and you can never get too low. Just do the work.
KM: Do you read all your reviews?
WC: Oh sure, yeah. I read reviews. I read blogs. It doesn't really bother me. I had a bad review in The Washington Post for my second book. It kind of made fun of the book a little bit. I emailed the editor and said, "Hey man, thanks for giving it a shot. Maybe next time."
Even if they give your book one star, it means they either checked it out from the library or they bought it, and that is good for you. Battle won.
KM: You have to take a beating a little bit. It makes you better. But I'm trying to write a novel now, and I am afraid of it.
WC: I'm trying to write a thousand-word essay about reading Look Homeward, Angel at night to our unborn baby. I am terrified. I have the opening line, and then I'm back to the novel, back to making stuff up.