Storm Safety for You and Your Pets During Hurricane Florence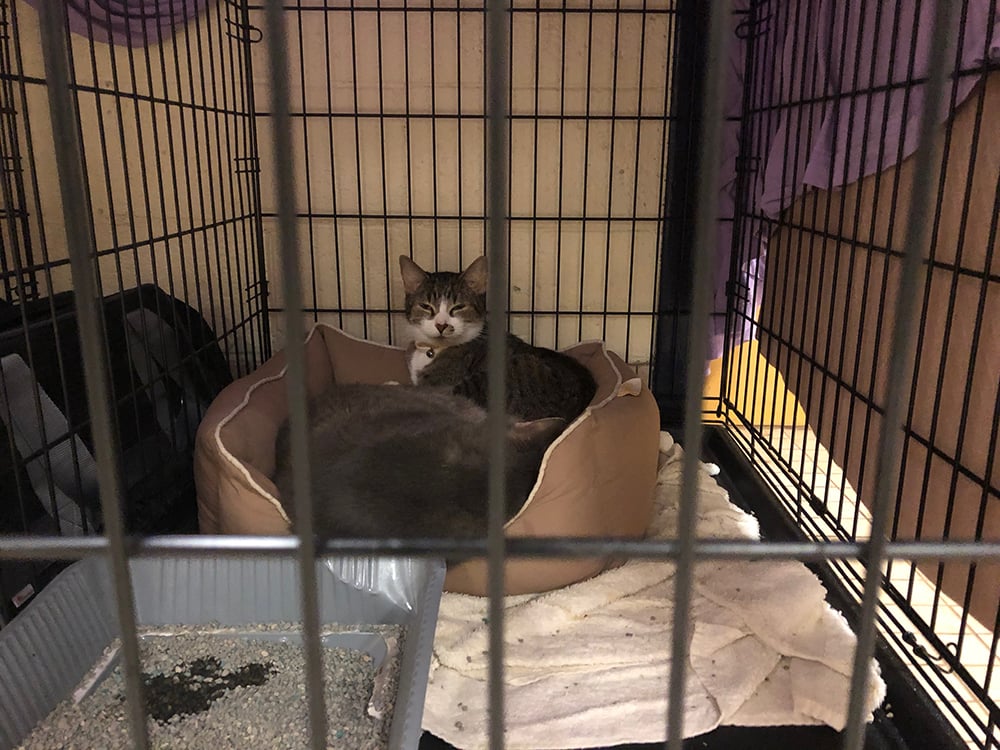 TWO CATS, one dog, two guinea pigs, and a rabbit are huddled in their crates in a locker room at East Mecklenburg High School as their owners wait on cots in the gymnasium. The cats curl up together, and the dog, a pitbull mix, grumbles softly as his ears droop. These six are among many animals that evacuees have been taken with them from the coast and into the five shelters in the Charlotte area—all of which are pet-friendly.
These Red Cross shelters are working in collaboration with the Charlotte-Mecklenburg school system to provide necessary refuge for not only those fleeing the coast, but also, Charlotteans who may not have adequate cover, including the city's homeless population. Animal Care & Control is keeping a close eye on any pets coming into these shelters, checking in on the pets about every two hours.
An average shelter does not typically accept pets, Emily Cook, the marketing and communications manager of the Humane Society of Charlotte, says, but in order to encourage owners to bring their pets with them, the shelters made accommodations. "Whatever happens, please don't leave your pets behind," she says. "When they're scared of the storm and the weather, they may take off. They can get lost, hurt, or trapped."
The Humane Society has also taken in roughly 60 to 70 animals from rescues along the coast, and they expect more. They've moved most of their HSC animals to foster homes and to Pet Palace and Dogtopia. With the influx of animals, Cook says, they've also experienced a tremendous wave of support. "We have had an absolute influx of community members offering to volunteer. We've had a lot of people dropping off supplies," she says. "The best way to help now is to donate."
While the city waits to see what impacts Hurricane Florence will bring, here are some to ensuring the safety of your pets:
Make a list of all pet-friendly shelters in your area. Check the Red Cross' website for help finding a shelter near you.
Keep your pet carrier or crate nearby for easy access if needed. Make sure to have a harness and/or leash accessible as well.
Secure your pets in a quiet location in your home and stay with them to provide comfort. "Animals are most comforted when they're in a familiar environment and with their owners," Cook adds.
Call 311 to reach Animal Care & Control if you need assistance with your pet or have concerns about the well-being of another animal.
Ensure you have enough food and water for your pets, too. Ideally you want at least a three-day supply of the amount of food and water your pet typically consumes.