Story Buzz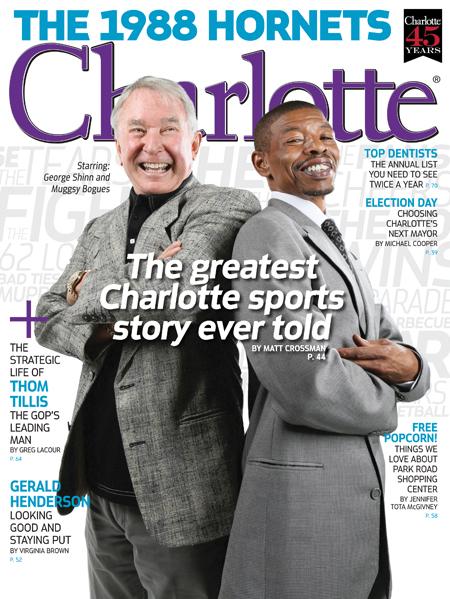 The oral history of 1988 Charlotte Hornets, which was published in our November issue, started like any story. It started as an idea. After that, nearly 40 people played some role in publishing it – from story subjects to the writer, Matt Crossman, along with editors, photographers, and designers. And when it was released, it became one of the most-read and talked-about stories this magazine's ever produced.
Team founder George Shinn decided to use the excitement and momentum from the story and throw a reunion party for the 1988 Hornets on Tuesday night. About 150 people showed up, from Shinn to former mayor Harvey Gantt to famous designer Alexander Julian (who wore the same, pinstriped suit he wore at the press conference announcing the team colors 25 years ago) to NASCAR owner Rick Hendrick, fresh off his latest racing championship. Shinn spoke for about 30 minutes, going around the room, handing the microphone to various people who were a part of that exciting season. As they spoke, Crossman's story came to life. I got chills, good ones.
We're releasing our December issue this week. That's exciting. But I'm also a little sad to see the November issue go. So here's a small tribute to the Hornets and an unforgettable story in an unforgettable issue. May it all live on.
Story Buzz
An index card, blank white.
A marker, dark black.
A letter, H.
Another letter, o.
More letters, -rnets oral history.
An idea, a story idea.
A writer, a phone.
The players, the owners.
Short men, tall men.
Memories, the team.
The city.
Funny stories, inspiring stories. parade stories, Charlotte stories.
A tie story, neoprene.
The writer, 10,000 words.
The photographer, one picture.
A handshake. Reunion!
Muggsy and Shinn.
Magazine, cover boys.
Snap, record.
Words, pictures.
Magazine pages, filled.
Readers, responses.
The love. Remember it?
A party, a Shinn-dig!
They came. They hugged.
Harvey the mayor, Felix the owner,
Alex and his teal, Hendrick and his title.
And Shinn, of course.
They remembered it. The love.
Then goodbye, goodnight.
Next time?
New pages, blank white.
Thank you for reading Charlotte magazine. Enjoy our December issue.