Street Looks
Professional's style is classic throughout week, modern chic during weekend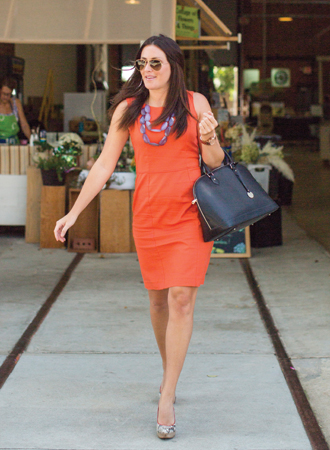 Name: Kassie Carrabino
Spotted: Grabbing a quick lunch on a Friday afternoon in South End
Originally from: Monroe, Mich.
Style Philosophy: "For the work week, I stick to classic style: simple, but classy, timeless colors and styles. My weekend style is modern chic. I love a great pair of designer jeans and an edgy top. I have a 'never too many accessories' philosophy, too."
Always Wearing: Michael Kors watch paired with colorful bangles
What She'll Wear This Winter: "This is my favorite season for style—boots, dark jeans, a bold scarf with a neutral top. A few stylish pieces will go with everything: the Louis Vuitton Damier-Azur handbag, Tory Burch flats, or the classic, cashmere Burberry scarf."
Style Icons: Charlotte's own Emily Maynard; also, Blake Lively's red carpet and street style. "My favorite classic style icon? Audrey Hepburn."
In Terms of Style, What Does Charlotte Do Well? "I really like the boutique options that Charlotte offers, versus shopping at department stores."
About Her Outfit: Dress: Banana Republic; Sunglasses: Ray-Ban; Necklace: K-la; Shoes: Guess; Bag: Prada.