Street Style: CLTure's Cameron Lee
Meet one of Charlotte's most in-the-know music men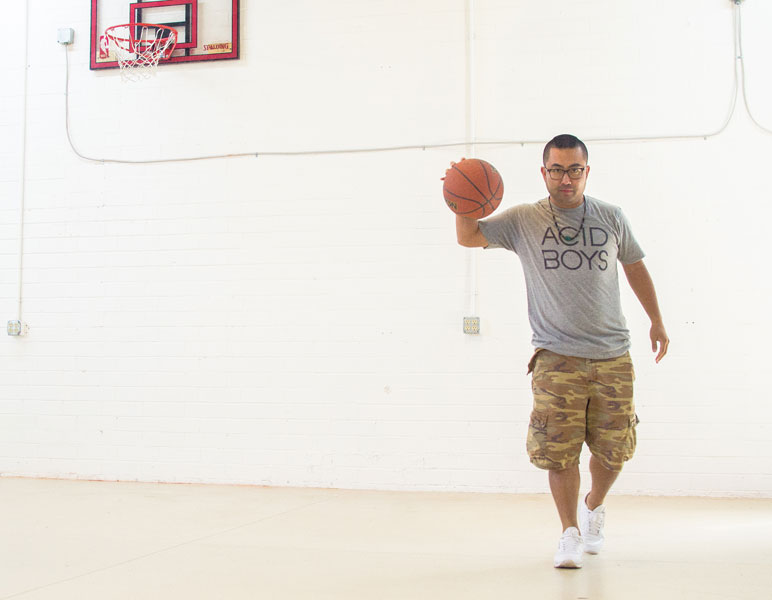 What he's wearing:
Glasses: John Varvatos Frames
Shirt: Acid Boys / Grey Tee (music collective out of Charleston)
Necklace: Custom Stix + Stones
Bracelet: JoeDance Benefit Bracelet – Blis Boutique
Shorts: Lucky Brand Camo/Brown
Shoes: Reebok Classics / White
Phone Case: Gameboy Case / Amazon
Meet Cameron:
Q. What do you do?
A. I am the founder of www.CLTure.org, a Southeast music, food, and culture blog. I also run CLTure Creative Group, a video production, creative marketing, and public relations company.
Q. How do you describe your style?
A. I would say comfortable, indie music, geek-chic. My favorite fashion quote is: "Style is knowing who you are, what you want to say, and not giving a damn." – Gore Vidal
Q. Can you share your favorite item in your closet?
A. Seeing the limited edition CLTure hoodie is always cool. We only made 5.
Q. What's something you wear everyday?
A. Humility
Q. Where's your favorite place in Charlotte to get your gear?
A. I like local streetwear stores like Armada Skate Shop and occasionally find stuff at places like Sleepy Poet, Rat's Nest and when you are on a budget outlet malls aren't a bad place to dig.
Q. What's an item you're eyeing for fall?
A. Stussy just came out with a collaboration line with my favorite rap group of all time, A Tribe Called Quest. I really need to get some. We are gonna be in Atlanta for A3C Hip Hop festival which incorporates music, film and fashion and I am hoping to get my hands on a hoodie.
Q. You throw a great concert event in Charlotte every year. How do you recommend one dress for outdoor concerts?
A. We have organized several events throughout the city, but this was our first year organizing CLTure Music Fest, a regional showcase of indie rock and hip-hop music that incorporates local independently owned businesses. It was a lot of fun. Festivals are all about comfort. Be free and wear something you are ok sweating in. There's nothing cooler than being yourself.