Streetwise with Samm Price
Before Charlotte's streetcar was a political football, it was the best ride in town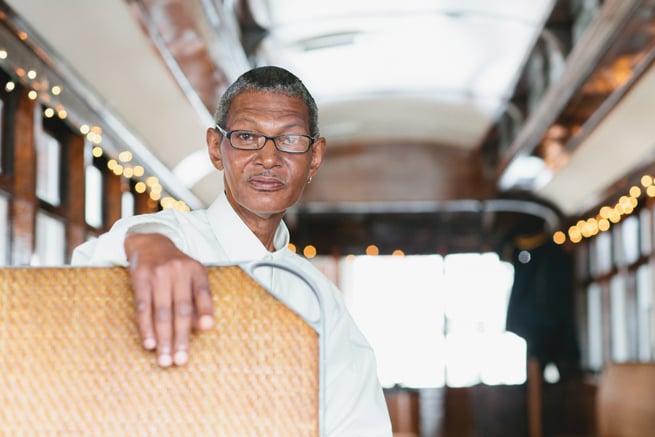 In the late 1990s, before the modern streetcar project helped launch Anthony Foxx's national political career, the nonprofit Charlotte Trolley began offering rides on refurbished, vintage trolley cars in South End. The idea was to attract tourists and economic development in addition to spurring interest in the Lynx light rail line that opened in 2007. At the Charlotte Trolley Powerhouse Museum in South End, director Samm Price reminds the city of its streetcar-riding past—and future.
I was born in Philadelphia, where we still have streetcars. That's my connection point right there. I came down south to help one of my relatives who was sick and came to Charlotte for medical services. I liked Charlotte because there are lots of things to do. It's always busy in Philadelphia, but see, in Charlotte, it's more laid-back. I got a feel for the city watching the news, and when I got a break, I'd go downtown to visit museums and the main library. When I was growing up, I was an avid reader. I liked to read everything, even the dictionary, front to back. I liked history. To me, history is all interconnected, and now I've become part of history.
I got started here because I knew someone who had connections to a lot of nonprofit agencies, and the Charlotte trolley museum needed help. I was a volunteer first and eventually became an employee. Now I'm the director and curator of the museum.
My job is to educate the community about the streetcar system here and the vast history of streetcars in Charlotte. I also create the exhibits. In our next phase of development, we're going to run streetcars for a quarter of a mile from the [Bank of America] stadium to the tailgate lot on Cedar Street. And that will regenerate interest in streetcars.
"To me, history is all interconnected, and now I've become part of history."
Every day is different at the museum. On a typical day, I would give a group a quick tour and a little history of the Charlotte streetcar system, and the neighborhoods and communities the streetcars used to serve, and how it helped to develop the city.
The streetcar system here in Charlotte existed from 1891 to 1938. That was the basic means of transportation during that particular time because there were not a lot of cars. The way it was set up, a streetcar would take you from your community, and then you would transfer, and then it would take you to your job and then back to your house. But as communities grew and prospered, people started buying autos, which was how the demise of the streetcars came about.
Streetcars covered all of the historic areas that you might know of now, like Dilworth, Myers Park, Seversville, Elizabeth, First Ward, and Center City. It covered all of Charlotte as it existed then. On the weekends, families would ride downtown. There were arcades at the stop in South End at Atherton Mill, and downtown there were shopping and restaurants. People would ride the streetcars to the west side of Charlotte—that would be the farthest end of the streetcar line—to Lakewood Park. There were games, a carousel park, and a lake to go swimming. There was another lake in the Dilworth community in Latta Park.
But see, Charlotte has a way of destroying its history. If these things could be revived, I don't think life would be as hectic as it is now. —Samm Price