Stretching (Cheese) to New Heights: Uno Alla Volta
Zack Gadberry founded company after a career of taking chances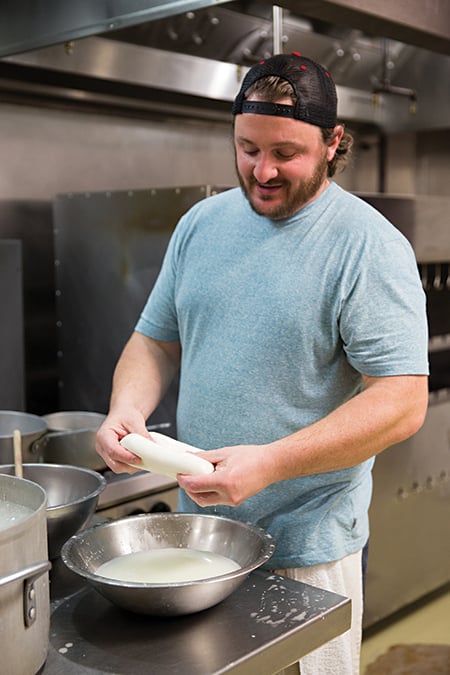 BEFORE HE WAS a cheese maker, Zack Gadberry worked in a prison.
Originally from Kentucky, Gadberry studied criminal justice and psychology at the University of Indianapolis before taking a position as a juvenile therapist at a correctional facility. A nagging discontent festered for several years, and always led back to the same, basic question: "What am I going to do with my life?" He brought this question to his psychologist father, who asked his son what he would do every day for free.
"Well, I love cooking," Gadberry thought.
Today, Gadberry is the cheese maker for Uno Alla Volta (UAV), a company he launched in early 2014 with his wife, Victoria. His father's question inspired him to move to Charlotte in 2008 and enroll in the culinary arts program at Johnson & Wales University. After graduating the following year, he expanded upon his new skills while working at some of the city's best restaurants and markets, including Customshop, Rooster's, Clean Catch Fish Market, and The Wine Shop at Foxcroft, where he landed his first head chef position. Just before launching UAV, he worked at Vivace for nearly two years, quickly earning a promotion from sous chef to executive chef.
"I have been on a long journey," the 31-year-old says about the many changes in his brief career.
During his time as a chef, Gadberry discovered a knack for making cheese. He started with fresh mozzarella, then moved on to burrata, a mozzarella ball that hides a decadent filling of cream and soft curds in its core. Still, he had no plan to make stretching curds a full-time job.
That would come later, with luck and a lot of good relationships.
Victoria Gadberry is a former manager at Pasta & Provisions who went on to become a representative for a boutique wine distributor. One day in spring 2014, she was conducting a wine tasting with Pasta & Provisions' new manager when she mentioned that Zack had started making cheese. Curious, the manager asked for samples and a price list.
Word of the new cheese maker spread quickly, and the interest from chefs piqued Gadberry's own.
"My wife and I sat down and thought, 'Is this something we can feasibly do and make a living off of?' " Zack says. Victoria's income offered some security, but Zack would still be giving up steady pay and good benefits. Now a little more familiar with the unfamiliar, he decided to take a chance yet again, this time to launch Uno Alla Volta.
The couple drew on years of relationships to help grow the young business. Wendy and John Paglia, owners of Va da Vie Gelato, met Zack at The Wine Shop at Foxcroft, well before they decided to make gelato and Zack to make cheese.
Today, Va da Vie uses UAV ricotta for two of its gelatos: lemon ricotta and cannoli (an uncanny replica of the real deal). "We tell people all the time that his cheese is unlike any other ricotta we've ever tried. It is full-flavored and has a very smooth texture," John says.
One reason for that difference: high-quality dairy products sourced from Hickory Hill and Homeland Creamery. Another is the process; Zack makes impastata style ricotta, in which the cheese is left to drain longer, making it thick and creamy.
Chef and restaurateur Thierry Garçonnet of Terra uses UAV mozzarella to top his veal saltimbocca and serves the burrata with seasonal companions, such as grilled peaches, roasted beets, or tomatoes. "I like the fact that it's made here, in an artisanal way, and that I can support a small business," he says.
The burrata is also a favorite among other chefs, who rarely put it on the menu before UAV came along because the process of importing it from Italy gave the cheese a short shelf life. UAV's most recent addition is a Persian-style marinated feta, creamier than its Greek counterpart and soaked in olive oil with zesty spices. The company also offers seasonal takes on most of its products, from black truffle and roasted garlic to salted caramel apple and pumpkin spice.
To make these, the Gadberrys draw inspiration from what's available at local farmers markets, where they still sell their cheese. "If they have blueberries, then we make blueberry ricotta; figs, we make fig and honey ricotta," Zack says.
During summer, the peak season for mozzarella, they make between 300 and 400 mozzarella balls for retail customers and another 60 pounds for wholesale each week. They make another 500 balls of burrata, which has steady sales year-round, for restaurants each week.
They've begun to think about expanding, with plans to transition into their own, larger facility, a move that would allow them to increase production and give Zack the environmental control he desires to make aged cheeses. They are also exploring yogurt.
Victoria and Zack are always brainstorming what to do next, which is how the "everything" ricotta—a popular play on the "everything" bagel—came to be. Despite the demands on his time, Zack enjoys the creative freedom he gets from running his own business. Another benefit of which he's grown fond: getting to sleep in on Sundays and enjoy brunch with his wife.
Cat Carter is a freelance writer in Charlotte who believes in the power of good storytelling. She founded Edible Charlotte magazine, a publication that discusses the region's local and sustainable food culture. Reach her by e-mail at catyicarter@gmail.com.
UAV cheese is available at Yorkmont Regional Farmers Market, NoDa Farmers Market, Atherton Market, and Matthews Farmers Market.