Style: Arts Leader Keith Cradle
He mentors youth offenders by sharing his love of arts and culture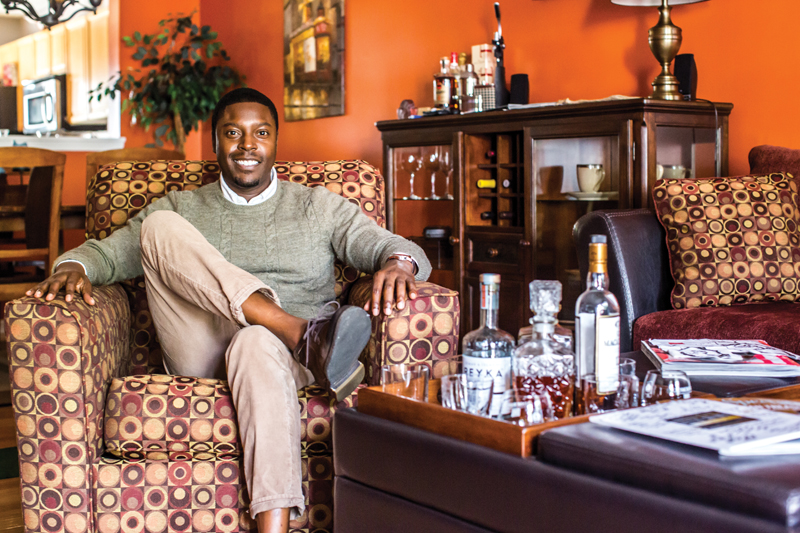 WHEN THE SINGING CHRISTMAS TREE takes the stage at Knight Theater this month, Carolina Voices board member Keith Cradle will be in the audience. Seated—not singing. "I believe I got that from my mom—the inability to sing," he says, laughing. But his mother made sure he had an appreciation for those who can sing. Raising her two sons just outside of New York City, Cradle's mom regularly exposed them to opera, sculpture, the symphony, and paintings. "I love it all," he says.
Cradle, 40, is dressed stylishly for cold weather in corduroy pants, a J. Crew sweater with classy elbow patches, and suede boots. He owns four tuxedos and loves red wine. Right this minute at his north Charlotte home, he's throwing a wave to the UPS man for dropping off a case of wine from Portugal—a gift from a high school friend. In two days, he leaves for vacation in Dubai.
He hardly fits the picture of a guy whose day job is working with kids in trouble with the law. But as manager of adolescent programs for the Mecklenburg County Sheriff's Office, he's spent the past seven years proving the arts can help troubled teens. For many, their first visit to a center city institution is a visit to jail for incarceration. Cradle is changing that.
He's working with Carolina Voices—the nonprofit arts organization that produces the Singing Christmas Tree—to stage pop-up, neighborhood choral performances next year. As a board member for the Bechtler Museum of Modern Art, he's helping bring artists to the jail. And his long-term goal, after he earns a PhD next year, is to start a foundation for young kids, connecting them to the arts through scholarships and education.
POP-UP ART // At an event at the Bechtler, Cradle and his date snagged these napkin portraits by Robert Maniscalco.
---
YANKEE FEVER // Cradle travels to New York Yankees games when possible, and has found plenty of fans in Charlotte. "You'd think everybody in Charlotte is from New York now," he says.
---
JEAN JACKET // In Charlotte's fickle weather, denim transitions well from day to night. This one's from Express. "You can layer it, and it doesn't get too hot," Cradle says.
---
MEAT CLEAVER // Regular visits to a local butcher—Jerry's Market on Statesville Road— convinced Cradle to try his hand at cutting his own meat. This is a Top Chef cleaver.
---
NIKES // The stars aligned when Cradle saw these Air Jordan 6 Retro "Toro" shoes last year. He was planning a trip to Spain (toro means bull in Spanish) to celebrate turning 40. He wore the Air Jordans on the plane.
---
This article appears in the December 2015 issue of Charlotte Magazine
Did you like what you read here? Subscribe to Charlotte Magazine »
---