Style: Blended Bartique Owner Estelle Helfrich
She brings California vibes to her NoDa boutique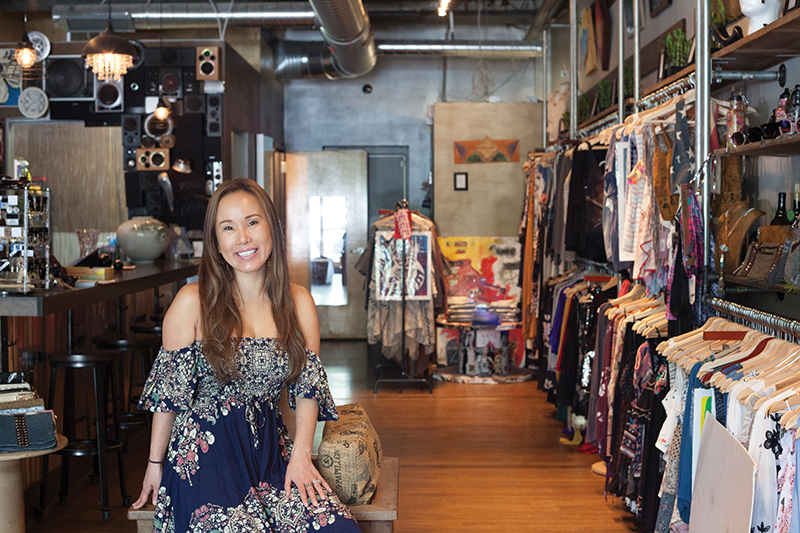 DON'T LET HER tiny frame fool you. She's not quite five feet tall, but Estelle Helfrich has big ideas about free-spirited combinations. She grew up in San Francisco and earned fashion degrees from California art schools: the Fashion Institute of Design & Merchandising and the Academy of Art University. When a Charlotte friend introduced her to a former football player from Michigan State University, she fell in love.
She knew so little about football that she was clueless about Steve Helfrich's Big Ten championship ring. Division I sports? The Western Conference? "I describe myself as that inner city girl that went to an art school," she explains while laughing. "There was no football stadium with cheerleaders." Their wedding four years ago highlighted an even bigger merger: her Korean traditions and his Catholic faith. They had two services.
Blending has been a theme of Estelle's life. She was born in Korea and adopted by Korean parents who immigrated to America. After college, she came to Charlotte to temporarily manage an investment property for them, a limited service hotel. The recession hit, and a few months turned into years. She learned how to run a business while dreaming of opening her own. When the economy turned and the hotel sold, she walked Charlotte neighborhoods looking for a shop location. North Davidson Street's arts district fit the bohemian styles she'd carry.
Last year she opened Blended Bartique, a compromise between her husband's vision for a bar and hers for a women's fashion boutique. He came up with a new word for the concept, combining bar with boutique to get "bartique." (It's now in the online Urban Dictionary, by the way.) At the front of the store are stacks and racks of floaty prints, and at the back near the dressing rooms is a husky bar built of railroad ties. Drinks include a selection of local beers. More blending is in the works. As she's learned more about football, Steve has picked up an interest in fashion. Look for men's clothes at the bartique in the future.
---
Korean Heritage // A gift from her parents, this Korean vase, decorated with red-crowned cranes flying past mountains, illustrates the beauty of Estelle's homeland.
DIY Decor // With local art and animal prints, the vibe at Blended Bartique is hip, but also one-of-a-kind, thanks to homemade touches such as this wall of old speakers.
Exotic Jewelry // Estelle saw this line of handmade Turkish jewelry by Chanour at MAGIC, a Las Vegas trade show, and immediately knew it would work with her clothing lines. The jewelry designer for Chanour "creates beautiful, elaborate, bohemian jewelry," she says.