Style: Brigida Mack of WBTV
On camera and off, goes for natural glamour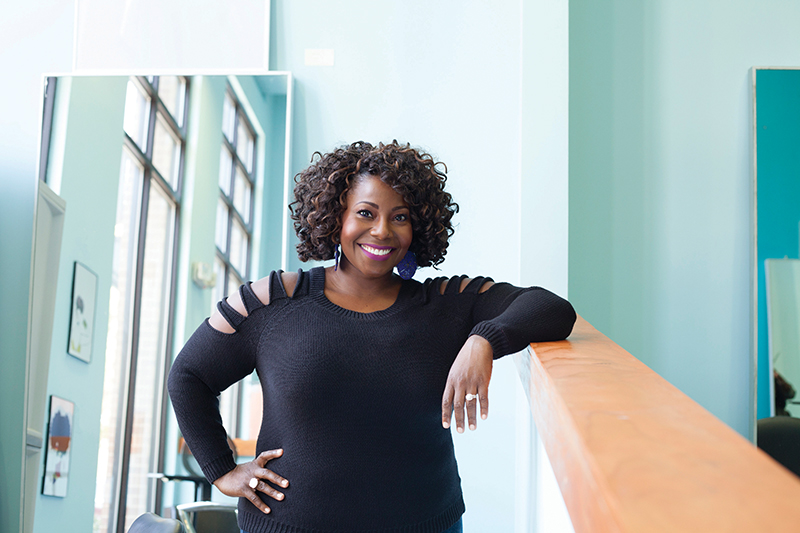 BRIGIDA MACK sits outside at Park Road Shopping Center after her morning workout. The WBTV anchor's flawless skin glows. Her curls are swept up in a kerchief. She's recounting the first time she went in front of cameras with natural curls. It was 2012, and she'd been off the air for 10 weeks due to an injury. Like other black newswomen in Charlotte, she straightened her hair, and called her mother to discuss the change in styles. "I said, 'Mama, I think I'm going to do this.' And she said, 'Don't you think you need to give them a heads up?' Nope."
Mack, 36, pops her lips on the "p" like a cap popping off a bottle of soda. Funny and vivacious, her over-the-top personality makes it all sound easy.
But five years ago, her choice of hairstyle was a bold move for a black woman in news. It paid off. Viewers loved it, and it gave her a platform with girls of color. "It's important that our girls get those messages early, and not feel like they have to conform to a more 'acceptable' look," she says.
Mack's on-air revelations became even more pronounced in 2013. Inspired by a gym owner's transformation, she gave up processed sugar for 90 days. On day 89 she went public—her weight loss had been significant. "Tomorrow is 90 days," she told viewers. "But for anybody who's willing, I'll go an extra 30 days if you want to try this with me."
TeamNOSugar was born. In the years since, she has hosted a health expo and issued new challenges to viewers. "I never could have imagined the feedback that I got, the response," she says.
She feels better, wears more color (slimming black is no longer her go-to), and works out at least four times a week. The gap between her on-camera style and everyday look has narrowed. And her hair? She styles it herself most of the time, but relies on her stylist to put it in crochet braids. "My hair has taught me how to embrace my authentic self," she says.
---
Kenyan Accessories // Mack's husband is Kenyan. Last year, they visited his homeland, going on safari in Maasai Mara, a wildlife reserve in the southwest. At night, this blanket draped the back of Mack's chair in the camp. Paired with bangles from a Maasai market, they brighten winter.
---
FitBit // She doesn't splurge on workout clothes, but Mack invested in FitBit and a Polar heart rate monitor watch. Keeping track of physical activity is a must for healthy living, and she relies on these quick tools to judge a day's progress.
---
Sassy Nail Bar // "It's popping every time I go in there," Mack says of the salon where she's a regular. Customers are served complimentary drinks, including wine. Her favorite indulgence is the Orange Burst Pedicure, with a citrusy soak and sugar scrub, hot towel wrap, polish, massage, and paraffin treatment for $40. OPI Nail Lacquer in Cajun Shrimp is often her color of choice.