STYLE: Cocoa Cutie Founder Denise Butler
She designs apparel, home decor, and accessories that represent children of color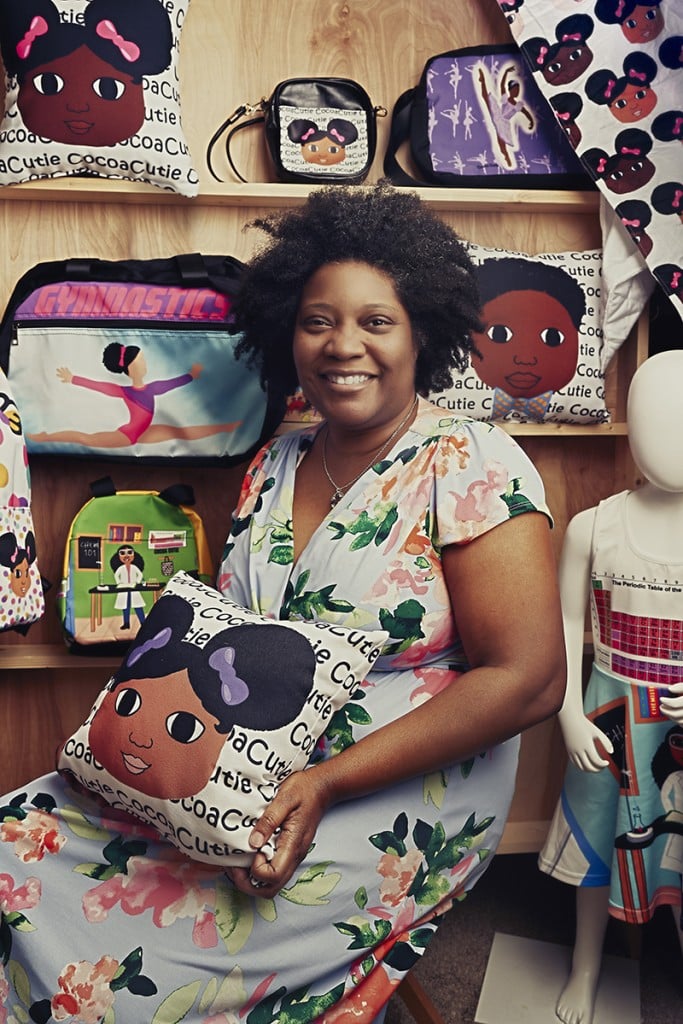 About seven years ago, Denise Butler's niece wanted a tutu for her fourth birthday. "I always call myself the 'extra auntie' because I don't have kids," she says. "I wanted to buy a whole outfit with a little brown ballerina, but I didn't see anything I was looking for. There were no Black mermaids or gymnasts or dancers. If I did find it, it was a very stylized product or design, or too mature. In the Black community, stuff is too stylized, or kids are sexualized too young."
Butler decided to create the outfit herself, and she hand-painted a ballerina on a T-shirt with fabric paint and glitter. It was a big hit with her niece's friends, and she realized she might be on to something. She saw an opening in the market—not just for children's clothing but for backpacks, towels, and other accessories that incorporate Black and brown faces.
At the time, Butler was on sabbatical from a decadelong career as a chemist. She'd worked for Procter & Gamble, Kimberly-Clark, and Schaeffler and recalls sitting in many boardrooms where she was the only Black woman. The 43-year-old native of Johnston, South Carolina, knew how important it was for children of color to see images of themselves in a range of careers. She also knew there had to be a way to get more representation.
"I was trying to decide if I should go back to the chemistry department," Butler says, "but I couldn't get this idea out of my head." She brainstormed with her mom, a preschool teacher, and landed on the name Cocoa Cutie. "I was always a doodler and took art classes in college but never considered myself an artist," she says. "I was afraid to put it out there and see what people would say. I would start doing it, then stop, put it away, and eventually pick it up again."
When Butler and her husband moved to Charlotte after a brief stint in Memphis in 2016, she began to research how to put her images on products. She discovered Happy Kat Candles & Gifts, a store at Northlake Mall that carries handcrafted work by local artisans, and sold a few of her backpacks, blankets, and T-shirts there. "Parents would come to me and say, 'My child does this,' and ask me to create something for them," she says. "That's how I got so many characters."
Butler uploads drawings from her digital sketchbook into Sketch, a vector program that allows her to adjust details and skin tones. She categorizes her characters by fantasy, sports, and careers and regularly adds new ones she doesn't see represented at big box stores. She uses local and overseas manufacturers for large orders and a print-on-demand service for personalization on custom items. "I try to keep some things here, but I'm very particular," she says. "I use a North Carolina-based manufacturer for linens and swimwear, but my bag company is overseas."
Her most popular design is her original Cocoa Cutie Afro Puffs, which incorporates four girls with different skin tones. "It wasn't even supposed to be a design," she explains, "but whenever I do samples, I put four girls on there to show all the skin tones to customers. I wear the shirts and carry the bags around to check their durability for at least six months before I put them on the website. Everyone loved that design, and it's become my most popular T-shirt."
Since she launched Cocoa Cutie's website in 2018, Butler has added lunch totes, stainless steel tumblers, shower curtains, and duvet covers with children of all different skin tones. "I started this for the African American community, but I got customers that are Asian and Hispanic, too," she says. "It's not what I planned, but that's what ended up happening."
Cocoa Cutie isn't limited to little girls, either. She makes duffel bags for dance and gymnastics, as well as drawstring backpacks with images of male basketball players, wrestlers, and taekwondo athletes. Boy characters also come on sleeping bags, hooded towels, and face masks.
This month Butler will launch Active Cuties, which incorporates more skin tones, and she hopes to do a subscription box with an educational component for kids. "I come from a family of teachers, and I'm married to a teacher, so I'd love to offer more crafts and activities," she says. Her most personal character to date, though, is the chemist. "I had to bring it back to me," she says with a laugh. "Visuals are powerful, and kids need to see themselves doing the things they aspire to be."